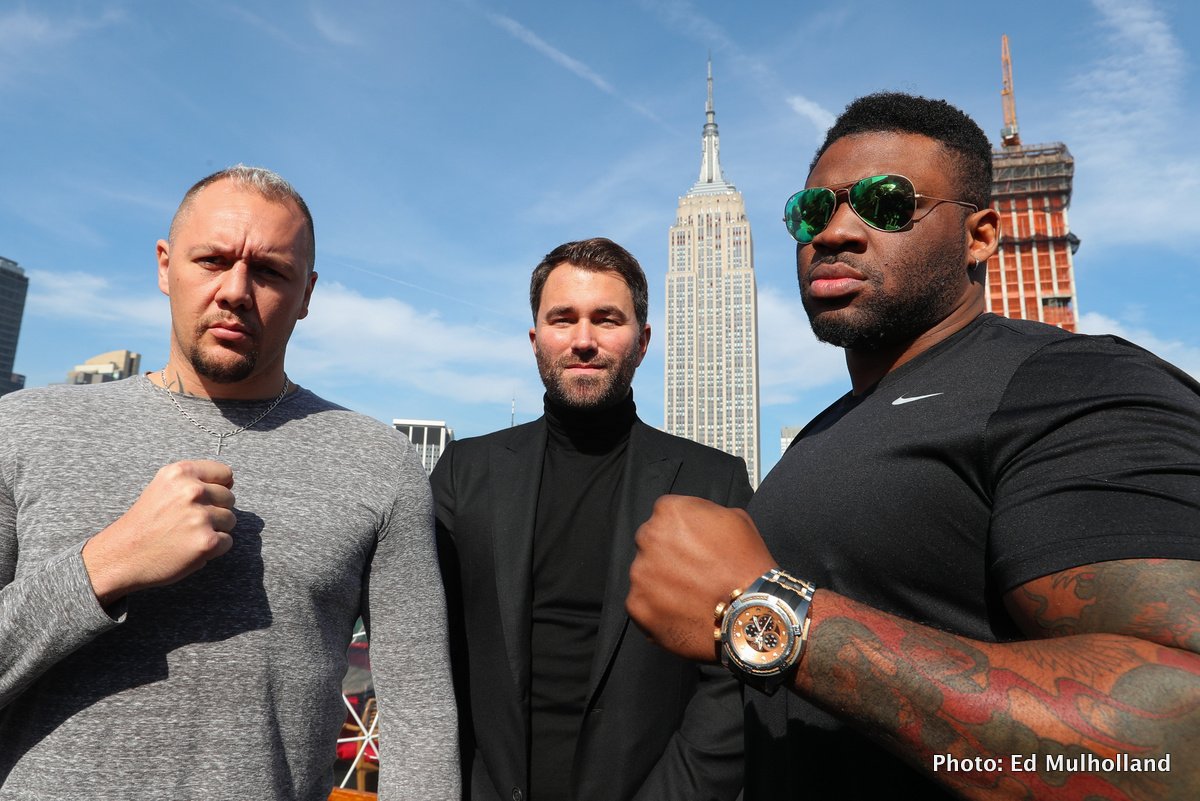 US fight fans who want to see Anthony Joshua fight in America will likely get their wish this summer; while unbeaten heavyweight contender Jarrell "Big Baby" Miller may well get what he has been calling for: a shot at the WBA/IBF ruler. Eddie Hearn was in New York yesterday to announce the upcoming April doubleheader at The Barclays Centre in New York – Danny Jacobs-Maciej Sulecki and Miller-Johan Duhaupas – and he said the plan is for AJ to box in New York in either August or September.
Joshua of course has to take care of business on March 31 in Cardiff, Wales, when he will face unbeaten WBO heavyweight champ Joseph Parker in what could prove to be a tough night for both men. But Hearn, and Joshua, are looking ahead, and trash-talking puncher Miller will likely be the first US fighter to welcome the unbeaten Londoner to the US – if Miller looks good in beating Frenchman Duhaupas, that is.
"Anthony Joshua would never look past Joseph Parker, but our job is to plan the future," Hearn said as quoted by ESPN.com. "I've been talking about bringing [Joshua] to New York, and August would be an opportunity to do that. While the unification with [Deontay] Wilder looks to be unlikely until [Wilder] gets realistic about the split, we feel a fight in America would be beneficial to us. Miller would be the guy, provided he gets the win. So there's a lot for Miller to shoot for."
While those fans who absolutely crave seeing Joshua and Wilder rumble (and there are many of them), that one may well have to wait. But in the meantime, as a US debut, AJ against "Big Baby" is a good fight; certainly no dud. Miller, who has said he does not like Joshua and wants to "break his jaw," is a fun fighter and many fans feel he just might be the real deal; the next champ.
Miller has to look exciting and impressive against Duhaupas (the man who took Wilder 11 rounds a couple of years or so ago), and of course Joshua has to get past Parker (who is coming across as one hugely confident fighter ahead of next month's three-belt unification).
The big, big fights have to happen, and hopefully they will (AJ-Wilder, AJ-Fury, Wilder-Fury) but there is nothing wrong with the big men staying active in other fights in the meantime – just so long as the best wind up facing the best before the paying fans begin to lose interest and patience.
And Miller, who has been talking one great fight for a number of months now, might just give Joshua a real test if the two juggernauts (combined weight something approaching the 520 pound mark) collide in the summer.