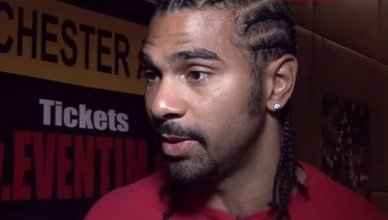 It's finally official: British heavyweight rivals Tyson Fury and David Haye will fight on September the 28th in Manchester.
Haye signed the contract for the fight yesterday, and now Fury has agreed to the exciting-looking match-up that may well captivate British audiences.
"David Haye and Tyson Fury, both world-ranked, charismatic and dangerous, have agreed to a highly anticipated domestic showdown on Saturday 28th September at the Manchester Arena," a statement from Hayemaker Promotions read. "It marks not only the biggest heavyweight encounter of 2013, but also the biggest fight staged in Britain in many years."
The official press conference announcing the fight as a go will go ahead this Thursday in London. The two heated rivals are expected to go face-to-face then.
Already, the bookmakers have installed odds on the upcoming fight, with Ladbrokes listing former cruiserweight and WBA heavyweight champ Haye as a considerable favourite at 2/9 to gain victory, while the unbeaten Fury can be betted on to triumph at 3/1.
Before the actual fight takes place, however, there is sure to be plenty of fun and games in the build-up to the showdown, where things could very easily get heated and out of control!
And as to the actual ring action – and there is sure to be action for however long this one lasts – who will punch their way to victory? Will it be the greater experience, speed and power of Haye? Or will the youth, size and strength and greater stamina of Fury get the job done?
Some thought the fight would not actually happen, but now the rumble is on and we will soon have answers to the above questions and a whole lot more.