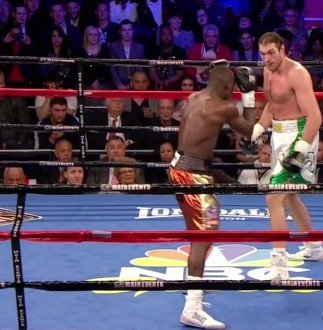 David Haye (26-2, 24 KO's) and Tyson Fury (21-0, 15 KO's) will be meeting up on September 28th at the Manchester Arena, in Manchester, UK. This Thursday, Haye and Fury will be announcing the fight. The fight itself promises to be a rather easy one for Haye, because Fury hasn't looked good against the mediocre opposition he's faced thus during his 5 year pro career.
However, Fury should at least win the press conference this Thursday and all the remaining press conferences as well. Haye will likely let Fury do most of the talking in building this fight, because his chances of getting the better of Fury in the trash talking department are slim and none.
Fury is one of those types of fighters that are willing and ready to say anything. He tends to get heated when his opponents try and trash talk him back.
The fight will be huge in the UK, but unfortunately I just don't see it as being a competitive one. Fury is too easy to hit, too upright, too weak in the chin department and too much of a slapper to be anything more than an easy knockout victim. Haye is going to have so many early opportunities to knock Fury out cold. This is the ideal opponent for Haye to KO.
Haye won't fight cautiously by running around the ring like he did against 7-foot Nikolay Valuev and Wladimir Klitschko. Haye doesn't have to fight like that against Fury because he doesn't have any real weapons to put Haye in danger. At least Valuev, he had a good chin and fairly heavy hands.
Fury doesn't have power or a great chin. Unless Haye has lost something in his year off from boxing since his 5th round stoppage win over Dereck Chisora last year in July, he should be able to get the 6'9" Fury out of there right away on September 28th.