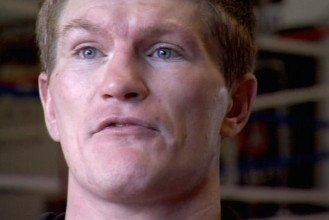 By Michael Collins: 33-year-old Ricky Hatton's comeback course is predictable at this point. Hatton has a fight against former WBA World welterweight champion Vyacheslav Senchenko (32-1, 21 KO's) next month on November 24th in Manchester, England. If Hatton wins that fight then he'll likely be fighting WBA World welterweight champion Paulie Malignaggi (31-4, 7 KO's) for his title in early 2013. This is the belief a lot of boxing fans, and Hatton hasn't said anything recently to give the impression that he'll do anything else.
Hatton already easily beat Malignaggi four years ago by an 11th round TKO in an easy fight for Hatton. It's no wonder that Hatton wants to fight this guy again given how badly he dominated him in 2008.
Before Hatton can get the Malignaggi rematch, Malignaggi, 31, has to win his next fight against 22-year-old Pablo Cesar Cano this month on October 20th at the Barclays Center, in Brooklyn, New York. Malignaggi should be able to win this, because his promoters at Golden Boy has been good enough to select Cano from the light welterweight division to face Malignaggi instead of choosing a welterweight for him to fight. That gives Malignaggi a good chance of winning, because he won't have to worry about a hard hitting welterweight that might expose him the same way that Hatton and Amir Khan did in the past.
Hatton has other options besides Malignaggi if he likes. Hatton can always look to get a fight agaisnt WBA/WBC light welterweight champion Danny Garcia, IBF light welterweight champion Lamont Peterson or WBO 140 lb champion Juan Manuel Marquez. However, I think Hatton would lose badly to all of them and not get the belt that he so desires. Malignaggi is a much easier mark for Hatton then Garcia, Peterson or Marquez in my view. And Hatton probably wouldn't do well against one-punch knockout artist IBF welterweight champion Randall Bailey. I can only imagine what Bailey would do to Hatton if he connected cleanly with a right hand to the head of Hatton. If Hatton thinks he had problems taking Manny Pacquiao's shots just wait until he feels the power from Bailey's shots. At any rate, it's pretty obvious that Hatton won't be fighting Bailey any time soon, if ever. He's too dangerous.
Malignaggi is pretty the only mark for Hatton. That's like lobbing a softball to Hatton so he can hit it out of the park. It can't get any better for Hatton than this, and this is probably the only way Hatton could win a world title at this point unless he were able to drain down to lightweight and then rehydrate up to 150 to dominate the smaller guys at that weight.