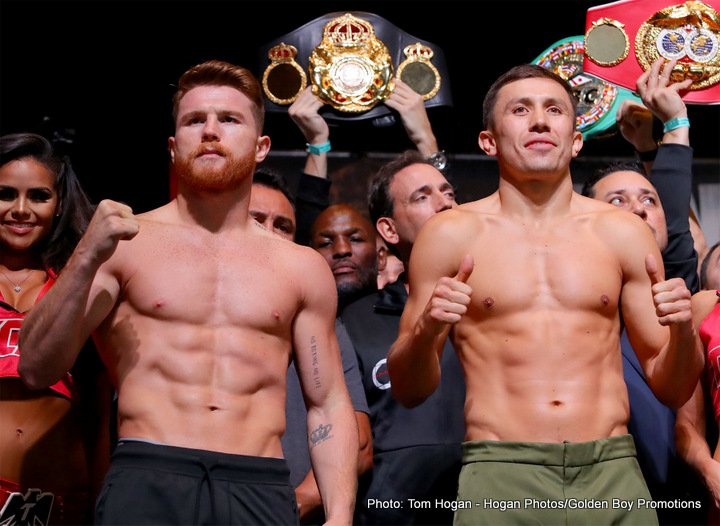 Eric Gomez of Golden Boy promotions thinks he might have the negotiations completed for the Saul Canelo Alvarez vs. Gennady 'GGG' Golovkin (37-0-1, 33 KOs) rematch by Christmas on December 25. He says he's going to keep working right through the holiday until he gets the fight made for May 5. This is what Canelo (49-1-2, 34 KOs) wants. He gave Gomez the green light to make the rematch with Triple G.
The public wants the Canelo-GGG rematch. There's no one else for the 2 fighters to face that will bring in the kind of interest that a second fight between them would. Golden Boy Promotions aren't talking about a third Canelo vs. Golovkin fight yet for September 2018, but you can bet that might be on the agenda if their May 5 fight brings in huge PPV numbers.
Apart from the Anthony Joshua vs. Deontay Wilder heavyweight unification match, Canelo vs. Golovkin is the biggest fight in boxing that can get made right now. Even Joshua-Wilder might not bring in the kind of revenue that a second Canelo-Golovkin fight will bring in. The previous fight between the two middleweight stars brought in 1.5 million pay-per-view buys on HBO on September 16 at the T-Mobile Arena in Las Vegas, Nevada.
The boxing fans haven't lost interest in wanting to see Canelo and Golovkin do it again despite their previous fight ending in controversy with it being scored a 12 round draw.
"Maybe for Christmas, we will continue working until we reach an agreement, it is the most important thing for us," said Gomez to ESPN Deportes. "[This is] What Saul asked us, and we are working on those things, we continue working with the management of Golovkin, Tom Loeffler, who is traveling to Germany, and communicating with Golovkin and we only wait for his answer," said Gomez.
This would make a for an excellent Christmas present for boxing fans worldwide if Gomez can deliver the news of the Canelo vs. Golovkin 2 fight getting made May 5 on Cinco de Mayo. With the amount of fans that saw the first fight, it's possible the PPV numbers could increase for the second fight into 2 million PPV buys territory. That would be impressive.
The boxing fans want to see more action in the Canelo-GGG rematch. The first fight had too much boxing from the two fighters. Canelo was moving constantly on the outside of the ring, and Golovkin was jabbing rather than attacking the way he normally does. The two stars are capable of much more.