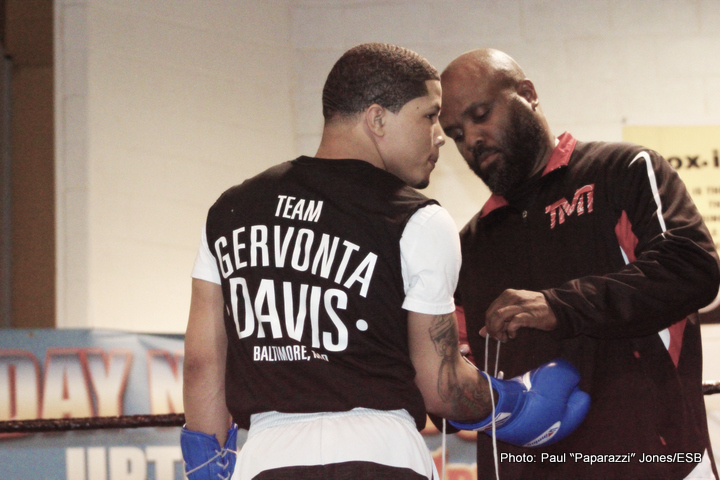 By Paul "Paparazzi" Jones l Photo © Paul "Paparazzi" Jones/ESB
Baltimore, MD — Unbeaten super featherweight prospect Gervonta "Tank" Davis (14-0, 13 KOs) held a public workout on Wednesday at the Upton Boxing Center in Baltimore in preparation for his April 1 bout at the D.C. Armory against Guillermo "El Borrego" Avila (16-5, 13 KOs). Although the 21-year-old Davis is eager to test his skills against Avila, the Baltimore native admits that he doesn't know a lot about his impending foe. "I just know he's a strong, step-up opponent," said Davis. "I just hope he's ready because I'll be ready on April 1st."
What remains clear, however, is the positive impact that Davis is having on his community. "We [Baltimoreans] are known for our grit, resilience, and fight, and Tank [Davis] epitomizes that," said Baltimore Mayor Stephanie Rawlings-Blake (D) in an exclusive interview with EastSideBoxing's Paul "Paparazzi" Jones.
"You have a young kid that had many challenges who decided that he was going to be focused on his development," Mayor Rawlings-Blake added. "[Tank] was going to be disciplined and dedicated, and he has support. And he shows what can happen when we surround our young people, who are destined to be stars, with that kind of support and a path to be great."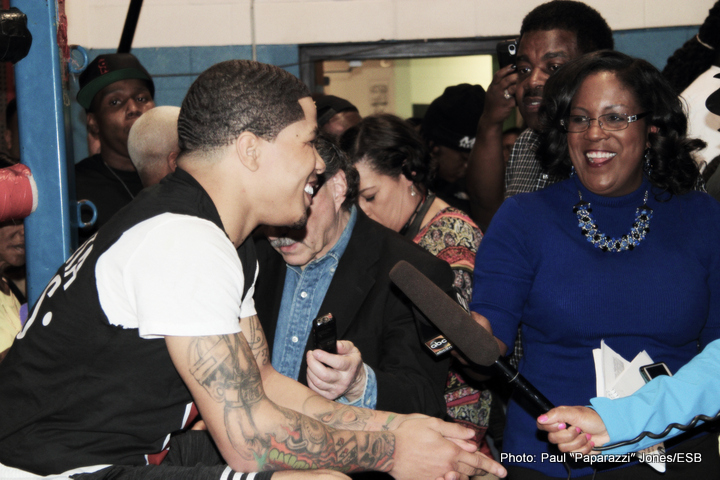 Davis shows promise inside of the ring with an unblemished record and KO ratio above 90%. He has also made sound decisions outside of the ropes by aligning himself with longstanding pound-for-pound king Floyd "Money" Mayweather Jr. and influential advisor Al Haymon. Yet, Davis has remained humble and connected to his Baltimore roots throughout. These opportunities often elude the average 21-year-old fighter, but Davis has handled his boxing success in stride.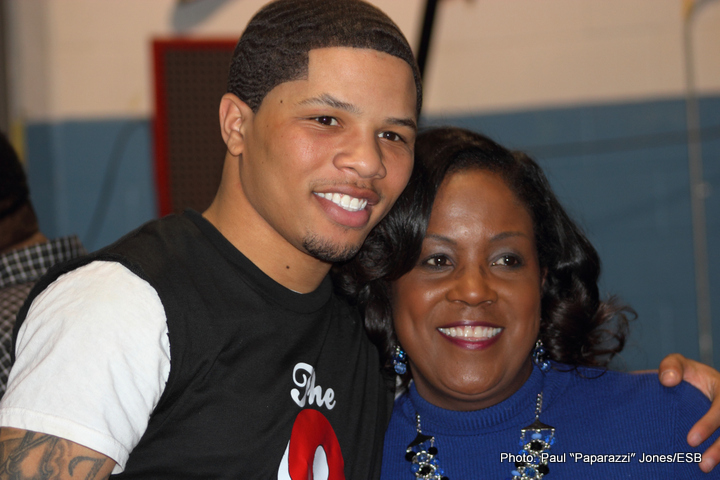 Therefore, it should come as no surprise that Davis was honored by Mayor Rawlings-Blake with a certificate of appreciation for his accomplishments in his hometown.
Perhaps Mayor Rawlings-Blake put it best when she said, "[Tank] is a role model and he embraces it. I tell him all the time, I'm proud of him." ■
Other News & Notes:
Also on hand for the workout was longtime heavyweight contender "Fast" Eddie Chambers.
Contact "Paparazzi" Jones: prjones1@hotmail.com │ Twitter@boxingepicenter
More from "Paparazzi" Jones:
Peterson Eyes Big Fights Against Khan, Crawford, or Postol with a Win Over Díaz Jr.
Boxing Notes: Mayweather–Berto Undercard Addition, Eddie Chambers Update, More!
The People's Court (of Public Opinion): Mayweather v. Pacquiao
OPEN MIC: A Candid Conversation with Lamont "Havoc" Peterson — García, Mayweather, Pacquiao, More!
The Year in Review: Six Notable Fights in 2014 – Part I — Pacquiao, Hopkins, Froch, More!