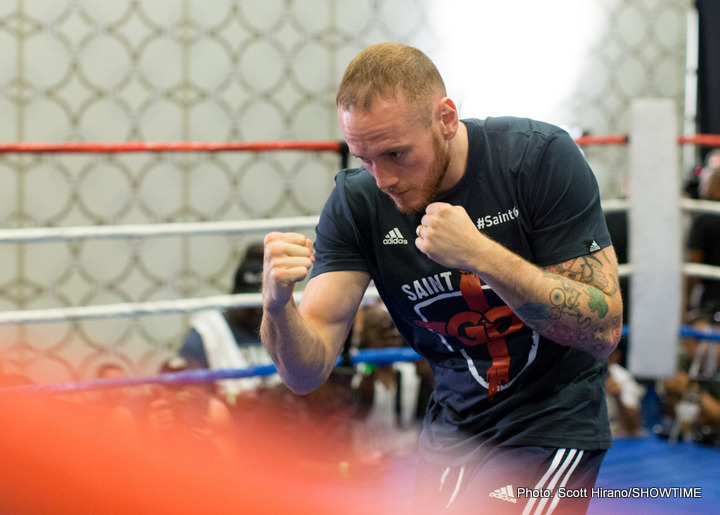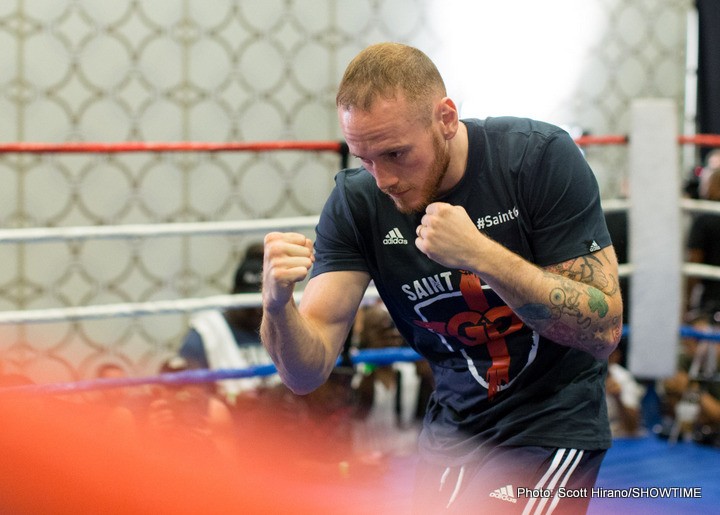 Ahead of his crunch challenge to WBC super-middleweight champion Badou Jack, that takes place on September 12th's Mayweather/Berto undercard, Britain's "St." George Groves has spoken out to dispel any myths regarding his 12 round fitness, as well as to counter those people seeking to attribute any perceived dip in form to his hook-up with trainer Paddy Fitzpatrick.
Groves, a former student of noted tactician Adam Booth, whom he left shortly before the 1st Carl Froch fight, is training up at Abel Sanchez's "Summit" Facility in Big Bear, California – basecamp of Kazakh middleweight champion Gennady Golovkin – to prepare properly for the fight with Jack, and rejects outright any notion his fitness is a problem.
"I can use it (criticism) to my advantage," the Hammersmith man said.
"You're never going to be as fresh in the first round as you are in the last. But at the same time, I always finish strong. I've been 12 rounds before in high-intensity fights, fights which I've won, in which I haven't faltered.
"It's nice that a few people in the media, usually with an agenda, will say something, and then it catches fire and everyone jumps on it.
"Anyone who wants to base a game plan around me, around stamina, hoping that I'm going to fade and get tired… I'd never do that for any fight, because one day that guy ain't going to get tired, and I certainly ain't going to get tired.
"I'm going to be full-steam ahead, from the first second to the last, and I'm really looking forward to it."
There is a belief among some that the pre-Froch Groves is a different fighter to the one we see today, and that the 2x world title challenger simply hasn't looked the fast, sharp and busy fighter of old in recent bouts, against Frenchman Christopher Rebrasse (w/UD) and American "Momma's Boy" Denis Doughlin (w/TKO 7) – the two fights that followed his second loss to Froch in 2013.
This has been attributed by some to his split from the highly-regarded Booth, who masterminded the rise of David Haye, although this is also a notion Groves seeks to dispel, claiming that the win on Sep 12th will see the working relationship with current cornerman, Paddy Fitzpatrick, entirely vindicated.
"This might be the fight when people actually pay real attention to the good work we've put in," he said.
"Myself and Paddy have come under criticism since we've been working together. Against Christopher Rebrasse, he'd never been stopped, because I didn't stop him I come under criticism. I threw 1,000 shots in that fight and then I got criticised for having no stamina. I won every round.
"And then I fight Denis Douglin, I knocked him out, had a bit of a slow start but knocked him out. It's easy to criticise because we haven't won a world title yet, and it'll probably be easy to praise us once we do.
"We know we've done good work, we know we've improved, we know that in the gym we're seeing what we need to see. As long as I go out and perform as I intend to, on fight night, I'm sure Paddy, and myself, will get a little bit more respect. But we don't really fight for that anymore.
"Winning over the hearts and minds of fight fans is a difficult task, you're only as good as your last interview these days. I'm not too fussed about the general perception. As long as we're winning, which we are, we're going to go out and perform and become world champion."
Should Groves emerge victorious against Jack, the a big unification showdown with IBF champ and old, bitter rival, James DeGale awaits, in what will be a rematch of their 2011 encounter – a fight Groves took by close MD.
Failing that, another man keen on a fight with Groves is former 3x 160 lb world title challenger Martin Murray, who has been staying extremely active since making the move to 168 lbs, in hope of securing a 4th world title shot.
Twitter @Undilutedpoison