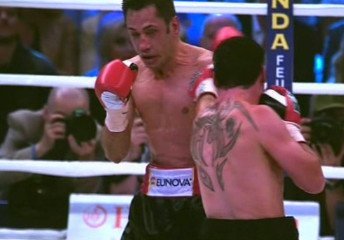 By Michael Collins: I hope IBF/WBA middleweight champion Daniel Geale savors his victory tonight over WBA Super World middleweight champion Felix Sturm because he's not likely going to hold onto his title for very long once he ends up facing WBA World middleweight champion Gennady Golovkin. Let's be real about this. You might as well register that as a knockout loss for Geale unless he ducks Golovkin entirely. I wouldn't be surprised nor would I blame Geale for dodging a fight against the hard hitting Golovkin, because he doesn't have a prayer or winning that fight.
Once that fight is scheduled, Geale might as well see it as an appointment to get knocked out.
I give Geale plenty of credit for beating Sturm tonight. He did an excellent job of coming on in the second hafl of the fight to get the better of Sturm with his pressure and high work rate. Sturm played the usual possum game and tried to steal rounds like he usually does by fighting in spurts, but Geale was having none of it. He knew what he had to do to beat the German fighter by keeping him under constant pressure.
Geale fought smart and was a blend of Matthew Macklin and Martin Murray, but a more clever blend. He did a lot of the same things that those guys did against Sturm by throwing a lot of punches, putting him under a lot of pressure, but he did a better job by avoiding a lot of Sturm's shots when he would try to go on the attack mode. Geale showed no fear and he took Sturm's title in front of his own German fans tonight. I don't know what happened to Sturm, because he really lost it in the middle part of the fight. He just looked lazy to me, as if he felt he could win rounds by simply landing the harder shots. That didn't work this time. It might have worked in previous fights, but this time the judges got the scores right and gave the better man the victory.
As I was saying earlier, Geale is going to get slaughtered by Golovkin. There's no two ways about it. If he takes the fight, he's going to lose and lose badly. I'll give him a ton of respect if he doesn't dodge Golovkin, because many fighters in his position probably would. But Geale is still going to get knocked out and that's all there is to it.