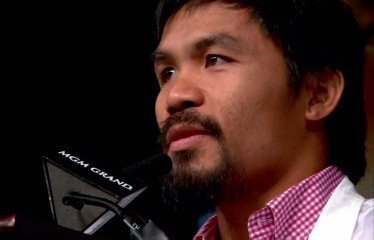 By Rob Smith: Top Rank promoter Bob Arum had said that there was a chance that Manny Pacquiao would be naming his next opponent today for his fight on December 8th. Although today isn't it over yet, it looks like Pacquiao will continue to keep quiet about who he'll be fighting in his next fight. It's down to Tim Bradley and Juan Manuel Marquez now that Miguel Cotto announced that he'll be fighting on December 1st against WBA junior middleweight champion Austin Trout.
Pacquiao and Arum are trying to get the best deal financially between what's left to pick from but it's got to really hurt that Cotto, who arguably was the biggest moneymaker of the three potential opponents, dropped out of the race. Now it's Marquez and Bradley, and the two fighters have different things asking for in terms of money. It's not all that cut dried with Marquez being the better option because of his past big money fights on pay per view against Pacquiao last November and against Floyd Mayweather Jr in 2009.
Marquez wants to be paid well, and he's not going to be gotten for cheap. But Bradley reportedly wants a lot of money as well for the fight. According to philstar, Bradley is looking for eight figure payday for this fight. That's a ton of money, and twice the amount that he got last time. Arum is an expert at negotiating and he'll likely do a good job of getting both Bradley and Marquez to come down in their asking price for a Pacquiao fight.
It could come down to whichever guy that can be get the cheapest regardless of which one is the bigger PPV fighter. If they can get Bradley for dirt cheap, you can bet that Bradley will be the one that gets selected. It's about dollars and cents and making the most money at this point. It'll definitely be a hard sell to try and get the boxing public interested in seeing a rematch between Pacquiao and Bradley.
After the last fight, I don't think too many boxing fans want to get a second helping of that. But then again the last Pacquiao-Marquez fight was just as controversial, but in this case it was Marquez that was getting the shaft. There was less of a voice to complain about his controversial decision loss because he's not nearly as popular as Pacquiao. So it's possible that boxing fans won't be all that interested in seeing Pacquiao and Marquez fight again because they might not trust the outcome or want to see another fight where the wrong guy is given the win.