Teofimo Lopez Sr sees IBF mandatory George Kambosos Jr presenting view problems for his son Teofimo Jr, who he predicts will knock out the challenger within three rounds on June 5th in their headliner on Triller pay-per-view at the Marlins Stadium in Miami, Florida.
Teofimo Sr views Kambosos Jr (19-0, 10 KOs) as a similar fighter as Diego Magdaleno, a slugger that Teo knocked out in seven rounds in 2019.
Boxing fans aren't likely to disagree with Lopez Sr on his belief that the 27-year-old Australian Kamboso Jr will be easy work for Teofimo on June 5th. No one is arguing that Teofimo won't destroy Kambosos.
It's actually the opposite. People think Teofimo – Kambosos will be a poor one-sided fight between Teofimo and a guy who struggled badly to beat a shopworn Mickey Bey and Lee Selby.
The fans see this fight as a mismatch, and they're particularly excited about it, especially since learning that Triller plans on putting on pay-per-view.
It's nice that Triller has excellent entertainment artists at their events quality commentators, but that's probably not going to be enough to get boxing fans to want to shell out whatever the asking price is for the Teofimo vs. Kambosos fight.
Teofimo Sr expects 2M buys
It's going to be a great fight, and I believe 2 million people are going to watch this," said Teofimo Sr to Fighthype on the Kambosos Jr fight.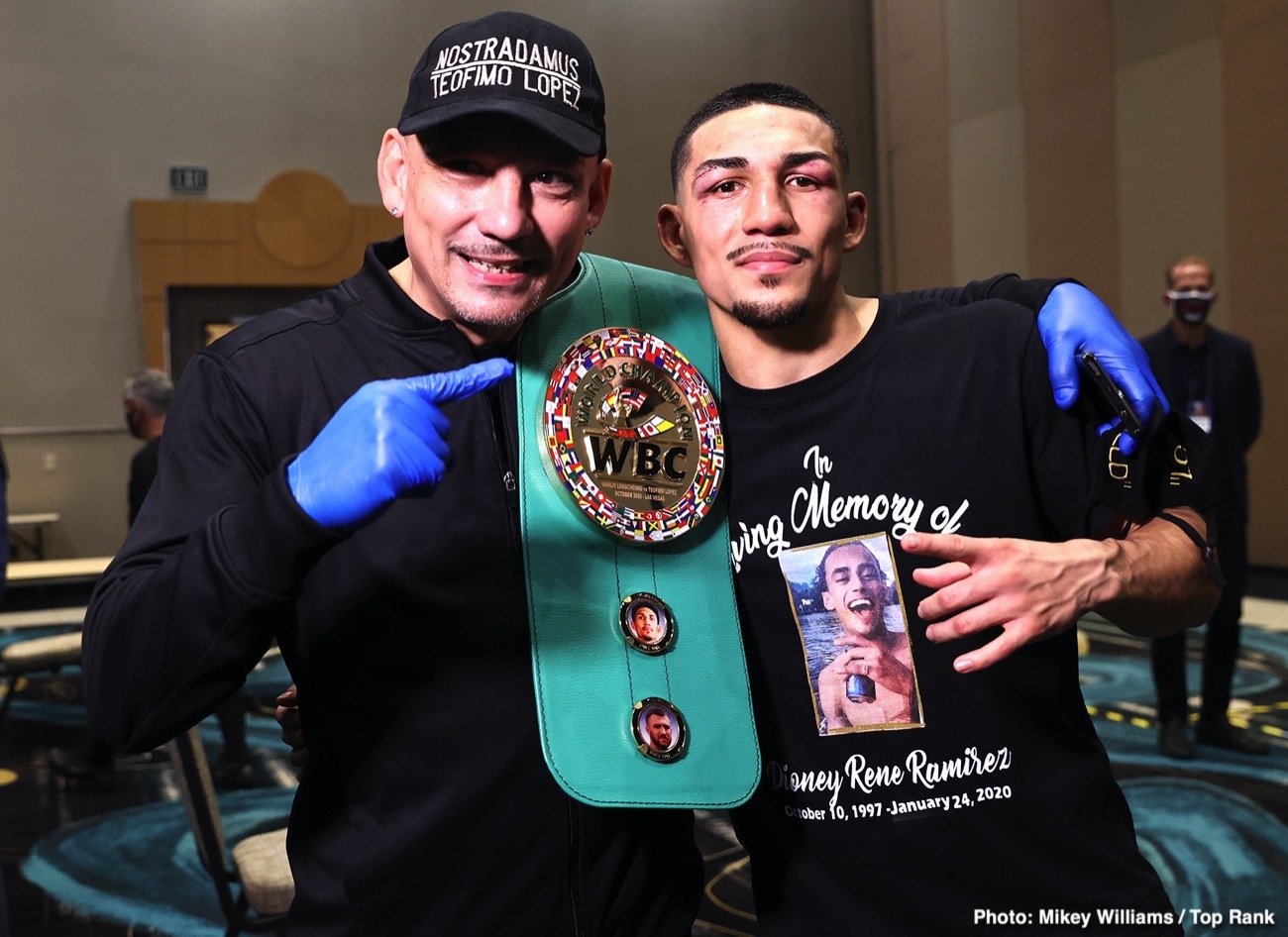 "He's [Teofimo] the best fighter in the world right now. Everybody wants to know what he's going to do next, and the haters will want to see him lose.
"This is just the beginning, and we're doing great things. I just want everybody to watch Teofimo Lopez on June 5th; that's when the fight will be at.
"Hey, where else but Miami at the Marlins Stadium, and it's going to be beautiful," said Teofimo Sr.
If the main selling point for Teofimo's fights is to annoy the haters enough to where they'll want to purchase his mismatches on pay-per-view, it's going to fail.
You have to have substance when it comes to opposition to get fans to want to purchase PPV cards, and sadly the Teofimo vs. Kambosos fight is entirely missing in that area.
This fight likely won't bring in more than 100K buys at best, making Triller very unhappy.
It won't be "just the beginning" for Teofimo if he fails to bring in many PPV buys for his title defense against Kambosos Jr.
It might actually be the end for Teo to be fighting in Triller if he fails to bring in many buys.
Teofimo is still signed with Top Rank, and the only chance he has of fighting on Triller is if he forces his mandatory defenses to go to purse bids in the future.
Triller is new to boxing, obviously, and they were willing to outbid the other promoters for the Teofimo vs. Kambosos fight, perhaps unclear about what the fans would be willing to purchase.
If this fight brings less than 100,000 buys, it's safe to say Triller won't bother bidding astronomical numbers in the future if Teofimo continues to push his mandatory's to purse bids. Teofimo will get diminishing returns.
Kambosos Jr will only last 3 rounds
"The Kambosos fight is going to be like the Magdaleno fight," said Teofimo Sr.
"He leans in with his face forward, and that's an easy fight for my son. I don't see him lasting more than three rounds, and we're going to get ready.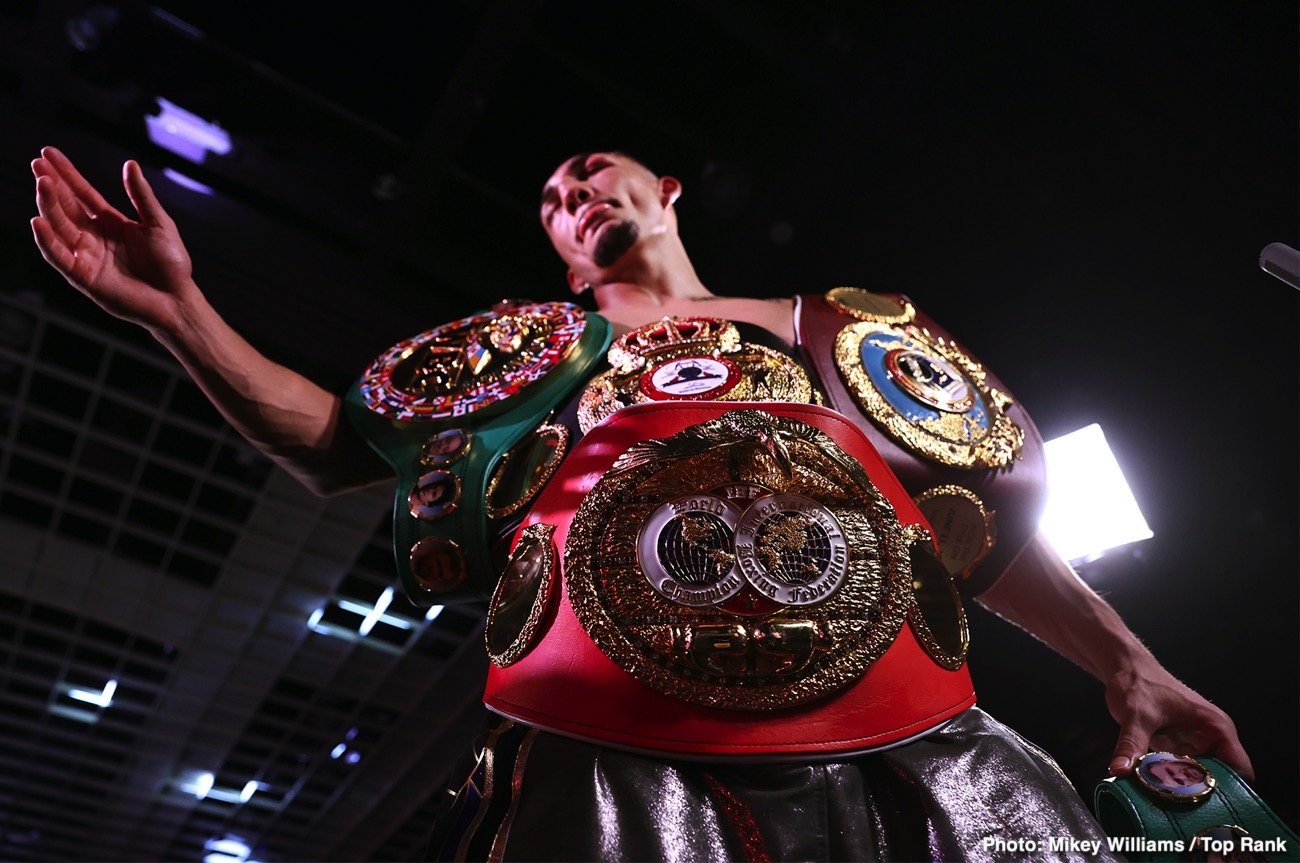 "We're not going to take no chances. I always train my son like we're fighting the best champion in the world, especially with the way we fought Lomachenko.
"We took away everything that he [Lomachenko] had, and we made him look like a regular fighter.
"My son is the only one that can do that. I think Lomachenko in the weight division at 135; I think he can take everybody at 130 as well.
"Lomachenko is not done, you know? It's just that he couldn't beat my son, that's it," said Teofimo Sr.
If Teofimo doesn't want to get dumped on by the paying fans for selling them a mismatch, he needs to carry Kambosos Jr for nine or ten rounds and make it competitive.
Fans are going to be angry if they pay $70+ to see Teofimo destroy a non-marquee-level opponent that they've never heard of or seen before.
Teofimo Sr: No human can beat my son
"I'm not even worried about this guy," said Teofimo Sr about Kambosos. "I haven't even looked at video of him.
"I'm going to do it once the camp starts on March 29th; that's when I'm going to start looking at his videotapes to see what he does.
"But from what I've seen, he fights a little bit like Diego Magdaleno. He leans forward and throws a lot of punches. That's an easy fight for my son.
"We want those guys to come forward. Lomachenko evaded my son because he didn't want to get knocked out.
You saw in the last round that we almost had him when he started committing. So if he'd done that at the beginning of the rounds, we would have taken him out. Ain't nobody beating my son.
"There ain't no human in the world right now that can beat my son that's not even born. We're going to show that," Teofimo Sr said.
Many boxing fans would argue that a healthy Vasily Lomachenko would beat Teofimo quite handily if given a chance.
Additionally, Gervonta 'Tank' Davis, Devon Alexander, Jose Ramirez, and Josh Taylor will have an excellent chance of beating Teofimo as well.
There's a real possibility that Teofimo will wind up as a one-hit-wonder, a guy that enjoyed 15 minutes of fame based on his win over an injured Lomachenko.
With Teofimo's risk-aversive attitude in turning down a rematch with Lomachenko and a fight with Haney, he's become more of a celebrity than a fighter.
We see the same Mayweather-Esque careful opponent selection from Teofimo that we saw from Floyd, but he's not destined to have long-term success.
Teofimo's win over an injured Lomachenko is giving him his brief 15 minutes of fame, and now he's snuffing his own career before it's even started by forcing mismatches against weak opposition to the purse bid process.
Taylor vs. Ramirez winner on Teofimo's target list
"We're going to improve after this fight, and we're going after the Jose Ramirez or Josh Taylor fight," said Teofimo Sr. I
"If that happens, we'll take it. If Bob [Arum] of Top Rank wants to screw us, it doesn't matter.
"We still got the other guys that we can fight. We already showed what my son is worth.
"We're going to come out of this fight [with Kambosos Jr] with 6 or 7 million dollars, more than anyone else has ever made because there are other things in the contract that people don't understand that they don't know about it, but they'll find out soon," said Teofimo Sr.
It's useless for Teofimo Sr. To talk about matching his son against the Josh Taylor vs. Jose Ramirez fight winner because that fight has almost no chance of happening now.
Why would Top Rank want to do Teofimo a favor by letting him fight the winner of the Taylor-Ramirez fight if he plans on leaving the company? It doesn't make sense.