An enthusiastic Eddie Hearn is already chomping at the bit to bring back newly crowned interim WBC heavyweight champion Dillian Whyte back for a fight in the summer potentially to take place in the United States, following his fourth-round stoppage victory over Alexander Povetkin last Saturday in Gibraltar.
Ideally, Whyte (28-2, 19 KOs) wants to challenge for the WBC heavyweight title against either Tyson Fury and Anthony Joshua, but those two are already on course to fight in the summer.
They're not going to take time out to face Whyte, no matter how good he looked against the shot-looking 41-year-old Povetkin.
Hearn mentioned wanting to match Whyte against former WBC heavyweight champion Deontay Wilder, but it appears his rationale for mentioning the American was for clout-chasing purposes for Dillian.
Perhaps the only way Whyte, 32, will fight for the full WBC title is if the belt is stripped from the winner of the first Joshua vs. Fury fight if they fail to agree to defend it against Dillian.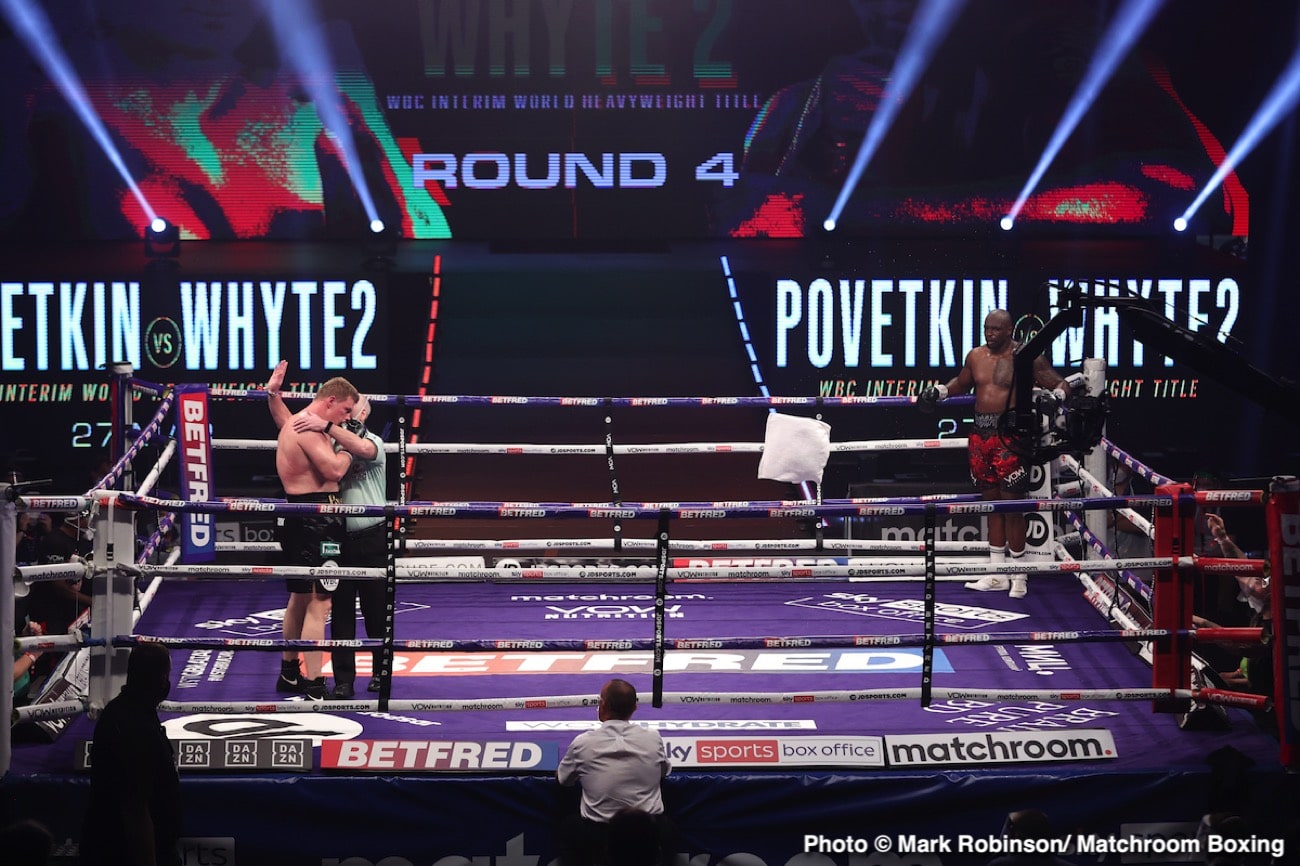 That's not likely to happen, though. For World Boxing Council to order the Joshua-Fury 1 winner to face Whyte, they would have to be viewing Dillian as having been waiting as the WBC mandatory since July 2019 after his win over Oscar Rivas in an ordered title eliminator.
Whyte lost last year to Povetkin, meaning that he was no longer the WBC mandatory or the interim champion.
Now that Whyte has regained his mandatory status with his win over Povetkin, he's starting fresh, not by the 2019 time frame. As such, the WBC isn't going to be in a rush to order the Joshua vs. Fury 1 winner to face Whyte next, given that he will only have been the WBC mandatory for three to four months, not two years.
It's believed that Hearn won't take chances with Whyte this time by matching him against a weaker fringe-level contender for his next fight in July of this year.
If Whyte wins that fight, it's assumed that Hearn will start ramping up pressure on the WBC to force them to order the winner of the Joshua vs. Fury 1 to fight him in December.
If Hearn gets his wish, it's clear that the WBC belt will be vacated by whoever holds the strap after the first Joshua-Fury clash in the summer. It's not that they're afraid of fighting Whyte, who is clearly not in their class talent-wise.
It's more of a case of the money being infinitely superior for Joshua and Fury to fight each other than the blue-collar fighter Whyte, who is only popular in the UK but not in the U.S.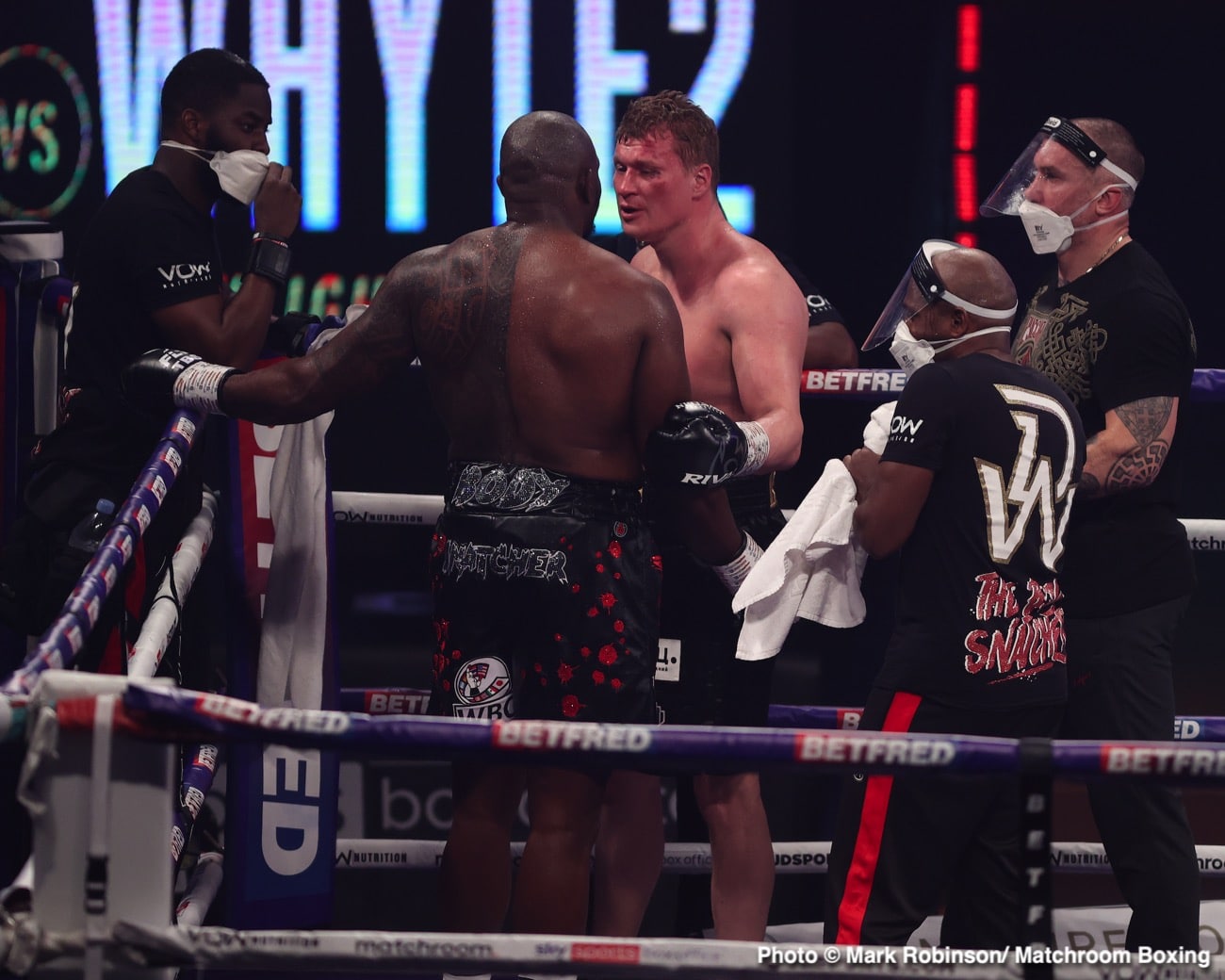 You can sell Joshua vs. Fury on pay-per-view in the U.S, but you can't do the same if Whyte is the opponent for AJ or Tyson.
It won't be surprising if the WBC gives the winner of the first Joshua – Fury fight the 'Franchise' tag designation, which would free up the WBC strap for Whyte to get his long-awaited title shot.
Whyte would then fight one of these top contenders for the vacant WBC title:
Luis Ortiz
Deontay Wilder
Andy Ruiz Jr
Joe Joyce
Michael Hunter
Joseph Parker
Oleksandr Usyk
The WBC would obviously start by asking #1 Wilder if he'd be interested in fighting Whyte, and they'd steadily work down the list until one of them says, 'yes.'
You can forget about Wilder, Ruiz Jr, or Usyk agreeing to fight Whyte because they're looking at other paths to battle for a title against Joshua or Fury. They won't agree to take a smaller-money fight against Whyte and potentially have a difficult time.
The good news for Whyte is that once Joshua and Fury fight for the undisputed heavyweight championship in their first match-up in the summer, they'll be more receptive to vacating needless titles like the WBC & WBO.
It won't matter if the WBC attempts to force Joshua or Fury to defend their title against Whyte because they'll gladly vacate the belt so they can focus on fighting a second time.
But long before the WBC makes that move, they'll wisely elevate Joshua or Fury, depending on which of them holds their title, to the Franchise champion. In other words, the WBC isn't going to want their title vacated by Joshua or Fury.