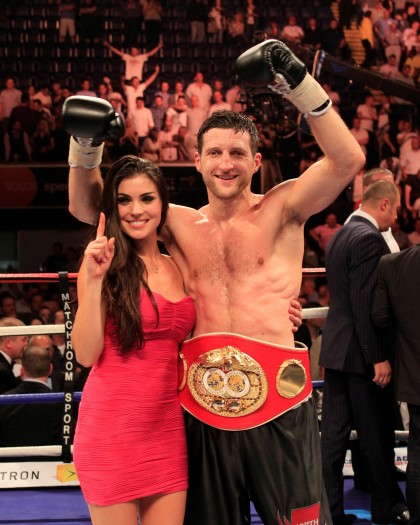 Former super-middleweight world champion and 'Sky Boxing' analyst, Carl Froch, believes Tyson Fury's best chance of beating Wladimir Klitschko tonight in Dusseldorf is to get close and really try to 'put it on' the dominant champion.
Froch – in Germany to cover the fight for the British broadcasting giant – has poured cold water on the notion that Fury should try to get on his bike and box at range, claiming the impeccable distance and timing of Klitschko will mean he inevitably walks onto that one, big, fight-ending shot.
"Looking at the size and weight and the way that he can box and move – he's a younger man – it would seem like the correct thing to do to box and move, and use the ring a lot. I just don't think Tyson can out-box Klitschko," Froch said to Sky Sports.
"He may employ the tactics to try and box but he'll come unstuck and lose the fight. He needs to get close and make it rough.
"Fury will be thinking a knockout will be great but he's [also] got to convince the judges he's there to win it and land shots," Froch added, also noting his concern that the fight is on German soil, the home of many controversial hometown decisions that have gone against travelling Brits in the past.
"[Landing] will be difficult because Klitschko is a master boxer – his distance and timing are impeccable and Fury has to get close to him.
"I don't think he can afford to be on the end of any shots from Klitschko and, by boxing and moving, he'll eventually walk onto something.
"He's talking like a fan and he's saying he respects what Klitschko does. I don't like that change. He's got to get in there and be aggressive early on because if he tries to box at range, he's going to get beaten."
Twitter @undilutedpoison