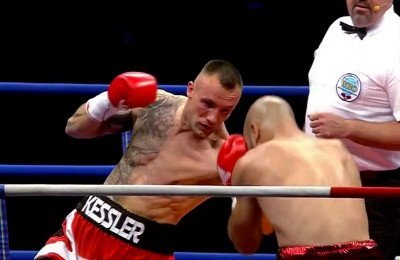 By Michael Collins: Well, it looks like Eddie Hearn from Matchroom Sport has worked his magic and got a badly desired rematch for his fighter IBF super middleweight champion Carl Froch (30-2, 22 KO's) against WBA 168 pound champion Mikkel Kessler (46-2, 35 KO's) at the O2 Arena (Millenium Dome), Greenwich, London, United Kingdom.
The only thing that awaits now is the approval from the IBF for Froch to bypass his mandatory defense against Adonis Stevenson, but it looks like the IBF will grant Hearn and Froch permission to maneuver around that dangerous fight.
Froch believes that he should have won their previous fight back in April 2010 in Denmark.
Froch ended up losing by a 12 round unanimous decision largely because Kessler seemed to get the better of him during virtually every exchange they had. Kessler's superior hand speed and better combinations enabled him to land the cleaner shots against the long-armed Froch. I don't think much will change other than the fight now taking place in the UK, and perhaps Froch getting the benefit of the doubt if the rounds are close. We might see a controversial decision in this fight, and frankly I'd be surprised if we didn't.
Froch isn't going to be able to knock Kessler out like he's done against his last two opponents Lucian Bute and Yusaf Mack because Kessler is arguably a much better fighter than those two are right now. Kessler is more solid, he's got better power, and won't crumble the way Bute and Mack did when Froch starts throwing power shots.
Froch seems to want to slug more when he's at home, so Kessler will have a lot of opportunities to take advantage of that. If Froch is going to be fighting from his heart instead of his head, we could see Froch ending up on the canvas in this fight by him foolishly walking into a hard shot from Kessler. Froch is riding a two-fight winning streak and seems to be a little drunk on the success from those fights. Even his promoter Eddie Hearn believes Froch is better than he was before because of those victories, saying to RingTV "I really feel Carl is a different fighter now, especially in the UK."
Is Froch a better fighter than he was the last time he fought Kessler? Nah, I think he's just had a couple of easy fights recently and he's walked through those guys. Let's be honest here. Do you really think that Froch would have beaten Andre Ward if he had faced Froch in his last two fights instead of Froch fighting Bute and Mack? Of course not. Froch would have lost both of those fights and we'd probably be talking about him perhaps needing to retire right now.
Froch hasn't improved, and he doesn't fight better in the UK. He seems to fight more without thinking by charging forward and trusting his chin to be able to take the heavy shots from his opponents. That might have worked against Bute and Mack, but I don't see it working against Kessler and of course it wouldn't work for Froch if Hearn were to lure Ward over to the UK to fight Froch with a big $3.2 million offer. Ward would simply school Froch in front of his own British fans, and Hearn's theory about Froch fighting better in front of his own fans would be flying out the window.
I do think Froch has an advantage if his fights go to decision in the UK. Look at his fight with Andre Dirrell in 2009. That fight took place in Nottingham, England, and I don't know of too many people who felt that Froch deserved that decision. So there is a possible advantage for Froch by him fighting in the UK if his fights go to a decision, but I don't believe he fights better. If anything, I think Froch fights worse because he seems more primitive when he's at home rather than on the road, where he seems more cautious.