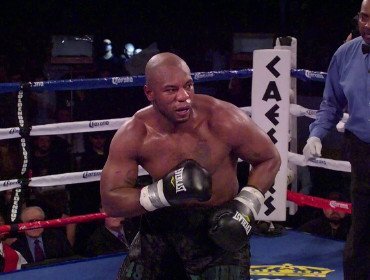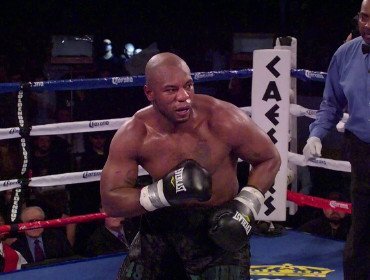 By Chip Mitchell: Boxing history is packed full of bizarre characters, and the heavyweights are no exception. History shows us that fans have a love affair with off-the-wall fighters who reside in the Big Man's division. The stranger the fighter, the more we seem to gravitate towards him. Whether it was Mike Tyson, Riddick Bowe, Sonny Liston, or Jack 'I can't… I can't… but I can…' Dempsey, our lust for more drama has helped generate an abundance of cable subscriptions and sell numerous PPVs.
Well, how about those heavyweights with little or no drama in their lives? How come nobody gravitates toward the good guys? On February 16, two of boxing's good guys step into the ring for a rematch as Johnathon "Mr." Banks and Seth "Mayhem" Mitchell dance once again.
Some readers of this piece may or may not know who Seth Mitchell and Johnathon Banks are and if you consider yourselves boxing fans, shame on you. I'll try to educate you about two of boxing's good guys. In these days and times, we need stories of a few good men in the world of sports.
Introducing… Seth Mitchell
Seth Mitchell was born in Brandywine, Maryland and attended Gwynn Park High School where he played both football and basketball. He earned a football scholarship to attend Michigan State University. He once collected 17 tackles while playing against Ohio State University. Seth injured his knee and had to give up on his professional football dream. However, after seeing a former college opponent win his boxing debut, Seth became motivated to try his hand at boxing.
Incredibly, Seth worked his way up the heavyweight rankings with very little experience. He learned on the go and each fight has worked out to be equivalent to the amateur experience he never had. Seth was fast-tracked, yet moved at a pace that was not too overwhelming. He entered the fight with Banks at 25-0-1. He is one of the top American heavyweights in boxing.
However, the real story of Seth, in my opinion, is of a good family man- a man who is using the boxing platform to support his wife and save money for his children's education. I've been in Seth's presence numerous times and I've also seen him on television. As aggressive as he was on the football field, he always talks about the discipline that boxing brings. You always see a low key guy who seems more concerned with things such as integrity and morality. Seth serves as a role model for youths in the DMV (short for the DC, Maryland, and Virginia region in which he resides). Seth visits youngsters in boxing gyms and clubs in the area and motivates them to keep reaching for their goals. Each time he fights, folks can purchase tickets in the Seth Mitchell Section to join his fans in cheering him to victory. Those seats are usually packed and they remain that way for a reason. Seth truly represents a classy disposition each time you see him. He's a true gentleman and, ironically, fought a guy named Chazz "The Gentleman" Witherspoon before he fought Banks. Chazz is another one of boxing's good guys. We need more men like Seth Mitchell in our often troubled sport.
Introducing… Johnathon Banks
Johnathon Banks is from Southfield, Michigan, a suburb of Detroit. He began playing the piano as a young child, but boxing soon became his passion. His grandfather proved prophetic as he told Banks that he'd be a boxer one day. Banks was all of two weeks old at the time.
Unlike Mitchell, Banks had an extensive amateur career, becoming a three-time champion at 178 pounds. Banks began fighting in the famous Kronk gym in Detroit, under the watchful eye of the late trainer Emmanuel Steward. Steward thought so much of Johnathon that he named him as Wladimir Klitschko's trainer before his death. Klitschko is the long reining heavyweight champion of the world and Steward could have chosen a seasoned trainer as his successor, even one from his own family. However, he chose Johnathon and I needed to find out why.
It turns out Johnathon is also a role model to many youths in the rough city of Detroit. I was recently on a conference call for the rematch and Banks had nothing but good things to say about his opponent. He continuously took his "hat off to Seth" throughout the call and it was almost as if he was thanking Seth for giving him another shot. He has promised to keep up the Kronk gym legacy set forth by Steward. The fight game needs more men like Johnathon Banks.
Boxing fans, please tune into the rematch between Seth Mitchell and Johnathon Banks in a few weeks. It will be the co-feature to Adrien Broner vs. Gavin Rees. Mitchell and Banks represent two positive role models stepping into the squared circle to face each other again. Make no mistake about the fight folks. Once the bell rings it will be business as usual. You will be treated to an entertaining fight between two young heavyweights. In their first encounter, they did what we all ask heavyweights to do. They punched! No grabbing and wrestling and holding. They fought like true heavyweights and I commend them both for such an act.
You will also be treated to two of boxing's class acts. I wouldn't be surprised if they shook hands after the fight, no matter the outcome. I also wouldn't be surprised if they teamed up in the future to assist the young fighters of tomorrow. Gratitude to both of these gentlemen and Johnathon, we take our collective hats off to you and Seth. Best wishes to you both.