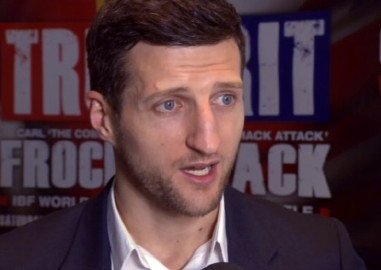 Rob McCracken, the trainer for IBF/WBA super middleweight champion Carl Froch (33-2, 24 KOs), says that Julio Cesar Chavez Jr (48-1-1, 32 KOs) is still a target for them for their next fight. McCracken says that they're in talks with Chavez Jr for a fight. This is news because Chavez Jr's promoter Bob Arum recently said that there is no Chavez Jr-Froch fight.
This means that if Froch's promoter is having talks with Chavez Jr about a fight, then they're doing it without Arum's Top Rank company being part of the talks. If Arum and Top Rank aren't going to be involved then it's unknown if a fight between Chavez Jr and Froch can take place.
We are still going through the Chavez offer and whether that will happen at the end of March," McCracken said via Skysports.com. "Nothing has been confirmed yet, but we are in talks about Carl fighting Julio Cesar Chavez Jr. It's moving in the direction that Carl will fight Chavez shortly, but obviously it's not been done yet."
If Froch doesn't face Chavez Jr due to the fight being blocked, it will leave Froch with some less than desirable options. He can fight James DeGale, Mikkel Kessler or Gennady Golovkin. Froch doesn't seem interested in DeGale and Golovkin, so that would leave Kessler as the guy.
It's a fight that would do well in the UK on pay-per-view, but it's not the fight that Froch wanted as far as him being able to take it to Las Vegas, Nevada to have it staged there. Froch would be losing a lot of money if he were to fight Kesler or even DeGale in the United States. The money he could make in the UK by sticking those fights in a large stadium like the Wembley Stadium is fairly substantial.
There's a lot of interest from American boxing fans to see Froch fight Golovkin in the United States, but if Froch's not interested in that fight then there's not much can be done about it. He just doesn't seem excited at the prospect of fighting Golovkin like he is in fighting Chavez Jr.
Froch has a good promoter in Eddie Hearn, so it's possible he could make the Froch-Chavez Jr fight. It might not do too well on pay-per-view in the U.S, but it will do well on the UK pay-per-view.