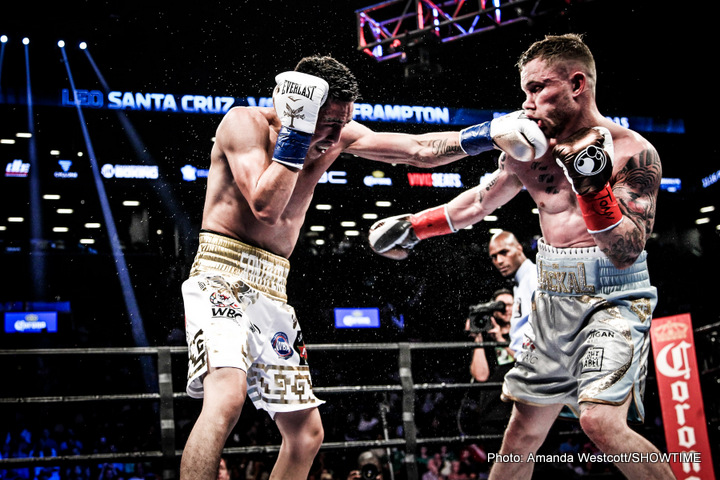 Carl Frampton and Leo Santa Cruz square-off for the second time this Saturday from Las Vegas, Nevada at the MGM Grand Garden Arena live on Showtime. Can Leo make the necessary adjustments in the rematch or will Frampton's overall skill be too much again? The co-feature matches former two-weight champion, former pound for pound fighter Mikey Garcia against WBC lightweight champion Dejan Zlaticanin.
Carl Frampton's career skyrocketed in 2016 on the strength of two legit fights enough so he won the majority of 'Fighter of the year' awards giving out by the press. Just under a year ago Carl defeated previously unbeaten 122-pound champion Scott Quigg in a unification bout in Manchester, England. 'The Jackal' moved up to featherweight to face yet another undefeated boxer in Leo Santa Cruz.
Their first meeting was a dandy of a scrap that fully entertained a rowdy crowd of 9,000 plus in Brooklyn's Barclays Center. Due to Frampton's Irish roots the audience consisted mostly of traveling followers from the UK and Irish-Americans. This time some 4,000 fans will make the journey to Las Vegas to support their man.
Leo is hoping his Mexican and American fan base shows up to help even the playing field in a sense. But for Leo, in the ring adjustments will be more important than a judge reacting to the crowd after a punch lands. Will the old tried and true belief that once a counter-puncher figures a fighter out the fight is all but decided. Okay, so the saying doesn't go that far, we know anything can happen in ring on fight night but you get the point. Usually at the highest levels of the sport the counterpuncher wins the rematch.
Here's a question outside the box a bit. Can Carl fight any better than he did in July? On that night Frampton put on quite a display of skill that seemed to stop his opponent in his tracks. He mixed up styles very well by setting traps to counter, kept a good punch rate, and wasn't afraid to exchange in the trenches.
Leo on the other hand looked timid seemingly stuck in gear lacking confidence in a steady game plan. Obviously, his father's battle with cancer and his treatment took away some of Leo's focus in training camp and in the fight. In fact the two didn't every really get on the same page with the plan of attack, something that was evident in the ring. Gone was Santa Cruz's signature style. Instead we saw a fighter that looked lost from rounds 2 to 5. However, Leo did work himself back in to the fight around the six round and competed neck and neck from their after.
Frampton has said he will make the fight easier than the first by not engaging in as many exchanges in a brawl sequence. Most likely Carl will use more movement and busy work while continuing to set traps for his opponent to step in. So in that case it could be said that Carl could improve on his performance in the first go round by not taking as many punches.
During fight week, Leo made it clear that his dad had a plan but wasn't able to execute the plan because him and his brother hadn't worked on it in camp which in effect placed him no man's land. The Santa Cruz camp has explained the second fight will be different and Leo will be smarter, even mentioning potentially using his 7 inch reach. Whatever plan they use whether it's using the jab and 1-2 combos on the way inside, or pedal to the medal full steam forward, Leo has to dive all the way in. If he gets stuck in the middle again his feet are too slow and Frampton will win easier.
From what this scribe saw in their first bout, Leo should apply endless pressure behind his jab and try to close the gap early and often. When he did that it worked fairly well and gave Carl fits not to mention it brought him closer on the scorecards. For Frampton expect a slicker version that doesn't stand in front of Leo as much. However, if 'The Jackal" does decide to move more it could affect the scoring especially in America, were the come-forward fighter who is "making the fight" tends to get the benefit of the doubt in tight rounds.
Years ago ropeadoperadio.com ran a fantasy boxing league. I bring this up only because the outcome of this fight may differ than what you and I see in the ring. My gut tells me Frampton but my brain is telling me Leo. In fantasy boxing I would have picked Leo. If this matchup is anywhere near as close as the first one look for the judges to favor Santa Cruz, after all, theirs future profits that can be made on trilogy. My hunch is it will feel like Carl Frampton won this fight but I'm going with the fighter closer to home and a higher output in Leo Santa Cruz.
My Official Prediction is Leo Santa Cruz by a controversial split-decision.
In the co-feature, Mikey Garcia challenges WBC 135-pound champion Dejan Zlaticanin in what should be a good test for Garcia as he makes his second appearance since being on the shelf for 2 ½ years. Zlaticanin is a powerful wild swinging puncher who will be very dangerous in the early goings. If Mikey gets caught cold in the first few rounds he may not be able to recover. How will Garcia's body react to hard punches something that usually takes even a legend like Floyd Mayweather time to adjust. After a rough spot or two, look for Garcia to control the pace on the outside and at some point begin to catch Dejan with flush punches. My Official Prediction is Mikey Garcia by late TKO or Unanimous Decision.
Side Note: Make sure to DVR or watch a replay of the HBO Doubleheader on Saturday. The main event should be a barn burner between Francisco Vargas and Miguel Berchelt. Also, the co-main will be Takashi Miura vs. Miguel Roman with the winners of both fights potentially meeting this summer.
Written by Chris Carlson Host of the Rope A Dope Radio Podcast at blogtalkradio.com/ropeadoperadio or Subscribe on iTunes. Follow on Twitter @RopeADopeRadio