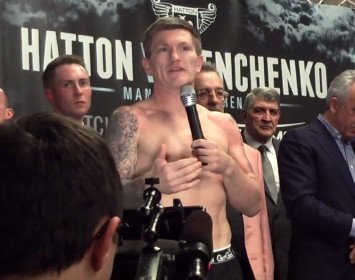 By Michael Collins: Ricky Hatton is taking a considerable risk in making a comeback tonight against Vyacheslav Senchenko after a long period of time out of the ring. IBF super middleweight champion Carl Froch is just hoping that Hatton can come out of this fight in one piece and doesn't get hurt like he was in his last fight against Manny Pacquiao in 2009.
Speaking to the standard.co.uk, Froch said "If Ricky wants to come back that's his decision. Good luck to him. But let's just hope he is in as good shape as he looks and that he doesn't get hurt."
Hatton does look to be in outstanding condition judging by how good he looked during Friday's weigh-in. However, there's a big difference from being in good shape and being in fighting shape. Hatton looks like he's taken off a lot of weight, but we don't know how he'll react when he starts taking head shots and how he'll look once the fight goes past the 3rd round.
When you've got an older fighter that is making a comeback after years out of the ring like Hatton, they tend to look decent for about three rounds. If they don't score a knockout by then, they slowly start running out of juice and end up either knocked out or hanging all over their opposition with their mouths wide open, gasping for breath in the process of losing by a decision.
Hatton showed that he didn't have the talent to cut the mustard against the top level fighters three years ago when he was beaten by Floyd Mayweather Jr. and Manny Pacquiao by knockouts. I honestly don't think that Hatton has gotten any better after lounging around, eating & drinking good, and gaining tons of weight during 3 1/2 years away from the sport. If Hatton couldn't handle the best competition years ago then how can he handle it now?
If all Hatton wants to do in his comeback is fight Senchenko and Paulie Malignaggi, then he might be okay because those guys are a long shot off from the top tier guys in the talent department. But Hatton might not even be able to handle Senchenko, and in that case he really needs to think hard about retiring again because there are a lot better fighters out there than Senchenko.