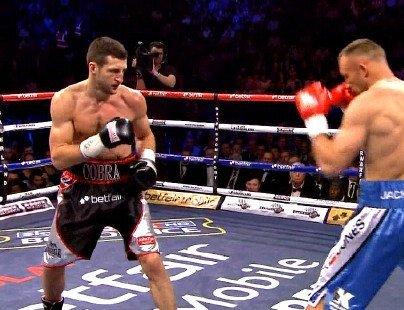 IBF super middleweight champion Carl Froch (31-2, 22 KO's) labored to a 12 round unanimous decision on Saturday night over WBA super middleweight champion Mikkel Kessler (46-3, 35 KO's) at the O2 Arena in London, UK. The judges scored the fight 118-110, 116-112 and 115-113. The last score was the more accurate score compared to the other two.
Froch barely beat Kessler. Had Kessler won the 12th round, I would have scored it a draw. It was pretty sad scoring of the fight. Neither looked good. You can't say Froch looked good because he spent the entire night missing punches and throwing a limp jab that would have been easily countered by a good fighter like Andre Ward.
Kessler looked like a shot fighter, and nothing like what he was in his prime in 2007 before his fight with Joe Calzaghe. That version of Kessler would have taken Froch to lunch tonight. It wouldn't have been close, but this version seemed afraid to pull the trigger. I've never seen Kessler so hesitant before. He just looked shot and that's not because of what Froch as doing. Kessler didn't seem like the same fighter he was years ago. He needs to retire.
Kessler hurt Froch in the 11th round with a big right hand that staggered Froch. Kessler then teed off on Froch with a flurry of shots. Froch to his credit came back in the last seconds to land a few shots, but mostly miss.
In the 12th round, Froch hurt Kessler with a hard right hand but he was unable to finish him because he was tied up by Kessler and then missed with most of his remaining power shots.
Froch did not look good tonight and it's difficult to picture him being able to compete with Andre Ward in a rematch, if that's what he plans on doing. The victory might give Froch confidence to finally face Ward again, but then again maybe not. If Froch sees the replay of the fight he'll probably choose not to fight Ward again because he would get badly beaten.