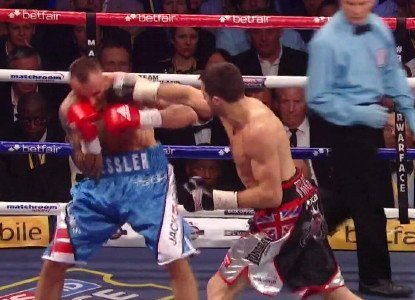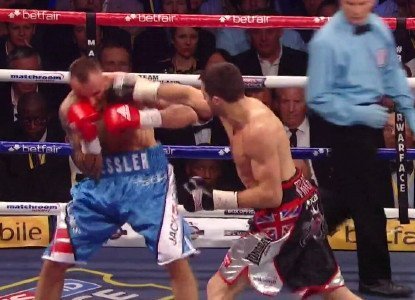 IBF super middleweight champion Carl Froch (31-2, 22 KO's) avenged his earlier defeat to WBA super middleweight champion Mikkel Kessler (46-3, 35 KO's) by beating him by a 12 round unanimous decision tonight in front of a packed O2 Arena in London, England. Both fighters ended getting hurt with big shots before the fight was done, but in the end Froch did enough to win a 12 round unanimous decision.
After the fight Froch said "He was there to hurt me on a couple of occasions he did hurt me, but I hit him with the bigger shots and I was close to the knockout in the end. I'm really, really happy. I just kept at range with the jab all night long."
Froch was hurt a round earlier in the 11th by some big shots from Kessler. In the 12th, Froch had Kessler close to being stopped but he couldn't land a big enough punch to finish the job. That was something that Kessler had pointed out before the fight; namely Froch doesn't have the kind of power to finish an opponent with one punch. Froch needs to hit his opponents repeatedly with big shots before he get stop them. Against Kessler, it wasn't going to happen and I think Kessler would have survived another three rounds had he wanted to because Froch didn't have the speed to put his shots together.
The fight really wasn't that great to watch from a fan's perspective. Most of the rounds liked identical to each other with Froch standing in the center of the ring throwing a jab and not much else.
When Froch would try and change it up, he'd frequently miss with his attempts to land power shots. It wasn't that Kessler was great defensively; it's just that Froch's lack of hand speed made it easy for Kessler to go out of the way of his shots.
Froch did land when the two where in close holding onto each other. Froch would use those opportunities to throw rabbit punches to the back of Kessler's head without the referee doing anything to stop or warn Froch doing that.
Kessler didn't look like he was mentally prepared for a war, and that's what he would have needed in order to win tonight. He led too many rounds slip through his fingers because afraid to rush past Froch's land his shots. It was a failure to launch on Kessler's part and that's clearly why he lost the fight tonight.