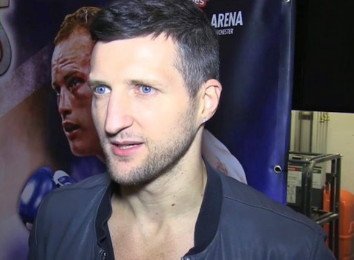 Retired former super-middleweight champion, Carl Froch, is still publicly flirting with the idea of a comeback fight against Gennady Golovkin, having met the Kazakh's manager, Tom Loeffler for the first time.
Speaking to iFLtv alongside Loeffler after last week's Klitschko/Fury weigh-in, the 38 year-old Froch states how he believes he would have trouble making the 168 lb super middleweight limit for any comeback, unreasonably going on to suggest he could fight the Kazakh 160 lb champion at a 172 lb catch-weight, before the idea is immediately dismissed by Loeffler as 'too much of a jump'.
Speaking with a tone that crossed between facetious and serious contemplation, Froch – whose last fight was in May 2014 – says how he is looking forward to meeting the IBF/WBA middleweight champ in person, though making certain to add he has no intention of breaking his retirement, UNLESS it was for a GGG fight.
Before officially retiring earlier this year, the Nottingham fighter cryptically alluded to a fight with Golovkin by posting a photograph of himself alongside the words 'Too Big & Too Strong for GGG' and has ostensibly struggled to fully settle into retired life, given he is continually around boxing in a punditry capacity, working for Sky Sports, and is consistently answering comeback questions from the media with a 'never say never' approach.
"Golovkin is a great fighter, terrific fighter, I've got a lot of respect for him," Froch said. "I'll be honest, I think I can beat him. I think I'm too big for him.
Asking if Golovkin could possibly come to 172 for any fight, Loeffler says;
"When I spoke to Eddie, [Froch promoter, Hearn] before, we always said we'd fight at 168, Gennady's a small middleweight, it'd have to be one of those things we'd work out. But I don't think it's realistic to go above 168."
Loeffler then goes on to say that Golovkin's priority remains unifying titles at 160 lbs, which means [more important] potential fights with WBC titlist Canelo Alvarez and the winner of this months WBO clash between Andy Lee and challenger, Billy Joe Saunders, that takes place in Manchester on Dec. 19.
Froch, in what is becoming a familiar theme, then continues to flirt with the Golovkin idea, weighing up the options, all the while insisting that he isn't an active fighter…
The full video is below.

Twitter
@undilutedpoison