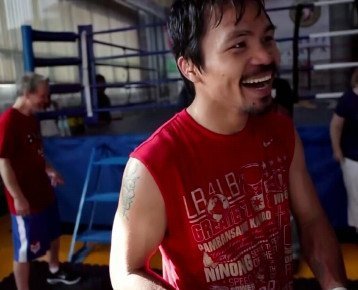 Manny Pacquiao and his team still haven't announced who his next opponent will be for his April 12th fight, but it's assumed that WBO welterweight champion Timothy Bradley will be the one facing him, as long as he doesn't price himself out of the fight by asking beyond what Top Rank is willing to give him to be the B-side.
Floyd Mayweather Sr. says he was really impressed with what he saw of Pacquiao in his win over Brandon Rios last November, and based on that fight he feels that Pacquiao could be too much for Bradley in a rematch. Floyd Sr. thought the previous Pacquiao-Bradley fight was one that could have gone either way. He didn't think Bradley clearly won it or Pacquiao.
"Pacquiao might pull that off," Floyd Sr. said to Hustleboss. I'm just saying from the first fight it depends on what you thought about it, but I just see a different fight."
The rematch will come down to how Pacquiao deals with Bradley's movement, his bad habit of diving in head first, and his clinching. Bradley's hard to hit when he's circling around the ring. When he does come forward to throw something, he has his head lowered and tends to dive forward while throwing shots. That makes it doubly tough for his opponents, because they either get hit with his shots or the crown of his head. Once Bradley has thrown his shots, he instinctively grabs his opponents in a clinch until the referee pulls him apart. It's this move, hit, head-butt and grab technique that makes Bradley so hard to deal with. Its a style that Bernard Hopkins uses at times. He doesn't try to head-butt, but it happens with him diving forward with his head lowered.
There's very little way that Pacquiao will look good even if he beats Bradley due to the way he makes the fight messy with this grabbing and accidental head-butting. At the end of the day, Pacquiao and Top Rank would likely be much better off matching him against someone that will fight in a little more traditional manner so that Pacquiao can look good and deal with a style that is easier to fight against.
Someone who would do really well against Bradley would be Floyd Mayweather Jr. He'd be quick enough to nail Bradley each time he lowered his head and came forward like a Billy Goat. Mayweather Jr. would be quick enough to land and get out of the way of Bradley's attempts to hit and grab. Of course, that fight won't happen unless Bradley leaves Top Rank when his contract is up at the end of the year.