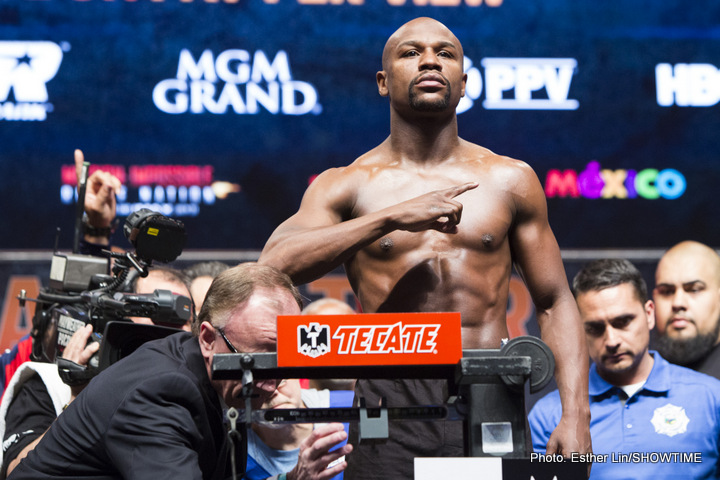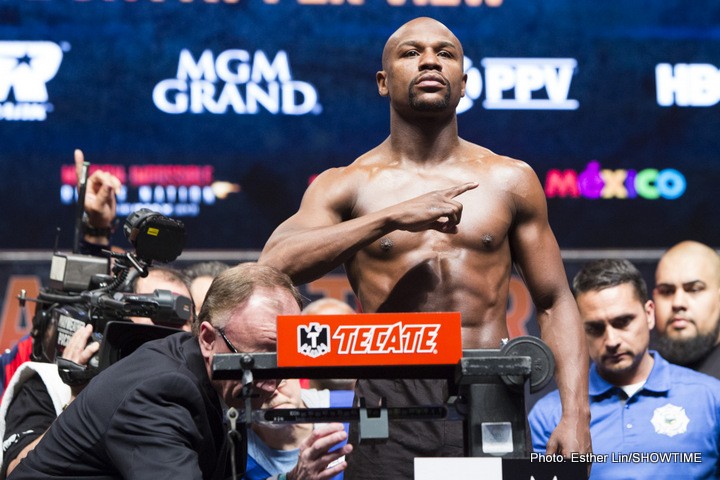 Floyd Mayweather Junior's trophy cabinet just got a little fuller; or it will in the spring when he will be presented, for a third time, with the Boxing Writers Association of America's prestigious Sugar Ray Robinson Fighter of the Year award. Dan Rafael of ESPN.com reports how Mayweather won the award for 2015 on the ballots released on Friday.
Mayweather picked up the award primarily due to his wide points win over long-time rival Manny Pacquiao, who also won the BWAA award for Fighter of the Year in 2006, 2008 and 2009. Mayweather, as we know closed out 2015 – supposedly his final year as a fighter – with a relatively straightforward points win over huge underdog Andre Berto. Rafael reports how Mayweather – currently in the UK on a "Victory Tour" meet and greet – will be honoured at an event some time in the spring, when the 91st annual BWAA awards night will take place.
Also winning an award, The Muhammad Ali-Joe Frazier Fight of the Year award, was unbeaten junior-lightweight Francisco Vargas and his thrilling stoppage win over Takashi Miura, which electrified fans in November.
"I am very humbled by the honour of fight of the year," Vargas said. "It makes me more motivated to keep delivering great fights to the fans, and I hope to keep entertaining them as I continue on my journey to unify the titles in my division."
Vargas, a major talent with a ton of heart and guts, figures to do just that, and that's give fans more great action fights.
In other notable awards:
Abel Sanchez won The Eddie Futch Trainer of the Year award. The still somewhat mysterious and rarely seen Al Haymon won The Cus D'Amato Manager of the Year award.
As is often the case, however, Mayweather and his win has picked up the most ink. Just where "Money" will be placed in boxing history by the fans remains a topical issue. Is Mayweather – who of course claims he is T.B.E, The Best Ever – deserving of being placed alongside immortals such as Sugar Ray Robinson, Joe Louis, Muhammad Ali, Henry Armstrong, Roberto Duran and others?
Will Mayweather actually fight again, adding more to his legacy? Fans are as split on this subject as they are on Floyd's place in history.