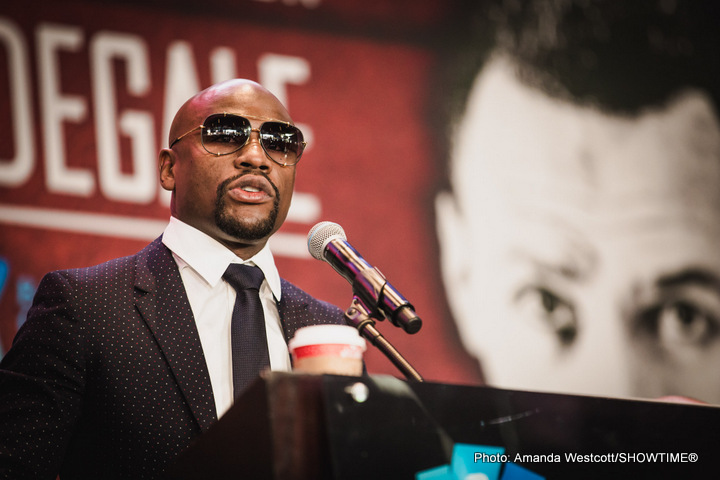 As 2017 really gets underway, the vapour trail of 2016's machismo-driven content provision, the lighting up of black mirrors, and heaving cogs of speculation that the world's best boxer might do battle with the world's best mixed martial artist has picked up pace.
Up until this week, its all been good harmless fun,but no one really believed that Floyd Mayweather and Conor McGregor could or would meet in a boxing ring, for numerous reasons. Not least that McGregor is under contract with the UFC and the retired Floyd surely wouldn't want to return andhit the magical 50 wins by beating an opponent from another sport.
But what began as a brand awarenessexercise for both camps, may now very well be at the "let's take a look at the blueprints"stage, with all of the key stakeholders stimulating the possibility of tentative exploration with firmed up offers, counter offers and insults.
Speaking exclusively to ESPN's First Take earlier this week, Mayweather said "Conor McGregor keeps telling everybody he wants the fight – let's make it happen."
He then outlined the terms which would see him emerge from retirement to face McGregor under Queensbury Rules in terms of the athletic discipline and Mayweather Rules in terms of the remuneration.
"They know what my number is. My number was a guaranteed $100m. We're the
A-side. But we're willing to give him $15m and then we can talk about splitting the back-end percentage on pay-per-view."
By way of 'reply' Conor McGregor Tweeted the incendiary 'Call me C J Watson!' above a graphic of him standing above a KO'd Mayweather raising and swathed in a mixture of world championship belts from the world of combat sports.
Perhaps more interestingly,when speaking to Colin Cowherd on Fox Sports Radio on Friday, UFC President Dana White said of the proposed boxing match up, "I'll tell you what Floyd, here's a real offer and I'm the guy who can actually make the offer. We'll pay you $25m, we'll pay Conor $25m and then we'll talk pay-per-view"
"If we did Conor McGregor vs. Floyd Mayweather, there would be another championship bout as the co-main event and a stacked card just like we did in New York," White continued.
Professional boxers fighting mixed martial artists is nothing new of course, but it's usually a boxer crossing to the cage and it's usually a boxer fast running out of options in the square circle, but needing one or two more paydays larger than those on offer from the club fighting circuit.
Think Riddick Bowe's kamikaze trip to Pattaya, Thailand in 2013, where his legs were kicked to bits by Levgen Golovin or James Toney taken down and submitted by arm triangle within minutes by Randy Couture at UFC 118.
And in the name of balance, Ray Mercer has taken several trips into different combat zones, losing two kickboxing contests in 2004 and 2005, but famously starching Tim Sylvia with one punch at an Adrenaline MMA event in 2009.
Even Muhammad Ali took a trip into the prize fighting circus tent whilst still actively boxing, by facingAntonio Inoki in Tokyo on June 26th 1976 under 'special rules' which blurred exhibition with competition and ended in a 'draw'.
None of these fights proved anything athletically of course, but they all generated dollars for the participants and publicity for the promotions.
So if there is no substance to the possibility of Mayweather, McGregor happening, what is Floyd in particular getting out of this renewed speculation, that he himself is now at the heart of?
Mayweather doesn't need a shred of the publicity that this drama is bringing, when he shows up the world shows up.And when he announces his comeback, whoever the opponent,there will be no shortage of attention.
Similarly, Conor McGregor isn't a man in need of attention or coverage either.At 28 he is at or around the peak of his athletic powers, he was the UFC's only fighter to hold two championship belts simultaneouslyand has broken every PPV, Gate and title fight KO record getting there.
So that leaves us with one obvious motivation. The only motivation. Money.
"The only thing I'm probably interested in," Mayweather told ESPN "is the Conor McGregor Fight. I'm a businessman and it makes business sense."
A fight between Floyd Mayweather and Conor McGregor would not only draw in UFC and boxing fans (if they are honest with themselves) but also the casual fan, the sportsfan, the docudrama fan, the soap opera fan, the box set fan and may even persuade those who don't own a TV to go out and buy one…
Promotional muscles would flex and cross promote this event across every pulsing multi-media platform for months with promises on loop, that McGregor's dynamite power and unorthodox movement may finally provide a kryptonite to solve the defensive Mayweather enigma…
Venue tickets would sell out in minutes with PPV buysringing those tills right up until show time… before big fight branded 'do not disturb' signs hang from every bedroom door in the MGM Grand on the morning of the historic night before.
So stay tuned, this could be happening…