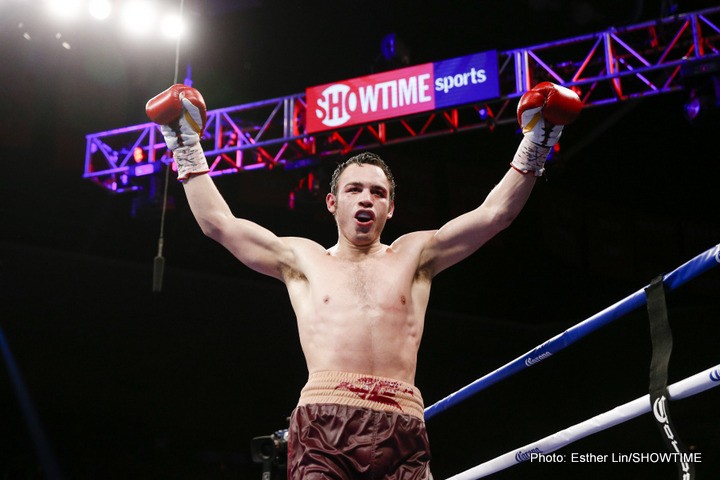 We really could be in for a great year here in 2017 if we get both Canelo Alvarez-Julio Cesar Chavez Jnr and Canelo-Gennady Golovkin. We've already got Canelo-Chavez, as was of course confirmed yesterday, and unless Chavez upsets Alvarez, we should get the really big one in September. Let's face it, Canelo cannot use his "I'm not a middleweight" card any longer, agreeing as he has, to face Chavez at 164.5; well above the middleweight limit. If Canelo can fight at that weight, he can fight GGG at 160, right?
But before the hoped for September super-fight rolls around, we have a potentially great fight to look forward to on May 6 (and not forgetting the GGG-Danny Jacobs fight on March 18, which could also be special; as well as being another potential spanner in the works regarding the GGG-Canelo showdown, as Jacobs could perhaps upset the middleweight king).
Canelo Vs. Chavez, already dubbed the biggest fight in Mexican boxing history; certainly the biggest fight between two Mexican stars, could be a classic. Chavez, with a big weight advantage, along with the incentive to come in at the agreed weight and not one pound above (or be heavily fined) just might give Canelo the roughest, toughest, most physically demanding fight of his career.
Chavez has suffered from embarrassing performances in the past, yes, but he was out of shape, above his optimum fighting weight (against Andrzej Fonfara, Jnr's sole stoppage loss) and he was lacking in focus. People who still believe in the former WBC middleweight champ believe he will definitely be focused for the May 6 battle – in fact he is focused already.
Chavez is up for this fight, as is Canelo. There is Mexican pride at stake, as well as a growing legacy and a family name to live up to. Chavez Jnr, with this fight, has the biggest and best chance he ever has had to live up to his all-time great father and his incredible ring accomplishments. Imagine that as motivation! If Chavez Jnr can pull it off over Cinco de Mayo weekend, with all of Mexico watching, he will instantly be forgiven for any mistakes/poor performances/losses he was guilty of in the past. Chavez Jnr will be very dangerous in this fight, make no mistake about it.
As for Canelo, he too respects the Chavez name, stating yesterday how Chavez Senior was and still will be his idol after May 6.
"It doesn't change anything," Canelo said of the upcoming fight and his opponent being the father of one of his heroes. "It's a different era now. I still have affection for the father. He's still an idol, but fighting his son has nothing to do with that. It's going to be a great fight and the biggest fight in the history of Mexico."
Who will the majority of the passionate Mexican fans be rooting for on May 6? This one could divide opinion and fan support. The Battle of Mexico is clearly far more than a mere hors d'oeuvre to the Golovkin-Canelo fight.