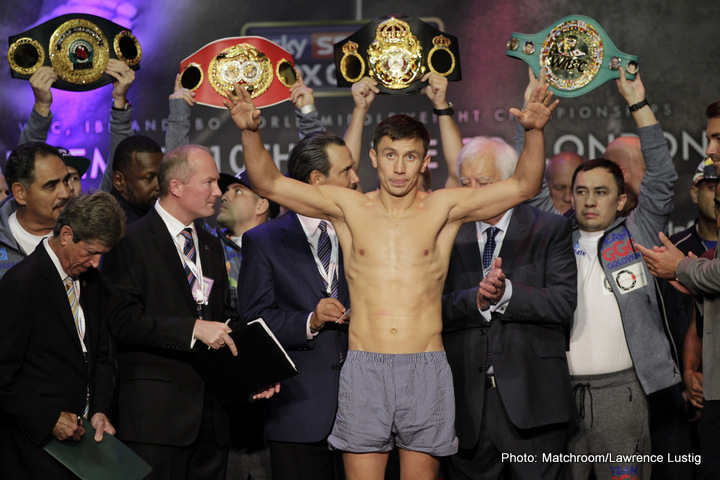 What to make of today's official weigh-in for tomorrow's hugely fascinating and potentially thrilling Gennady Golovkin-Kell Brook middleweight battle? The weights were pretty much as expected, although it was perhaps a little surprising seeing welterweight Brook tip-in heavier than the world middleweight ruler; even if it was by less than a pound. Brook, though, looks absolutely magnificently conditioned, muscular, ripped and ready.
Brook has that glow about him that only a peaking, fully fit pro athlete can have. Golovkin pretty much looked his usual self, despite promoter Eddie Hearn's belief that GGG "looked a little drawn" yesterday. Both men looked in fantastic, ready to go shape as they stood on the scales. Brook, however, said he could see fear in the eyes of the feared KO artist who will be having his first pro fight in England tomorrow night.
"They're amazing, these fans, "Brook said, as quoted by Mail Online. "I looked into his [GGG's] eyes and I could see fear just like myself. He knows he's in a proper fight and I'm ready for this moment. I feel he's on edge. He's uncomfortable and I believe it's my time. He can see in my eyes I want this 100 percent. I want to show the world what I can do at a natural, healthy weight. I'm smiling, hydrated, and ready to fuel up and let some rocket launchers go."
Brook should of course know that Triple-G, a ferocious puncher who has compiled an amazing 32 KO's from his 35 wins and is yet to go beyond the 11th-round in any fight, will be in the mood to let his own bombs go in around 32 hours' time. But Brook, also unbeaten, says it is "written in the stars" for him to win.
https://www.youtube.com/watch?v=JXFQvjfH9SM
Which of these two superb fighters will be left seeing stars inside a rocking, packed to the rafters O2 Arena in London tomorrow night? Or will this fight surprise everyone by going the full 12-rounds? Fans are expecting a great fight and the buzz surrounding this big fight very much suggests they get one.