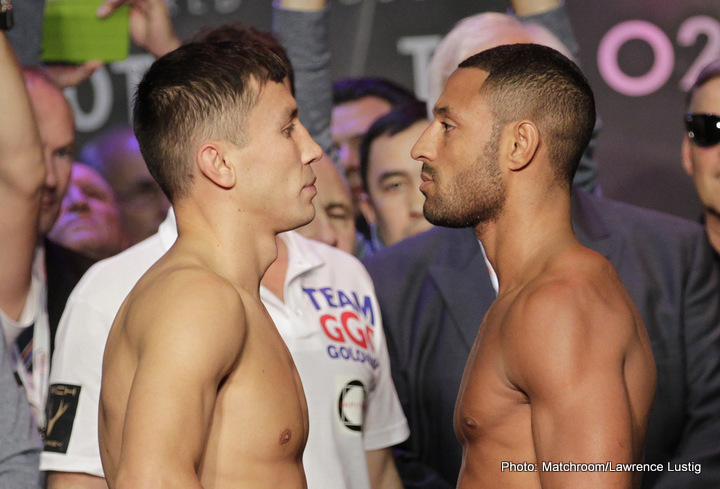 Today, rumours circulated saying how Gennady Golovkin was feeling unwell, even perhaps battling an illness, ahead of tomorrow's big fight with Kell Brook. In the opinion of some people, these rumours were given some credence by the fact that Golovkin headed straight for his room after the weigh-in and did not want to do any further media engagements.
Of course, rumours being circulated is nothing new in boxing, especially just days (or hours) before a big fight, but GGG's trainer Abel Sanchez spoke with Sky Sports just after today's weigh-in, and he stated that there is no truth whatsoever to these whispers.
"It's an absolute untruth, he's just in fight mode," Sanchez said of his fighter. "He's in an environment here where he's the bad guy, because Kell is from here. But no, he's just ready to get to work. He had 350 amateur fights, he's seen everything (smiles). He understands that now it's the time to go to work. At the check weigh-in, which was on Wednesday I believe, I could see the change I him, it was like, 'okay, now it's time to go to work.' I hope the fight is as good as I think it's going to be. Kell is a warrior, I've seen that here with Carson Jones, but Golovkin is a level above."
https://www.youtube.com/watch?v=r8KloPV9IpU
So according to Sanchez, GGG is fine, well and simply read to go. Of course, if Golovin was somewhat under the weather, Sanchez would be less than willing to admit it. But taking Sanchez, a class act, at his word, there is indeed nothing to hide and both Golovkin and Brook – who Sanchez said would give any other middleweight but his fighter a "50-50 fight" – are in perfect shape and are ready to go to war.
Sanchez says that as soon as Brook feels the power his fighter possesses, the game-plan of the challenger will change. Ever since this fight was first announced, the million dollar question was, can Brook take Golovkin's fearsome power? In just over 24 hours, we will get our answer.