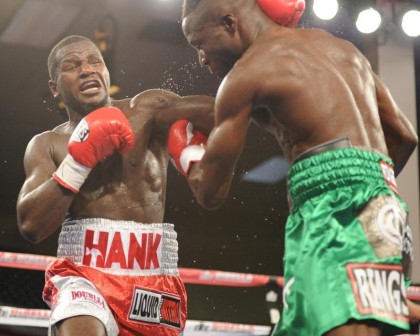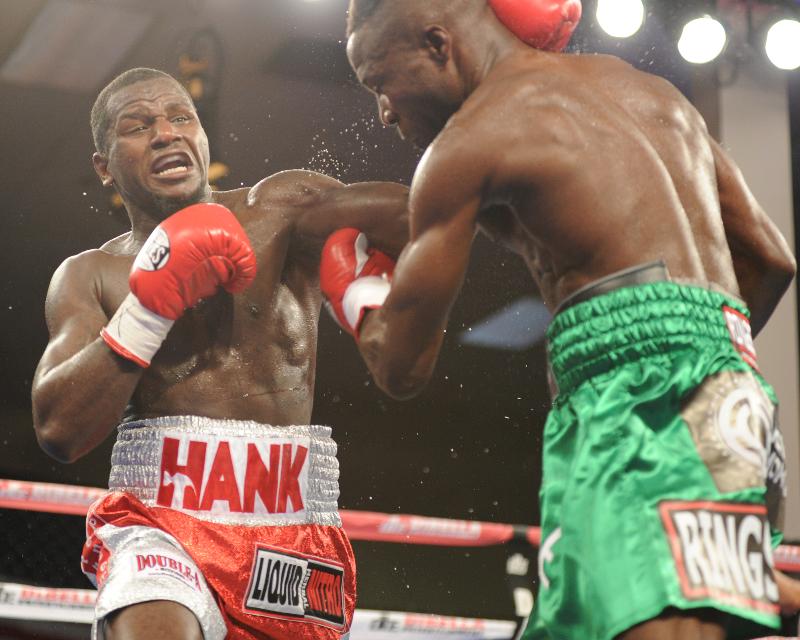 New York, NY (7/19/13) – Earlier tonight, before a sold-out raucous crowd, DiBella Entertainment presented this week's edition of ESPN's Friday Night Fights at the historic Rockingham Park, in Salem, New Hampshire.
The 10-round main event featured a battle between WBC #3-rated junior welterweight Olusegun Ajose and WBC #5-rated "Hammerin'" Hank Lundy that ended with the latter winning a dominant 10-round unanimous decision.
Ajose was just two fights removed from his world title bid and first professional loss at the hands of Lucas Matthysse and was hoping an impressive victory over Lundy would put him back into the world title picture. Unfortunately, Lundy had other plans.
Lundy controlled the action behind a piston-like jab that continuously snapped back the head of former Olympian Ajose. Olusegun never seemed to be able to get into a groove. Despite looking good in a few early rounds, Lundy usually found a way to come back and steal the frame before each bell.
Lundy had a huge fifth frame, as he had Ajose hurt and reeling against the ropes. Luckily for Ajose, the end of the round was near and he was able to survive.
Ajose had some success in rounds eight and nine, but unfortunately it was too little, too late. In the end, Lundy was awarded the well-deserved 10-round unanimous decision, winning by scores of 100-90, and 98-92 twice. With the loss, Ajose's record drops to 31-2 (14KO's), while Lundy improves to 23-3-1 (11KO's) and shows that he is truly a force to be reckoned with in the loaded 140lb. division.
KIELCZWESKI BURST ONTO SCENE WITH HIGHLIGHT REEL K.O. IN CO-FEATURE
In the co-feature bout, undefeated up-and-coming prospect Ryan "The Polish Prince" Kielczweski made a major statement that he is someone to watch in the super featherweight division with a spectacular one-punch KO over Puerto Rican knockout artist Miguel "Mikito" Soto, who entered the ring at 11-0 (11 KO's).
Kielczweski, a former amateur standout, was celebrating his 24th birthday and fighting on national TV for the first time. Over five rounds, he looked absolutely sensational as he systematically broke down Soto.
Kielczweski came out for round one using beautiful footwork and boxing from the outside behind a stiff jab. It was a bit of a feeling-out round with Kielczweski looking to find his range.
In the second, Soto came out fast and looked to trap Kielczweski in the corner and unload a barrage of punches, but Kielczweski showed little concern and even shot his opponent a smile. Midway through the round, Kielczweski began landing a beautiful straight right hand for which Soto seemed to have no answer.
By the third round, Kielczweski was having his way with Soto, landing hard right hands followed by a short left hook that began to cause swelling around his foe's right eye. Toward the end of the stanza, Kielczweski hurt Soto with a vicious combination to the body.
Soto's eye had started to become grotesque by round four, as Kielczweski continued to pound away with both hands. Kielczweski was now timing Soto's charges and landing a vicious right uppercut that visibly hurt him time and again.
In the fifth round, with Kielczweski sensing his opponent was ready to go, he began to let his hands go even more, landing almost at will. Just as the 10-second bell sounded, Kielczweski landed a monstrous left hook that sent Soto crashing down to the canvas face first. The referee didn't even bother to count and immediately waved off the bout.
The official time of the stoppage was 2:59 of round five. With the win, Kielczweski improves to 17-0 (4KO's) and truly emerges as someone to watch in the super featherweight division.
After the fight, Kielczweski commented on his victory.
"I am still fresh, I feel like I could go another five rounds. I hit him with a perfect left hook, right on the button. I controlled the fight the entire time. I used my jab and just took it one punch at a time. I am thrilled with my performance. This was a perfect way to celebrate my 24th birthday."
MARTIN OPENS ESPN TELECAST WITH A BANG DBE
In the opening bout of the ESPN telecast, American heavyweight hopeful Charles Martin used his superior height and reach to pick apart New Jersey's Aaron Kinch.
Martin calmly pressed the action against the much shorter Kinch, working behind a stiff jab, and mixing in good combinations to both the body and head. Kinch was content to stay on the outside and look to land his overhand right.
Well in control in the third round, Martin landed a short right hand from his southpaw stance, dropping Kinch on all fours. Kinch was in big trouble, but was able to survive the remaining seconds of the round.
Martin picked up the pace in the fourth and landed several heavy shots with both hands. Near the end of the round, Martin landed a vicious left uppercut that sent Kinch wobbling across the ring. Sensing his opponent was in serious trouble Martin jumped all over him, letting both hands go. The referee took a long look before stepping in and calling a halt to the contest at 2:55 of the frame.
With the win, Martin improved to a perfect 9-0-1 (8KO's), while Kinch drops to 5-2-1 (1KO).
OTHER RESULTS
Undefeated heavyweight prospect Alexis Santos kept his unbeaten record intact in impressive fashion with a devastating fourth-round TKO over the extremely awkward Marlon Hayes.
Santos, the fighting pride of Lawrence, MA, came out firing in the first, looking to close the show and give the hundreds of fans in attendance something to cheer about.
Things got a bit ugly though, as Hayes was more content on showboating and talking, rather than actually fighting.
By the third round, Santos had settled down and began picking his shots more wisely. His patience paid off in the fourth, as Santos was able to badly hurt Hayes. Not giving his opponent a chance to recover, Santos jumped all over him, and landed a thunderous four-punch combination that sent Hayes down in a heap. The referee immediately called a halt to the contest at 1:14 of the fourth round. With the victory, Santos improved to 10-0 (9KO's), while Hayes dropped to 23-12 (11KO's).
In a battle of towering once-beaten heavyweights, Daniel Marks (9-1-1, 6KO's) won a six-round majority decision over Jonathan Hamm (7-2, 5KO's). One judge had the bout even at 57-57, while the other two both scored it for Marks, 59-55 and 58-56.
Before a large contingent of fans, former New England Golden Gloves Champion Gerald Schifone, from Brockton, MA, successfully made his pro debut with an entertaining four-round unanimous decision over Springfield's Noel Garcia. Schifone was the aggressor throughout landing hard shots with both hands in each of the four rounds. Garcia hung tough, but just wasn't able to mount much of an offense. In the end, all three judges had the bout scored 40-36 for Schifone.
Chris Gilbert, from Windsor, VT, improved to 9-0 (7KO's) when a bloody Luis Viramontes failed to get out of his corner after round two.
In the opening bout of the night, Portland, Maine's Russell Lamour improved to a perfect 4-0 (2KO's) as he stopped pro-debuting Aquilano Brandao in the very first round of their scheduled four-round middleweight matchup. Lamour sent Brandao to the canvas three times, prompting the referee to stop the contest at 1:46 of round one.
Photo credit: DiBella Entertainment/Emily Harney