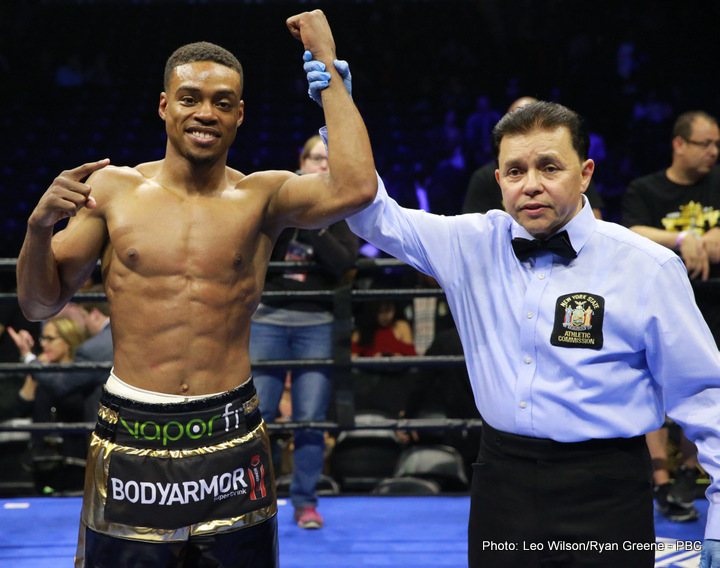 Boxing's hottest young star Errol Spence Jr will be back in action exclusively live on BoxNation when he challenges the tough Leonard Bundu in a welterweight world title eliminator on August 21.
The undefeated Texan has captivated the boxing world since turning professional following a decorated amateur career which culminated in his appearance at the Olympics in London 2012.
After entering the paid ranks he has won all 20 of his fights, 17 by knockout, with his recent stoppage of the respected Chris Algieri his most impressive as he systematically dismantled the New Yorker who went the distance with both Manny Pacquiao and Amir Khan.
Against Bundu, however, he faces a former contender who has lost just once, on points, having been in with some of the 147-pound division's biggest punchers in the likes of world champion Keith Thurman.
26-year-old Spence knows he will need to continue to impress against Bundu, with both men eyeing up a shot at Kell Brook's IBF world title when they face off at the Ford Amphitheater at Coney Island Boardwalk in Brooklyn, four years on from London 2012.
"A lot of people will be watching because of the Olympics that may not have known my name before," said Spence Jr. "As an Olympian, headlining a major event four years after my Olympic run is exciting. Bundu is an older fighter, but he's tough and has a lot of experience. He fought well against Keith Thurman. Thurman outboxed him but couldn't knock him out. I think I can make a big statement in the division if I can stop him, as I did with Chris Algieri."
"I am going to use my experience to my advantage on August 21," said Bundu. "When I fought Thurman I ended up being overcautious, but that will not be the case this time. I know it's now or never for me and I won't let this chance slip away. Spence will come forward but that will work to my advantage because I love fighting on the inside. I'm going to show Spence a few things that he hasn't seen before."
Jim McMunn, Managing Director at BoxNation, said: "Errol Spence Jr is undoubtedly one of the very best young boxers in the world today. He has a unique skill set and his progression since turning professional has been fantastic. We are very pleased to have him back exclusively live on BoxNation as he now looks to cement his shot at a world title. BoxNation subscribers will get the chance to see why many believe he is the next superstar of the sport when he faces a very tricky opponent in Leonard Bundu."
Spence Jr v Bundu is exclusively live on BoxNation (Sky/Freeview/Virgin/TalkTalk/Online & App) on August 21. Buy now at boxnation.com.
Errol Spence takes on Leonard Bundu on PBC on NBC
Spence vs Bundu: The Premier Boxing Champions series will be featured every weekend in August as the series continues to bring exciting action from coast-to-coast across multiple broadcast networks over fight great fight nights.
Coming off of the thrilling "Fight of the Year" candidate between Carl Frampton and Leo Santa Cruz, August will feature undefeated rising star Errol "The Truth" Spence Jr. (20-0, 17 KOs) headlining PBC on NBC action Sunday, August 21 in a world title eliminator against once- beaten Leonard "The Lion" Bundu (33-1-2, 12 KOs). Televised coverage from Brooklyn begins at 5 p.m. ET/2 p.m. PT following coverage of the Olympic Men's Basketball Gold Medal game.
On Saturday, August 27th, former world champion Robert "The Ghost" Guerrero (33-4-1, 18 KOs) returns to battle David Emanuel Peralta (25-2-1, 14 KOs) in a 10-round welterweight showdown from Anaheim that headlines a great triple-header on Spike. The fights begin at 9 p.m. ET/8 p.m. CT and will also feature hard-hitting Alfredo "El Perro" Angulo (24-5, 20 KOs) battling veteran Freddy Hernandez (33-8, 22 KOs) in a 10-round middleweight matchup of Mexican warriors plus 2012 U.S. Olympian Terrell Gausha (18-0, 9 KOs) putting his undefeated record on the line against the Bronx's Steve Martinez (16-2, 13 KOs) in 10-rounds of super welterweight action.
PBC's TOE-TO-TOE TUESDAYS on FS1 and BOXEO DE CAMPEONES on FOX Deportes will feature rising middleweight Caleb "Sweet Hands" Plant (13-0, 10 KOs) looking to impress as he takes on Juan De Angel (18-4-1, 17 KOs) in a 10-round matchup on Tuesday, August 23 from Bethlehem, Pa. The action begins at 9 p.m. ET/6 p.m. PT and features a pair of undercard bouts as unbeaten prospect Earl Newman (9-0, 7 KOs) takes on Detroit's Leo Hall (8-1, 7 KOs) in eight-rounds of light heavyweight action while Carlos Gongora (5-0, 4 KOs) faces Ronald Mixon (7-0, 6 KOs) in an eight-round matchup of undefeated light heavyweight prospects.
PBC on ESPN and ESPN Deportes returns with back-to-back Friday night shows on August 5 and August 12 featuring a bevy of young talent. August 5 will see hard-hitting 19-year-old David "El Bandera Roja" Benavidez (15-0, 14 KOs) taking on experienced 168-pound contender Denis Douglin (20-4, 13 KOs) in the 10-round main event live from Philadelphia. Lightweight action between Alejandro "El Charro" Luna (20-0, 15 KOs) and Stephen "The Rock" Ormond (21-2, 11 KOs) kick-off the night at 9 p.m. ET/6 p.m. PT.
The following week will see undefeated featherweight Miguel Flores (20-0, 9 KOs) in a 10-round showdown against once-beaten contender Ryan Kielczweski (25-1, 7 KOs) that serves as the main event in Verona, New York. Undefeated welterweight Bryant Perrella (14-0, 13 KOs) will matchup with Cuban Olympian Yordenis Ugas (15-3, 7 KOs) in a 10-round bout that kicks off the telecast at 9 p.m. ET/6 p.m. PT
See below for the chronological schedule:
Friday, August 5 on ESPN and ESPN Deportes- David Benavidez vs. Denis Douglin; Alejandro Luna vs. Stephen Ormond from 2300 Arena in Philadelphia (9 p.m. ET/6 p.m. PT).
Friday, August 12 on ESPN and ESPN Deportes – Miguel Flores vs. Ryan Kielczweski; Bryant Perrella vs. Yordenis Ugas from Turning Stone Resort Casino in Verona, NY (9 p.m. ET/6 p.m. PT).
Sunday, August 21 on NBC – Errol Spence Jr. vs. Leonard Bundu from Ford Amphitheater at Coney Island Boardwalk in Brooklyn (5 p.m. ET/2 p.m. PT).
Tuesday, August 23 on FS1 and FOX Deportes – Caleb Plant vs. Juan De Angel; Earl Newman vs. Leo Hall & Carlos Gongora vs. Ronald Mixon from Sands Bethlehem Events Center in Bethlehem, PA (9 p.m. ET/6 p.m. PT).
Saturday, August 27 on SPIKE – Robert Guerrero vs. David Emanuel Peralta; Alfredo Angulo vs. Freddy Hernandez & Terrell Gausha vs. Steve Martinez from Honda Center in Anaheim, CA (9 p.m. ET/8 p.m. CT).