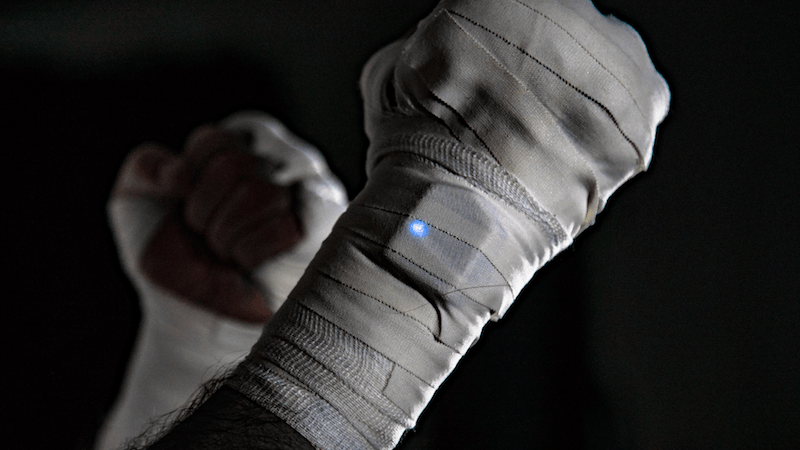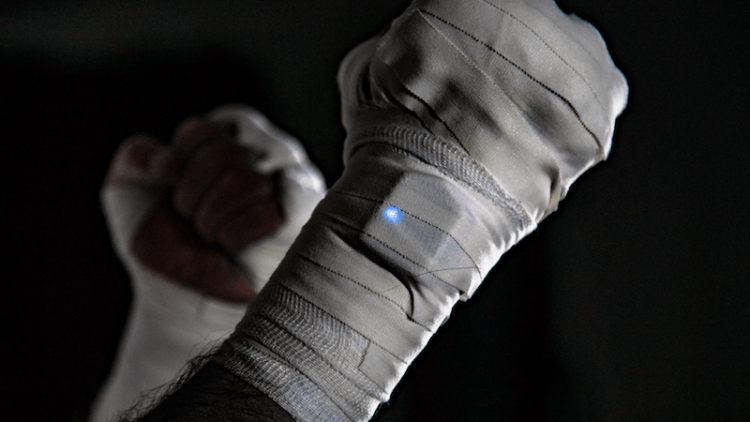 The California based wearable tech company, Hykso wants to invent technology that creates the next generation of super humans in combat sports and with their newly released sensor, that is one of the most advanced training tools around, that might just happen.
Hykso's small, lightweight, yet very durable and extremely powerful wearable sensor fits comfortably underneath a fighter's hand wraps as it automatically tracks each punch thrown, calculates the speed, recognizes the specific punch type, determines the striking intensity (how many punches are thrown and hard each shot is), and the average time between attacks (average amount of time that elapses between each consecutive attack).
All of these statistics are analyzed down to the millisecond and monitored in real time on Hykso's app via any iPhone, Android, or other electronic device. Hykso's app holds an unlimited amount of data that can be reviewed at any time.
"This detailed information and statistics are extremely important for any individual doing any kind of combat sports, whether they are a beginner or a professional, because this data allows people to train smarter," said Tommy Duquette, business development lead and one of the co-founders of Hykso. "Hykso will track how hard you are working, it will give you input as to what areas of your fight game you need to improve upon, and it will assist you in setting up goals that will allow you to enhance your workouts, so you can improve faster than everyone else."
Individuals can purchase Hykso's wearable sensor on their website (www.hykso.com) for $149.95, as part of their summer pre-order promotion that will be extended through the middle of September (after which it'll be $189.95). With your purchase, you receive a pair of wearable sensors, a USB charging device (the battery last for four hours of continuance use and it takes one hour to charge), and free access to their app, which can only be used once you buy their product.
Hykso's sensors were implemented into the training routine for the U.S. National Boxing Team as they prepared for their upcoming Summer Olympics in Rio de Janeiro, Brazil. They were also used by thirty-five Boxing and MMA gyms and a select few professional fighters before they became available to the public, among them former WBA super featherweight champion Javier Fortuna (29-1-1, 21 KOs), world title challenger Eric Molina (25-3, 19 KOs), and rising contenders, Rashidi Ellis (15-0, 11 KOs), and Omar Figueroa, Jr., (26-0, 18 KOs), and MMA fighters, Joe Lauzon (26-11, 7 KOs) and Anthony Birchak (13-3, 4 KOs).
"Hkyso's technology tracks my punch speed and amount of punches I threw and it keeps me accountable and forces me to push myself past my limits," said female MMA fighter Cris Cyborg (16-1, 14 KOs). Daniel Trepanier, Head Canadian Boxing Coach added, "Hykso takes it to a whole new level as they accurately identify the type of each punch that is thrown." Professional boxer, Brandon Berry (11-2-1, 7 KOs) concluded, "My punch output has increased big time since I started using Hykso because I now go into every session with an exact number in mind that I want to meet or exceed." – Berry, Pro Boxer
By making fighters better is a significant reason that Hykso has been well received in the boxing community, as demonstrated by the fact that they have already sold more than 3,000 wearable sensors within the first couple of months of it being available to the public. A third of all pre-orders have come from high-level amateurs and professionals. Hykso's wearable technology has been purchased not only in America, but also in Great Britain, Australia, Canada, Germany, New Zealand, Singapore, and South Africa.
"The professional fighters that have used Hykso's sensors tend to work a great deal harder when they can see their punch volume and speed change based on their output," said Duquette a former standout amateur boxer (108-24) who narrowly missed making the 2012 U.S. Olympic Boxing Team. "The real-time numbers are a major motivator for them to work faster and it makes them more committed to their workouts."
Hykso's national exposure has continued to grow over the last year as they have received numerous accolades for their potential game changer for combat sports. They were invited to participate in Y-Combinator's 2016 batch, which is the number one startup accelerator company in the world, and they graduated from the Founder Institute, the world's premier idea stage accelerator and startup launch program and won the Best On-Stage Pitch at the Montreal International Startup Festival in 2015.
Not only can Hykso's wearable sensors make individuals, especially professional boxers, better trained, but it also can generate a number of other significant and positive impacts in boxing. It can make watching fights even more exciting and interactive by giving boxing fans more in-depth information, even more so than CompuBox statistics, as to the offensive prowess of each fighter. Hykso has already teamed up with New England Fight Promotions for a number of their boxing shows in Lewiston, Maine, where they broadcasted the offensive output of each fighter on two large projector screens on opposite sides of the arena. This makes watching a boxing bout even more engaging and interactive, which could potentially lead to more fights fans showing up for boxing events, especially if more promoters get their fighters to use Hykso's sensors.
Hykso can also make the combat fitness/boxing community of more than 35 million people, even more popular than it already is by keeping workouts fun each time people go to the gym. These sensors will give people extra motivation to work consistently hard as they compete against their gym mates or other gyms on specific drills and see how they would stack up against some of the best fighters in the world in certain drills. People will also be more willing to come back to the gym each time because they will get the results they want from their workouts since Hykso's sensors help trainers curtail more effective workouts for their clientele with instant feedback as to what they are doing well and what they need to work upon.
Creating this product so that it would accurately and reliably identify punches was an extremely arduous task that took a couple of years to perfect. HBO, Premier Boxing Champions, NBC, and other sports media companies were open about their intent to create similar technology, but as of today, none of them have released it publicly or have openly used it to showcase statistics from fights. Hykso, nevertheless, solved this problem and obtained accurate statistics of each punch thrown by using two independent accelerometers (high G F1 grade and medium G accelerometers) and a gyroscope to do full three dimensional tracking at a rate of 1,000 times per second to fully categorize the acceleration, velocity, and position of each punch at each moment.
"Boxing is an extremely fast-paced, dynamic sport and some of the athletes that we work with can throw anywhere between six to ten punches per second and from multiple angles. In addition, you have an opponent that is constantly bombarding our sensors with punches from the other end, which creates a lot of noise that has to be erased, so we had to factor all of this into the product we made," said Duquette. "All of this would not have been possible were it not for our extremely talented team which includes Hykso's current CEO and originator, Khalil Zahar and his group of co-founders who include Alex Marcotte, Alex Lapointe, Patrick Chandler, Charles Lambert, and Jerome Rousseau. Notably, Marcotte and Lapointe were both on the same team that won the 2014 Eco Shell Marathon for building the world's most efficient electric vehicle and Chandler, the company's Chief Data Scientist, taught himself to code at age 12 and built his first video game at age 13."