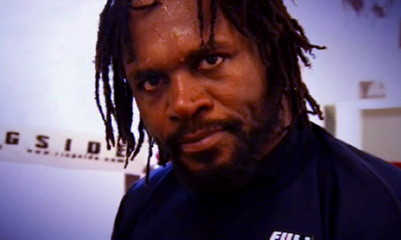 The Olympics have arrived again and boxing fans will be looking for the next potential superstar of the sport. Back in 2000, one man who seemingly ticked all the boxes as far as going onto become a star and a world champion, was Britain's gifted southpaw Audley Harrison. Indeed, all these years later, "A-Force" remains one of the most well known boxers, or retired boxers, in the world. This is despite the fact that Harrison's pro career proved to be a hugely disappointing letdown; arguably one of the biggest in recent memory.
Harrison captured gold in Sydney in 2000 and a huge future looked to be his for the taking. However, instead of achieving greatness, Harrison went on to lose a number of fights by KO and the public soon turned on him. Harrison, who once boasted he would be able to win the British title after five fights, never did win this title; although to his credit he did win the European title. Harrison fought just once for a world title; the embarrassing affair with David Haye in 2010. Yet today, three years into retirement, Harrison insists he could have, would have "achieved my destiny" and won a world title had he opened up about his depression and the "mental suffering" he was going though behind closed doors throughout his career.
Speaking with BBC Radio 5 live, Harrison said he should have sought help for his mental issues but he never did and that this contributed to his failing to win world honours.
"I didn't win a world title," Harrison said. "Maybe I was good enough to have, no, I was definitely good enough to do that but I spent a lot of time really suffering behind the scenes. Maybe if I had spoken to someone I might have maintained all my strength and won a world title."
Who knows, maybe Harrison would have achieved far more than he did had he not been burdened by the mental issues he speaks of. Harrison remains a talking point amongst fight fans. Big, athletic, powerful and naturally talented, Harrison just did not seem to have the fighting heart needed to become a great. Maybe the depression he was going through was part of the reason. On occasion, though, Harrison did display bite-down guts and courage – in his European title-winning rematch fight with Michael Sprott, when he overcame a badly damaged arm to KO Sprott in the final round.
But the displays of strength were far outweighed by the capitulations: his KO defeats at the hands of Sprott (in an earlier fight), David Haye, David Price and, most recently, Deontay Wilder being uppermost in the minds of fans.
Today, after all he's been through, Harrison – one of British boxing's finest amateurs – is giving back to help those afflicted with depression; his Never Ever Give Up charity work helping untold thousands. One of the sport's good guys, Harrison is, unfortunately. a prime example of how good guys can often finish last in the sport dubbed the hurt business.