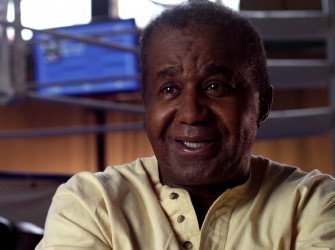 Just four short months before his untimely death in October 2012, legendary Kronk gym and Hall of Fame trainer, Emanuel Steward, made some very prophetic statements from the Klitschko training base in Austria, as evidenced in a social media video shared by new lineal heavyweight champion Tyson Fury on his twitter account this afternoon.
In the edited two minute clip, from June 2012 and originally published by fightnews.com, Steward – less than a month shy of his 68th birthday and still training Wladimir- sits in an armchair discussing the impact current prospects he has worked with are going to have upon the future scene, referring to Fury as 'the next big dominant heavyweight' after the Ukrainian's time has ended.
"There's a certain toughness inside of Tyson Fury, don't ever, ever underestimate Tyson, whoever say he's all crazy, this and that, I know him personally," Steward says in the clip, before going on to question whether Fury's peers at that time, notably Olympian David Price and Finnish big-hitter Robert Helenius, had what it took mentally to be a world champion.
"To be heavyweight champion of the world, you have to be a mentally tough guy. I just think he [Fury] is too big, naturally talented, big and tough. Unless I see different," he adds. "There's an outside boyishness that I can see gonna make him the dominant person if he stabilizes himself.
"Once he settles down on a solid training program, whichever way he gets into it – it's just boxing – with his personality and his physical size – it's a big, big, big, big factor in boxing. After Wladimir, he's gonna be the next big heavyweight."
Interestingly, also in the video, Steward then refers knowingly to 'a kid in America no one speaks of' who was 'on the [US] Olympic team,' meaning current WBC champion, Deontay Wilder, then a big hitting 22-0 up and comer to Fury's 17-0, who has now decided to get extremely vocal about a Fury fight in the UK in the wake of the Brit's 'shake-up' win for the heavyweight division.
If both men get through their next assignments then a fight between them for the right to be the undisputed heavyweight champion, holding all the marbles, is a mega-money UK vs US prospect, and should Wilder travel – the biggest boxing event on British soil for many, many years, and a mouth-watering sporting benchmark for the country.
However, with Deontay having displayed a reluctance to fight any bona fide heavyweight contenders since winning his title thus far, fans are unsure of whether the American will even survive as champion until his eventual date with Povetkin, let alone factoring in whether he will have retained the green belt by the time Fury's proposed rematch with Klitschko is done and dusted next year.
Whether Klitschko will even exercise his rematch clause at 39 years old and after the magnitude of the defeat remains to be seen, and many other factors will determine whether Emanuel Steward's predictions will come to fruition in an actual UK vs US heavyweight unification fight in late 2016 between Wilder and Fury.
Yet one thing is for sure, if everything goes 'right' for each man in the meanwhile, it'll be a great fight for boxing as a whole, and British boxing on the world stage, if, and when it does eventually happen.
Twitter @undilutedpoison