Emanuel "Vaquero" Navarrete (34-1, 29 KOs) retained his WBO featherweight title with a 12th round knockout win over #6 WBO challenger Christopher "Pitufo" Diaz (26-3, 16 KOs) in the main event on Saturday night at the Silver Spurs Arena in Kissimmee, Florida.
In the 12th, Navarrete dropped Diaz and then was stopped by his trainer.
It was a wild fight with a lot of back-and-forth action. Diaz was dropped in round four from a huge uppercut from Navarrete. In the seventh, the referee took a point away from Diaz for a kidney shot.
In the eighth round, Navarrete knocked Diaz down and had him badly hurt.
Super middleweight contender Edgar Berlanga (17-0, 16 KOs) defeated the incredibly tough Demond Nicholson (23-4-1, 20 KOs) by an eight round unanimous decision on Saturday night at the Silver Spurs Arena in Kissimmee, Florida.
Berlanga dropped Nicholson four times in the contents, knocking him down in the 2nd, 3rd, 5th, and 8th rounds. The judge's scores were as follows:
The 23-year-old Berlanga came into the fight with a 16-fight first-round knockout streak going for him, but he couldn't take out the 28-year-old Nicholson.
Goodness knows, the New Yorker Berlanga tried like mad to knock out Nicholson, but he was too sloppy and one-dimensional with his shots.
Instead of targeting some of the shots at Nicholson's body, Berlanga head-hunted the entire fight, which made it easier for his opponent to get out of the way of the punches.
Preview:
Boxing 247 will be giving the undercard action below:
Joseph Adorno draw 8 Jamaine Ortiz
Josue Vargas UD 10 Willie Shaw
Orlando Gonzalez UD 8 Juan Antonio Lopez
Xander Zayas TKO 1 Demarcus Layton
Jeremy Adorno MD 4 Ramiro Martinez
Jaycob Gomez KO 1 Mobley Villegas
Navarrete wants a knockout
"I know he has been fighting at 126 and even at 130. I think it will be tough to hurt a fighter that has fought at higher divisions, but I believe I have the punching power to knock him out," Navarrete.
It's going to be more difficult for former WBO super bantamweight champion Navarrete to get a knockout tonight because he's not shown massive power since he moved up to 126 last year in June, and he arguably deserved a loss against Ruben Villa.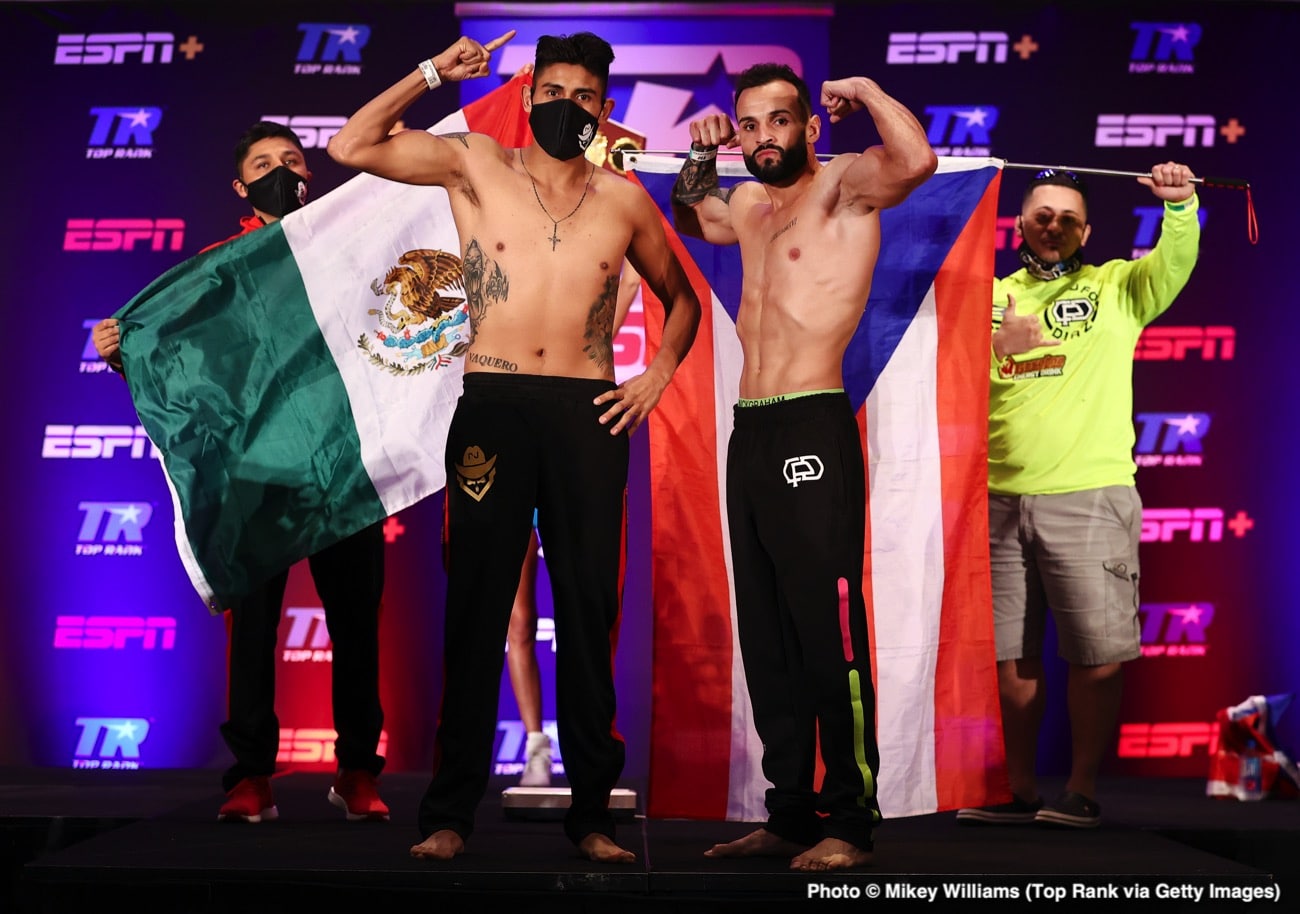 Diaz has fought at super featherweight in the past, and he's not going to be impressed with Navarrete's punching power.
Perhaps the only way for Navarrete to score a knockout tonight besides getting a cut stoppage is if he's able to overwhelm Diaz with his volume punching.
It's probably a better idea for the 26-year-old Navarrete to focus on his boxing ability, and not get caught up so much in trying to knock out Diaz. That would be playing into his hands if he tries to go to war with the more powerful Puerto Rican fighter tonight.
Navarrete moved up in weight after scoring a string of knockouts at 122, but it's clearly a different story for him at 126 because his power isn't the same as it was at super bantamweight.
The winner of tonight's fight between Navarrete and Diaz has a lot of options for excellent fights. As long as Top Rank is willing to put them in with dangerous foes, there are some excellent match-ups that can be made.
WBC champion Gary Russell Jr, Rey Vargas, Luis Nery, WBA champ Can Xu would all be excellent options for the winner of the Navarrete – Diaz fight.
Diaz, 26, has suffered a couple of disappointing losses in the last three years to Masayuki Ito and Shakur Stevenson. Those were fights where Diaz met up with guys that had more boxing skills than himself, so he couldn't do much.
WBO featherweight champion Emanuel "Vaquero" Navarrete (33-1, 28 KOs) will be looking to hold onto his title against the tough #6 WBO Christopher "Pitufo" Diaz (26-2, 16 KOs) in the headline attraction on ESPN & ESPN Deportes in a Mexico vs. Puerto Rico battle Silver Spurs Arena in Kissimmee, Florida. The main portion of the card begins at 10:00 ET/7:00 p.m. PT.
In the compelling chief support bout, super middleweight knockout artist Edgar Berlanga (16-0, 16 KOs) goes for knockout #17, looking for another first-round stoppage against Demond Nicholson (23-3-1, 20 KOs) in an eight-round fight.