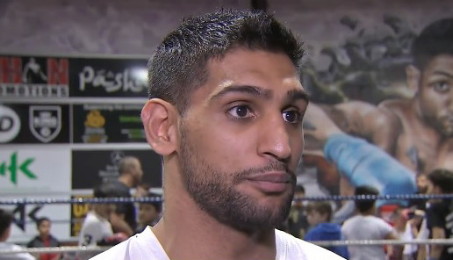 After Amir Khan's recent comments regarding Kell Brook, one has a feeling it will be an exercise in futility, yet Matchroom Boxing boss Eddie Hearn has gone on record to say that he plans on making an offer to Khan later this week for a November super fight between the two Brits, which in the unlikely event it's accepted, would give Khan the opportunity to answer his own question "Do I have to put a beating on Kell Brook to prove I'm the better fighter?"
In his most recent chat with iFLtv, Khan said the above and more, repeating his insistence that he feels IBF welterweight champion Brook has done nothing to deserve a shot at him and simply "isn't a big enough name."
Khan is refusing to give up on a shot at Floyd Mayweather – a shot it now looks like is landing in the lap of Andre Berto – and after going life or death with Chris Algieri in a much-maligned fight that failed to be picked up by a major network in May, he is seemingly now out of credible options?
As for Brook, his own mooted September fight with American brawler Brandon Rios is seemingly down the toilet, and there is an element of pressure from fans to see him also step it up a level and fight a solid, world class name.
The choice of Frankie Gavin for his last voluntary defence in May drew critics from some quarters, yet it was only his second fight back following injuries sustained in an horrific stabbing on holiday after his world title win over Shawn Porter last August.
It's obvious why Hearn is so keen to make this fight a reality. This is a fight for the fans. It is Froch/Groves-esque in terms of it's size, and ostensibly is the biggest fight for both men right now. A sure fire clash to strongly divide the public opinion – with the bonus of a world title on the line.
Speaking to Sky Sports, Hearn said he didn't bump into Khan personally at the weekend's "High Stakes" card in Manchester – as the Bolton man was watching from an upstairs box – although text contact was made;
"I've said that I would like to grab an hour with him this week to talk about the fight. It looks like September 12th is not happening for Amir Khan against Floyd Mayweather, so therefore he won't be able to fight (him) until May (2016) at the earliest."
"He must be looking at a big fight, November time? Who else other than Kell Brook can give him what he needs and give him the numbers that he needs?"
For his own part, Khan, who received $1.5 million dollars for the Algieri fight, had said in the aforementioned iFLtv interview;
"Regardless of world title or no world title, I'm a big name. If you look at the way Amir Khan fights, he's one of the most exciting fighters in the world. Why do I need Kell Brook? I can sell out any arena in England on my own anyway."
"I'm not saying I'm scared. I said I will fight him, I'm not scared of him, honestly. I will fight him – but like I said, he needs to take some big fights first."
What a fantastic fight for British boxing if it could get made. However, the sensible advice would be not to hold your breath.
Twitter @Undilutedpoison