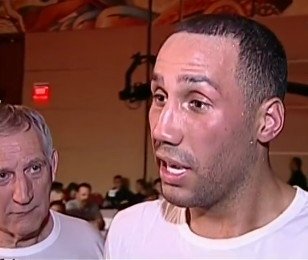 In an interview with IFL TV Eddie Hearn said that he was looking to have the DeGale- Andre Dirrell fight in the UK on April 25th and was confident that he could make that happen. He said regardless of whether they can make that date happen, he is looking to finalize the deal and would make an announcement in a weeks time. This announcement should lay out most of the details of that show and what the card will be made of and detail what the situation is between DeGale and Dirrell.
This is a great fight between two once beaten fighters, which will provide a new IBF champion regardless of who wins. Certainly this is a tough fight for the pair of them due to their styles, but an impressive win could set up a string of super fights against the other talents in the division such as George Groves, Anthony Dirrell, Julio Cesar Chavez Jr and even Andre Ward.
Also in the same interview Hearn mentioned Carl Froch and said that he believed a fight between Froch and Hopkins would be a great fight. He did not mention at any point whether Froch would actually take that fight, but it is more appealing knowing that Froch has a promoter who is interested in making that fight. The vibe coming from Carl is that he will not take any risky fights and with Hopkins style it could prove to be a long and frustrating night as long as it lasts. He finished the interview by hinting that there would also be another 'big' world title fight on that bill, but we will likely have to wait for the announcement before finding out who that will involve.