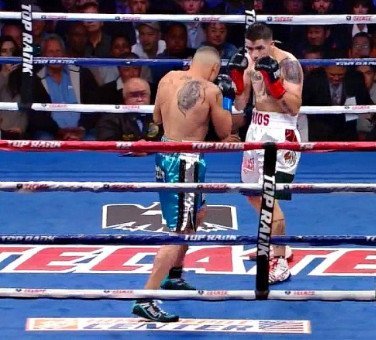 By Rob Smith: In a really disappointing match, IBF/WBO super bantamweight champion Nonito Donaire (30-1, 19 KO's) easily defeated 36-year-old WAY best his best Toshiaki Nishioka (39-5-3, 24 KO's) by a 9th round TKO on Saturday night at the Home Depot Center, in Carson, California, USA. Donaire knocked the reluctant Nishioka down twice in the fight, once in the 6th and finished him off with a right to the head in the 9th. Nishioka's corner threw in the towel after the knockdown.
It was yet another one of Donaire's disappointing fights because he had tried to sell the aging Nishioka as the best fighter in the super bantamweight division for weeks to boxing fans, saying he's better than the top fighters. It was painfully obvious tonight that the fading Nishioka wasn't what Donaire had said he was, and it's just disappointing that Donaire won't take on the best guys in the division like Abner Mares and Guillermo Rigondeaux instead of guys like Nishioka and Jeffrey Mathebula.
***
In a toe-to-toe war, former WBA lightweight champion Brandon Rios (31-0-1, 23 KO's) defeated previously unbeaten Mike Alvarado (33-1, 23 KO's) by a 7th round TKO on Saturday night to claim the vacant WBO Latino light welterweight title in their WBO light welterweight title eliminator bout.
Just when it looked like Rios was on his way to defeat, he hurt Alvarado with a big right hand shot in the last part of the 6th round. Alvarado survived the round, but he was easy pickings for Rios in the next round. Rios hurt Alvarado once again and the blasted away at him agaisnt the ropes until referee Pat Russell jumped in and halted the fight at 1:57 of the round with Alvarado still on his feet. In hindsight, Alvarado should have clinched when he got hurt instead of trying to fight back. Also, I wish Russell had let the fight go further because we'll never know if Alvarado could have survived the round.
Rios is now in a good position to get a fight with Manny Pacquiao next year in April. Bob Arum, their promoter at Top Rank, wants to make that fight and there's not much that can stop it unless Pacquiao loses his next fight against Juan Manuel Marquez. I imagine Arum was happy to see Rios win this fight because it puts him position to make a nice in house fight next year between Pacquiao and Rios. You'd have to figure that Rios will get destroyed by Pacquiao because he's made to order for him, but just by facing him, Rios will get a huge payday and it could increase his value if he doesn't get beaten too badly.
Other fight results on the card:
Saul Rodriguez TD 2 Cesar Garcia
Ronald Ellis UD 4 Katrell Straus
Jose Roman TD 3 Javier Garcia
Trevor McCumby TKO 1 Eliseo Durazo
Jose Benavidez UD 8 Pavel Miranda