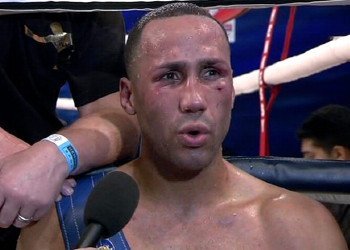 By Michael Collins: In another poor performance from EBU super middleweight champion James DeGale (13-1, 9 KO's), he went life and death tonight in defeating little known Frenchman Hadillah Mohoumadi (13-3-1, 9 kO's) by 12 round unanimous decision at the Glow, Bluewater, Greenhithe, Kent, United Kingdom. DeGale took an awful lot of punishment in this fight and spent most of the fight against the ropes soaking up punishment.
The final judges' scores were 119-109, 117-111 and 116-112. The scores were something of a joke because the fight was a lot closer than the scores would have you believe. 116-112 is a lot closer to reality, but even that was far off the mark. The judge that scored it 119-109 for DeGale appeared to be watching a different fight altogether because DeGale took a real beating in this fight and no way did he deserve to win the fight by that kind of score.
DeGale's face was badly swollen on the left side of around his eyes from Mohoumadi's hard right hands.
DeGale fought like an old man for most of the fight unable to get off the ropes and just trying to land pot shots and clowning while missing badly. DeGale did come on a little starting in the 10th and fought reasonably well in the 11th, but he continued to fight in spurts and take a ton of punishment whenever he would stop punching.
There's not much you can say about DeGale from this kind of performance. DeGale thinks he can be a world champion by this time next year, but this fight shows that DeGale isn't going to be any kind of champion. If he can't even beat a guy like Mohoumadi or Piotr Wilczewski without going life and death what's going to happen when DeGale faces Andre Ward, Carl Froch or Arthur Abraham?
DeGale hopes to be back in the ring by December but I'm no so sure because he got really beaten up tonight and he needs to heal up. I see DeGale as more of a bottom feeder at the world level. He'd take a beating if he fought a good super middleweight like Sakio Bika or Thomas Oosthuizen.
These guys are clearly a cut above DeGale. However, if we have scoring like we had tonight then know who knows? DeGale needs to stay in the UK because he doesn't appear to have the talent to fight the best guys at super middleweight. I see Mohoumadi as the level where DeGale is at right now. He's about as good as him and he shouldn't try and better guys because he'll lose badly.