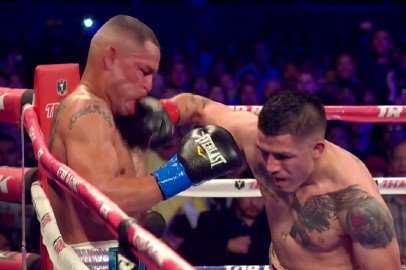 By Paul Strauss: It's almost unfair. Brandon "Bam Bam" Rios not only is heavy handed, he's also iron jawed. Mike "Mile HIgh" Alvarado hit him bunches of times with shots that would have put lesser fighters in la la land. Yet each time Rios got nailed, he would hardly take a step back, and instead would jump right back in Mike's face. Alvarado tried to mimic him, and to many, including unofficial score keeper Harold Lederman, Mile High was being successful at the Home Depot Center, Carson, CA.
As the battle unfolded, it looked to be shaded in favor of Alvarado. He boxed well, making good use of his size advantage, his good mobility and his jab. He changed angles of his punches, managing to get around Rios' tight guard, or split it up the middle. But, Mike's swollen face told a different story. It revealed the power of Bam Bam's short shots, which were not showy but devastating. Often times Rios' unique style causes one to believe he's back on his heels. His posture just doesn't seem to be quite right, but the truth is he gets all of his body behind his pulverizing inside work, and he loves it. After a particularly brutal early round, he trekked back to his corner with a big smile on his face, telling trainer Robert Garcia, "I love this @#!%!"
It's impossible to give a blow by blow description of the fight. It was more like a gang attack. On the one hand it was bam bam by Rios, and on the other it was rat ta tat tat by Alvarado. Both men had automatic weapons. There was no single shot firing by these two combat veterans. These guys were equipped with high caliber, rapid fire arsenals. It was impossible for either one to shield his self from the bombardment. Amazed fans watched and wondered how anyone could stand up under such an attack!
Even though Rios wasn't as marked up as Alavardo, he was actually the first one to show any sign of tiring from the tremendous pace. He took some hellacious right hands, and by the fifth round, there was a hint of the energy level moving in favor of Alvarado. But, just as soon as fans thought Mike's outburst of leather was gaining an advantage, Rios would come roaring back, moving in close and ripping off multi punch combinations of his own. Each man refused to let the other think he was gaining the upper hand. It was an awesome display of ferocity!
There literally was more action in the first few rounds of this fight than most fight fans have ever seen in a lot of entire fights. There wasn't any jitter bugging or slapping either, like an amateur point builder. This was a real demolition derby, where each bit of contact caused damage. There was no feeling out period, no cautious moments when one guy is leery of the other. After the first round, it was obvious these two didn't want to perform any kind of delicate surgery. They simply wanted to decapitate each other.
In the seventh round, Rios once again got in close, and dropped his head down and to his left, and at the same time launched a right hand over the top of Alvarado' lowered left. The punch crashed against Alvarado's left jaw, knocking him caddie wompus. Rios reacted with the instinct of a killer cat, one stalking his prey and seeing the opening he planned for. Bam Bam followed with a left hook, and then missed with hard right thrown with such force that he almost spun himself around. He quickly regained his footing, and commenced the attack, landing several more crunching shots. Alvarado's gloves dropped and reach out, almost as if he needed support. Rios got through with several more hard shots, and Referee Pat Russell jumped in to protect him from any permanent damage. Pat later told announcer Max Kellerman he is willing to fighters fight into deep water, but he won't let them get drowned. Not many will object to his decision.
It was a great win for Rios, his first at the 140 lb weight class. He proved he can take the shots of the bigger men, and equally important, he demonstrated he has the power to take the bigger guys out. Don't forget, going into tonight's fight, Alvarado had never been stopped. He already proved in his courage in his fight against Breidis Prescott. He can come back from tremendous punishment, which makes Rios' win very impressive indeed. It's important to note two judges scored the fight a draw at 57-57, with the third shading Rios slightly at 58-56, so a rematch is a definite possibility, and both fighters expressed their willingness to do so. There isn't anyone who saw this one, who wouldn't want to see a repeat performance.
The main event was almost an after though. Not surprisingly, great fighters Nonito Donaire and Toshiaka Nishioka were getting booed already in the first round because fans had just gotten spoiled by unbelievable display put on by Rios and Alvarado. Unfortunately for Donaire, his opponent was intent on not making a mistake, especially by opening himself up to Donaire's vaunted left hook.
As a result, his right glove was almost glued high to the right side of his head. His tranny also seemed to be stuck in high gear, so he could stay out of harm's way. Of course that also meant he wasn't imparting any harm on his opponent. Donaire stayed calm though, not letting the crowd's displeasure cause him to make any foolish moves. He kept picking away at his Japanese counterpart, trying to prod him enough to open up.
In the sixth round, Donaire finally caught up to Nishioka and put him down. The champion from the far east, who hadn't lost in eight years, seemed peeved by the occurrence, and finally started opening up a bit, getting through with some quick jabs and good straight lefts to the body. His change of heart got him moving forward, actually appearing to be the aggressor. As one of the ringside announcers said, maybe a fight is going to break out, after all.
In the ninth round, Nishioka pressed forward and positioned Donaire against the ropes. He fired off another quick jab in hopes of setting up his big left. Instead, Donaire slipped the jab, letting it graze by the right side of his face. At the same time, he threw his own short straight right hand. The beautiful shot landed right on the button. Nishioka's chin was driven back, and his body followed. Soon he was flat on his back and the fight was over. It was 1:54 of the ninth round. Once again Nonito, the WBO and WBC diamond belt holder in the super bantamweight division, proved he deserves to be considered one of the best pound for pound fighters in boxing.