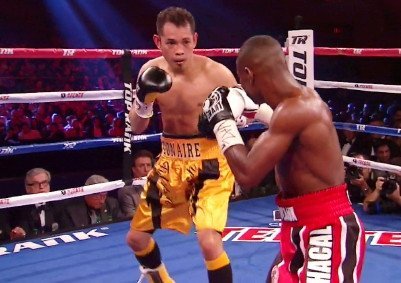 Nonito Donaire (31-2, 20 KO's) and Vic Darchinyan (39-5-1, 28 KO's) will be mixing it up this Saturday night on HBO from the American Bank Center in Corpus Christi, Texas. It's been exactly six years since Donaire and Darchinyan last fought in 2007, and it didn't turn out too well for Darchinyan with him getting stopped in the 5th round.
Chances are that Darchinyan won't do any better on Saturday night than he did back in 2007. A lot of boxing fans wanted to see a Donaire-Darchinyan rematch over the years, but it seems like a lot of the interest in that fight died down a long time ago after Darchinyan started losing regularly. He's now been beaten in two out of his last four fights, and he's even struggling to beat lesser fighter.
In Darchinyan's last fight, he was badly staggered by a fighter named Javier Gallo (21-8-1, 12 KO's), and we're not talking world class here. In watching how bad Darchinyan looked in that fight as well as in his recent losses to Anselmo Moreno and Shinsuke Yamanaka, I don't really quite understand why Donaire is choosing to fight Darchinyan now. It would seem that it's far too late for this fight to be worth anything now given how much Darchinyan has slid from what he was in 2007.
I'd like to think that HBO would be a little more particular about the fights that they put on their network, because I don't see Donaire vs. Darchinyan as a competitive fight at this point. Darchinyan is 37, he's fighting at the wrong weight because he's having to come up to featherweight to take the fight against Donaire, and he's coming into the fight with a lot of recent defeats. I'm not excited about this fight all. It just looks like a mismatch to help make boxing fans forget about how bad Donaire looked in losing his last bout against Guillermo Rigondeaux. If the idea is to make boxing fans forget about Donaire's loss, then they need to match Donaire with an actual featherweight instead of a fighter that is small for even the super bantamweight division like Darchinyan.
The other fights on Saturday's HBO card are as follows: Roman Martinez vs. Mikey Garcia and Vanes Martirosyan vs. Demetrius Andrade. Martinez doesn't stand a chance against Mikey, so this will be another mismatch. I do like the Andrade-Martirosyan fight. To me, that's the only interesting fight on the entire card. You don't really know who's going to win that one, but you definitely know who will be willing the Donaire-Darchyinyan and Mikey-Martinez fights.