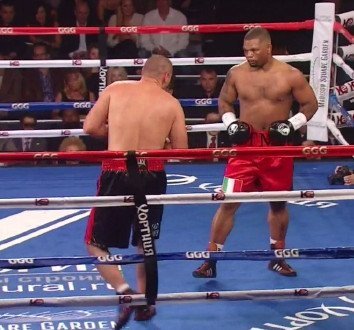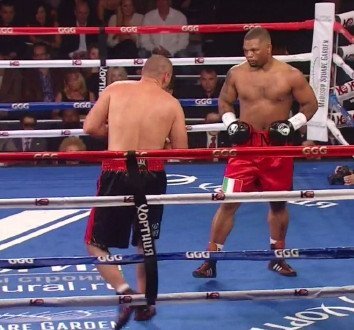 H. Barlow (Dallas, TX): Count me to the list of supporters behind GGG! I think the guy is amazing and I don't see anyone at 160 or 168 who can stop him. Who do you think would give him the "most" trouble between 154 and 168?
Vivek W. (ESB): Before I get into GGG's performance, I'd like to start by saying great effort by Curtis Stevens. I thought Stevens performed very well, although he hindered himself by only pressing in spurts. Easy to say from my living room couch, but the reality is that when he did move more and let his hands go, I thought he made the fight very interesting. He couldn't sustain that effort, and most of that has to be credited to GGG. When you analyze GGG closer, you have to give him great absolute credit. One of the things that gave Curtis Stevens a problem all night was Golovkin's ability to cut off the ring.
He cuts the ring off in wide angles, and it's all in footwork, so you'd have to literally run to escape when he has a clear path. The only time Stevens was able to gain any momentum is when he played the role of the aggressor and kept Golovkin on his back foot. That was one role that Golovkin didn't seem to have any true answer for. Forward aggression and a fast jab to setup other work never failed for Stevens. This reality opens the door to my answer for your question. When I look at the fighters between 154 & 168, there are many names, but only a precious few who I think would have enough key attributes to solve the puzzle we know as GGG.
Those key attributes entail good footwork, great durability, great power, adequate speed, and a jab to set it all up. Some of the names I could offer have more of those qualities than others. But each of them, I feel could give Golovkin a run for his money to a degree. That short list of mine would include Carl Froch and Andre Ward at 168, potentially Quilin and Martinez at 160, and at 154, Saul 'Canelo' Alvarez and Austin Trout. Martinez I think has a good counter-style for GGG, but at this stage we simply don't know what he has to offer after surgery and a year layoff.
I think Quilin and Martinez both are wildcard picks at best to defeat Golovkin. Froch and Ward, however, I think both have enough style, experience, and toughness to get the job done. It's easy to get wrapped up into GGG's victories and power on the surface, but at 10,000 feet, looking at the bigger picture, what we have here is not a tremendously skilled fighter. His best attributes is his ability to cut the ring off, his punch output, relative power, and stamina. At its best, that's a Duran, Margarito, type template. Some may laugh, but that's truly what we have in GGG, and here's where his reality cuts the surface:
His last four opponents were Rosado, Stevens, Macklin, and Ishida. Not one of those men were categorically a "threat", or very high on anyone's list in their respective weight class. His power is fascinating, which shines light on another potential weakness: GGG has only gone to the 10th round once in his career, (Ouma), and he's never gone 12. Anyone who thinks he'd do the same to the likes of a skilled Ward, or veteran Froch isn't looking at things clearly, at all. He has earned the big money fights. But lets stop this "invincible" stuff. When Curtis Stevens is the best name on your resume, clearly, there's more work to be done. Stay tuned.
Reynaldo A. (Tampa, FL): On HBO's "Face-Off" between Brandon Rios and Manny Pacquiao, I felt that Rios was a little too gentle…..a little too nice. Do you think there's a fear factor with him going into this fight, despite Pacquiao's recent KO loss?
Vivek W. (ESB): I'll be clear in saying that I don't think he's afraid of Pacquiao. But relative to the possibility of losing and taking a beating in the process? Why wouldn't he have some level of fear? I'm a firm believer that despite the KO loss, Pacquaio is equally more dangerous today than any other point in his career. I say that on the strength of the fact that his ability to handout punishment was never compromised. Even in defeat, prior to being stopped, he was very strong offensively.
The flip side of that equation will come down to how much punishment he can, or is willing to take as he attempts to dispense his own? That's the operative question. But that being said, Rios firmly understands – just like myself and many others – that Pacquiao will not only bring the same two powerful fist we're used to seeing, but he'll bring a chip on his shoulder to silence those critics who have began to openly write him off. That's a far more dangerous Pacquiao than any of us have seen.
It's a really tough fight to predict, because Rios knows that to get the "W", he'll have to take great punishment from the hardest hitter he's ever faced. For Rios, it's a battle of attrition. He has to program his mind coming in that he will have to dig deeper than he ever has. One interesting subplot here does come into play for Pacquiao, however. Many remain stunned at the KO he suffered, but it's the knockdown prior to that which has me more in question.
We've seen Pacquiao hit by much more powerful shots than the initial one he was knocked down with by Marquez. What was it about that particular night, or that particular fight, that softened him up enough to be susceptible to a knockdown? Have the various wars finally taken their toll? Has the accumulation of punches finally tipped the scale, wearing the Filipino warrior down? That's my question. All very interesting questions. Whatever it is, there lies the answer to Rios' chances in this fight. If he can inflict enough punishment to reactivate that weakness, it could very well be his night.
Javier A. (Newark, NJ): What were your thoughts on Heavyweights Mike Perez and Magomed Abdusalamov?
Vivek W. (ESB): For starters, I'd like to wish Abdusalamov a healthy and speedy recovery. For those unaware, doctors had to medically induce a coma due to a blood clot on his brain. He remains in ICU, although the medical staff said his condition appears to be stable. The fact that this type of medical procedure had to be induced tells us precisely what type of battle we had on our hands between these two men. I think it's the best heavyweight fight we've seen in a long time. Both men were very active, and both came to win. When was the last time we read those words next to a heavyweight battle?
Regarding the men individually, I think there were visible strengths and weaknesses both ways. Perez showed the type of chin you have to love as in a heavyweight, but beyond that, like Abusalamov, he's very hittable. He absorbed great punishment and was rocked several times. Abdusalamov showed great heart, but maybe too much, so. He also absorbed unnecessary punishment, but offensively, I felt he displayed a greater arsenal than his opponent. I liked his punch selection, he just took too many shots to really give himself a winning chance.
In the end, I think both men could be very solid contenders, in a Heavyweight world absent of the Klitschko's. Perez is very durable, but he doesn't have the fluidity in his shots necessary to really bother the Klitschko's. He would eat jabs and find it very hard to get inside. Abdusalamov wouldn't fare much better, as even with his decent reach, he's a little too slow and plodding to have a true chance. It's safe to say the career of Abdusalamov could be over. With 18 wins and 18KOs, (and one defeat), that would be a pity. But this is why they've always said "skills pay the bills". No defense in the fight game could mean no future career. Hope all goes well.