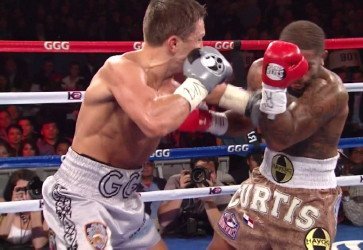 Abel Sanchez, the trainer for WBA middleweight champion Gennady Golovkin (28-0, 25 KO's), says that Golovkin is the best fight for the 36-year-old Floyd Mayweather Jr. if he wants to keep getting the kinds of money that he made in his last bout against WBA/WBC junior middleweight champion Saul "Canelo" Alvarez last September. Sanchez says that Golovkin is willing to drop down in weight from 160 to face Mayweather Jr. at 154 if he's agreeable to taking the fight.
Sanchez said to Hustleboss.com "I think that Golovkin is really the only name out there that is gonna give him the kind of payday that he had in his last bout with Canelo. There's nobody on the horizon who's gonna give him a 40 or 50 million dollar payday and if Golovkin is the guy, then we're willing to go down to 154."
It doesn't seem realistic that a massive amount of boxing fans are going to want to pay to see Mayweather fight Golovkin because he doesn't have a huge built in fan base the way that past Mayweather opponents like Canelo and Miguel Cotto had going for them. Golovkin is popular only among a certain segment of the boxing world, and the only way that Showtime and Golden Boy Promotions will be able to drum up a ton of excitement for a Mayweather-Golovkin bout is if they start marketing the fight early and having a lot of advertising on CBS and Showtime. There would have to be Total Access that would need to extend longer than the average series because it would take more work to familiarize the casual boxing fans with who Golovkin is because few fans outside of the hardcore variety know who he is at this point.
Golovkin might have problems once he gets down to 154 because he would definitely be weaker for having dropped down that low. If Golovkin is without his normal crushing power than he'll not stand a chance against a fighter like Mayweather. As it is, Golovkin looked kind of robotic last Saturday night in beating Curtis Stevens. Golovkin had problems pulling the trigger with his shots, as he kept waiting and looking for the best possible shot before he'd throw a shot. If Golovkin were to fight like that against Mayweather then he'd get picked apart. That would be Golovkin fighting Mayweather's fight.
I don't agree with Sanchez that a Mayweather-Golovkin fight would bring Mayweather the same kind of huge payday he got against Canelo. I think it would be more like the payday Mayweather got against Robert Guerrero or possibly even less than that, because Guerrero was able to pool from the Mexican fans to attract interest in the fight. Golovkin won't have that going for him in a fight against Mayweather.