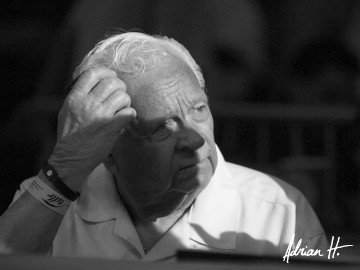 (Photo credit: Adrian Hernandez) By Joseph Herron: While many fight scribes and boxing fans have criticized Canelo Alvarez's seemingly soft road to the World Boxing Council (WBC) Junior Middlweight Championship, Hall of Fame matchmaker and promoter Don "War a Week" Chargin claims that the careful matchmaking of Golden Boy Promotions has been a necessary part of the young fighter's maturation process.
As a special adviser to Golden Boy Promotions, the great Don Chargin was authorized to oversee any and all opposition placed in front of the 22 year old phenom. And after many cautious maneuvers to properly cultivate Canelo's confidence and skill level, the legendary boxing pundit has finally deemed Saul Alvarez fit to wreak havoc on the entire Junior Middleweight division.
"Sometimes you have to protect a fearless fighter like Canelo from himself," professes the six decade boxing proponent. "He wants to fight the best fighters available. Canelo has stated adamantly that he wants to fight Floyd Mayweather and Miguel Cotto; and up until September 15th, I was always very hesitant about it…but not anymore."
After seeing Canelo mature and progress over his last several victories, "War a Week" Chargin is truly convinced that Alvarez would be more than a handful for any fighter in boxing…including Floyd Mayweather Jr.
"This kid is ready to fight anybody," claims Don Chargin. "In six months, if you put him the ring with Floyd Mayweather Jr, I really think he can win the fight…or give him fits, anyway."
Although most fight scribes and boxing fans would merely scoff at the idea of pairing Canelo with the best pound for pound fighter in the sport, the great boxing icon explains the logic behind his reasoning.
"You take this 22 year old kid; if you put him in the ring with the best and he loses a decision but makes a respectable and competitive showing, it's not going to hurt him at this point in his career."
"A year ago, when Canelo initially clamored for a big fight with Mayweather, he would have been beaten soundly by Floyd and maybe even would have been stopped…but not now."
Don has cultivated numerous champions from the local level throughout his sixty year tenure in boxing, and he genuinely believes that the current WBC Junior Middleweight Champion is a multifaceted talent.
"Canelo is a special fighter. He has the charisma of a Mando Ramos, the ring intelligence of a Carlos Palomino, the competitive fire of a Tony Lopez…He has all of the characteristics of a great champion."
"Only time will tell how far Canelo will go in boxing, but everyone at Golden Boy Promotions has been swayed by his potential and is supremely optimistic about his future."
Even though the dust is still settling on his impressive knock-out performance against the brave but overmatched Josesito Lopez, Mr. Chargin states that we should know more about Canelo's next opponent in just a few weeks.
"There are several fighters and several different locations we're considering for his next fight, but the winner of Cotto/Trout has been mentioned with great interest."