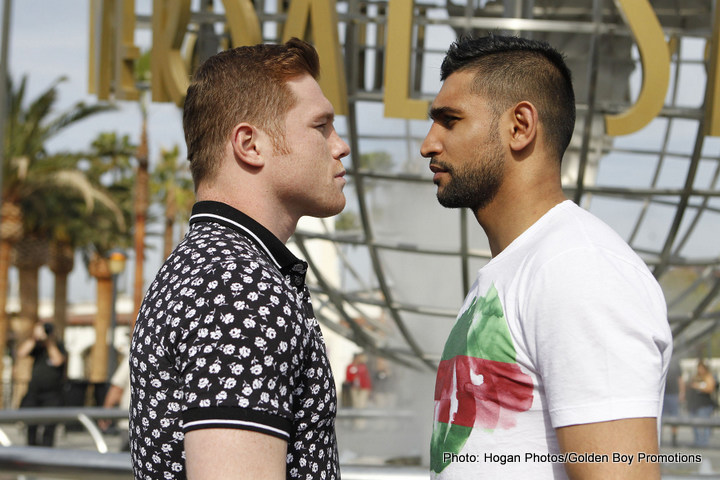 Let's face it, many numbers of fight fans are likely to buy the May 7th Canelo Alvarez-Amir Khan fight; perhaps even close to a million fans in the U.S alone. The fight has, and is, attracting plenty of attention, opinion and excitement, and a smash hit is likely. But, in wanting to guarantee fans a spectacular show, Golden Boy are currently working on making the under-card one that will give value for money.
According to Dan Rafael of ESPN.com, there are a number of interesting possibilities for the card that will take place on Cinco de Mayo weekend. The most exciting possible match-up that could support the main event is a Luis Ortiz-Alexander Ustinov fight that would see Cuban southpaw Ortiz fulfil his WBA mandatory obligation to defend against the Russian giant. Rafael reports how talks are ongoing between Golden Boy and Frank Warren, who promotes Ustinov.
Another possibility of a fight is one at welterweight, between Frankie Gomez and Mauricio Herrera. Unbeaten at 20-0(13) Gomez is a talent and Herrera, who would have fought Lucas Matthysse on the big card, is an experienced pro who would give Gomez his toughest fight to date. It is a shame Matthysse will not now be in action on May 7th, but the Argentine says he is still troubled by the eye injury he picked up in his losing fight with Victor Postol.
And finally (so far, as the Canelo-Khan card could conceivably grow and grow) there is a chance former IBF middleweight champ David Lemieux could appear on the Las Vegas bill. Lemieux failed to make weight this past Saturday, ahead of his planned comeback from his loss to Gennady Golovkin, when he was supposed to face James De La Rosa. Eric Gomez of Golden Boy told Rafael that while he too was disappointed with Lemieux's failure to make weight, the fighter had been ill for five days of his training for the De La Rosa bout, which affected his ability to make weight.
"Those five days of not being able to train were very crucial," Gomez told ESPN.com. "So what we're going to do on May 7, we're working on it. We have a number of fights we're working on."
Despite the let down on Saturday, a focused and fully fit Lemieux remains a top-class fighter and a major attraction. He can afford no repeats of what happened last week though.
Oscar De La Hoya promised us a great card on May 7th, and if the above fights get made (with a marquee name to fight Lemieux) he will have delivered.