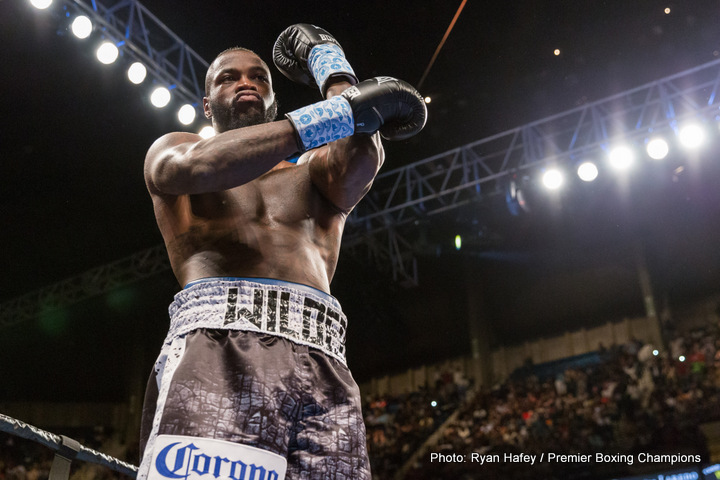 Tony Bellew, with his big upset stoppage win over David Haye sure caused massive ripples in the heavyweight division. Now being looked at by two of the reigning world heavyweight champs as a realistic and legit challenger, "Bomber" could be on the verge of landing himself a shot at either the WBC or the WBO crown.
WBO ruler Joseph Parker is interested in a lucrative fight with Bellew, and WBC king Deontay Wilder is also not ruling it out. It's probable, highly so, that both unbeaten heavyweights feel Bellew would be relatively easy picking, with the big payday attached to the fight too big to pass up. But Haye badly underestimated Bellew and we all saw what happened there.
Wilder has been ordered by the WBC to face former champ Bermane Stiverne in a rematch that, in truth, no-one wants to see. But after that, Wilder could be looking at a fight with Bellew. So said promoter Lou DiBella in speaking with Sky Sports.
"We're not adverse to considering Tony Bellew," DiBella said. "We congratulate Bellew. I'm a big fan of Tony's. It's not something we would write off. We respect him and it would certainly be something we would be interested in. A Joseph Parker fight would be the most desirable fight for Deontay next anyway, but you have to look at other alternatives. I just like Tony Bellew. He beat a guy who is a major player. Haye was a major player and Tony beat him. Does he deserve it? As much as any other contender would."
But would Bellew have a chance against the wickedly powerful "Bronze Bomber?" It would certainly be the biggest, riskiest, even craziest fight in Bellew's career – and just imagine the sensation he would cause if he somehow managed to pull it off and win! It would make the Haye upset pale in comparison.
Bellew has yet to decide on his next move – and retirement is a very real possibility – but right now, the Liverpool warrior is the heavyweight everyone is talking about.