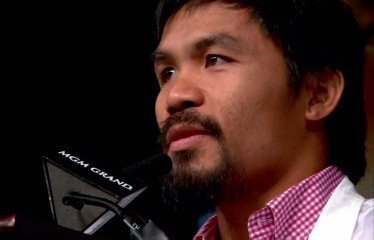 By Joseph Herron / On December 8th, at the MGM Grand Garden Arena in Las Vegas, Nevada, eight division world champion Manny Pacquiao (54-4-2, 38 KOs) will attempt to defeat Mexican legend Juan Manuel Marquez (54-6-1, 39 KOs) for a third consecutive time.
Although every meeting between the two future Hall of Famers have been riddled with controversy, the all time great trilogy has given fight fans around the world many memorable flashes of elite level action.
Despite the popularity of both fighters, most fight fans are divided regarding their support of the scheduled event. But realistically, what choices were Pacquiao and Top Rank left with?
Whereas most casual and die-hard fight fans are in agreement concerning whom they would prefer to see Pacquiao face in the ring on December 8th, that distinction has never been solely on the shoulders of Manny or the Top Rank brass; contrary to popular belief.
And while Palm Springs resident Tim Bradley won the Pac-Man's WBO Welterweight title this past June, most fight fans are in congruence regarding the validity of the controversial "Split Decision" victory. Even after two consecutive losses to Pacquiao, a fourth bout with JMM still holds more credibility with the boxing faithful than a rematch with the current Welterweight title holder.
Even though the actions of Miguel Cotto, in selecting a young and hungry title holder within the packed Junior Middleweight division as his December 1st adversary, are truly admirable and note worthy, a fresh face or relative unknown more than likely wouldn't be able to support the kind of big PPV numbers that Manny and company have grown accustomed to generating.
Hence the decision to face all time great and Mexican fight legend Juan Manuel Marquez for a fourth time.
But…will the calculated decision pay off at the bank?
If previous numbers are any indicator as to whether or not Manny is still a huge PPV and box office draw, "Pacquiao/Marquez IV" will do terrific numbers at the gate and in the homes of die hard and casual fight fans.
Even when facing a relative unknown to most casual sports fans, like Tim Bradley, Manny generated an impressive live gate of $8,963,180 at the MGM Grand Garden Arena from over 13,000 tickets sold, and notable PPV sales of over 900,000.
Because of the controversial ending to Pacquiao/Marquez III in November of 2011, Top Rank is hoping to exceed last November's PPV numbers, which proved to be the Pac-Man's highest PPV total with over 1.4 million buys.
Regardless of previous controversial fight results and the current public clamor for a huge event with Floyd Mayweather Jr., Manny Pacquiao still remains the sport's 2nd biggest bread winner.
According to the Forbes "Annual Top 100 Highest Paid Athletes" list released in June of this year, Manny was deemed the second highest paid athlete in the world behind Floyd "Money" Mayweather.
Pacquiao raked in over $62 Million this past fiscal year, which was almost a cool $10 Million more than LeBron James' total earnings in salary and endorsements.
Love him or hate him, Manny is still Manny among casual and die-hard fight fans. So expect another blockbuster when Pacquiao/Marquez IV rolls around on December 8th!!