Dillian Whyte says he's willing to give Alexander Povetkin a trilogy fight next if he wants one after his fourth-round knockout win over the Russian fighter in their rematch tonight in Gibraltar.
Whyte got his recent with his win tonight, but now it's Povetkin's turn to even the score if Dillian is serious about wanting to give him another shot.
Boxing fans would probably prefer that Whyte, 32, move on rather than revisit this rivalry with Povetkin, but the decision will be Dillian's.
Povetkin (36-3-1, 25 KOs) looked like he wasn't 100% from the outset, getting staggered in the opening round by Whyte (28-2, 19 KOs) and never getting into the fight before being stopped in the fourth.
Some believe that the COVID 19 that Povetkin caught late last year took something from him physically, leaving him a shell of the fighter that knocked out Whyte in their first fight last August.
"I said if he [Povetkin] wants to do it again, we can do it again, I don't mind," Dillian said about him open to a trilogy match against Povetkin.
"It was a good learning fight for me because I had to think in there as well. I was rushing him, but I had to think at the same time," said Whyte.
Matchroom Boxing promoter Eddie Hearn will likely have several top heavyweights that he will offer to Whyte for his next fight, but it's unlikely that any of them will be worthwhile.
Predictably, Hearn will offer Whyte another fight against Dereck Chisora or Joseph Parker. Those would be dull ones for the fans, as Whyte has already fought those guys.
If Hearn isn't going to put Whyte back in with Povetkin, these would be the best viable options for Dillian:
Filip Hrgovic
Luis Ortiz
Daniel Dubois
Joe Joyce
Oleksandr Usyk
Mairis Briedis
Lawrence Okolie
Tony Yoka
I didn't mention Andy Ruiz Jr or Deontay Wilder, two fighters that Hearn would love to see Whyte fight because those guys wouldn't agree to fight him.
Wilder is waiting for a title shot against the winner of the Anthony Joshua vs. Tyson Fury fights. For his part, Andy Ruiz wants to take easy fights until he gets at a trilogy match against Joshua.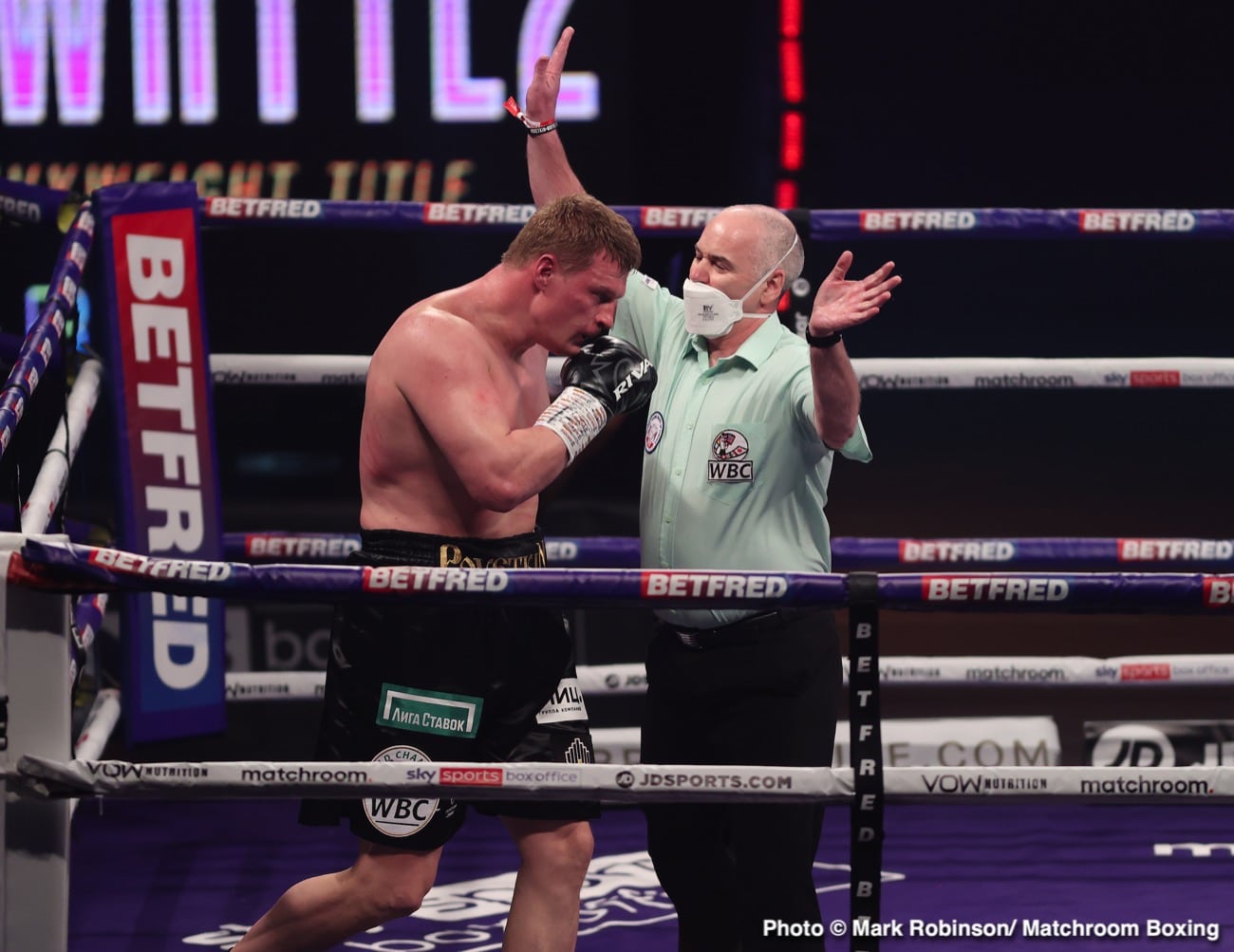 "I just laugh at these guys because I'm as tough as a sheet of steel mentally and physically," said Whyte at the post-fight news conference. "One loss, two losses, so what? I'm a good heavyweight.
"I want to do it again in Gibraltar in the summer. I'd like to be here in the summer outside in a stadium or something," said Dillian. "We can make things happen.
"Sometimes Eddie [Hearn] is a bit difficult because he wants things his own way.
"I'm 32; I'm not trying to box until my late 40s. I want to make the most of it now and retire good and healthy and retire with my people. Who knows? I might become a trainer," said Whyte.
Dillian will need to wait a year until he's 33 before he gets a possible title shot against Joshua or Fury, and even then, it's not a certainty.
If they vacate the WBC title, Whyte will need to fight for the vacant belt against Luis Ortiz or Joe Joyce. The Joyce fight would be hard for Dillian, as he's huge and has a good chin and an excellent jab.
"Eddie was nervous when he came to see me. On his face, he said, 'Please, just do it for once.' Yeah, we got it done anyway," said Whyte.
"I don't care," said Whyte when asked if Deontay Wilder is his logical next option for him. "I'm going to get in better shape and be stronger and faster. Whoever wants to fight, I don't care," said Whyte.