Promoter Eddie Hearn views a match-up between former WBC heavyweight champion Deontay Wilder and Dillian Whyte as a "Colossal fight" one for this summer, possibly in the U.S. Hearn believes a fight between Whyte and Deontay could fill a stadium, which it probably could.
The magic question is, why would Wilder fight Whyte for less money than he would get challenging the winner of the Anthony Joshua vs. Tyson Fury winner? Wilder would be helping Hearn out by fighting Whyte, but not necessarily himself.
Whyte (28-2, 19 KOs) needs an opponent for his next fight on Sky Box Office for July after dispatching a very old-looking 41-year-old Alexander Povetkin by a fourth round knockout Saturday night in Gibraltar.  Povetkin looked like he aged 10 years in the last year.
Whyte didn't take any damage from Povetkin, who couldn't land anything, appeared weak, not the guy that he knocked Dillian out in the fifth round last August.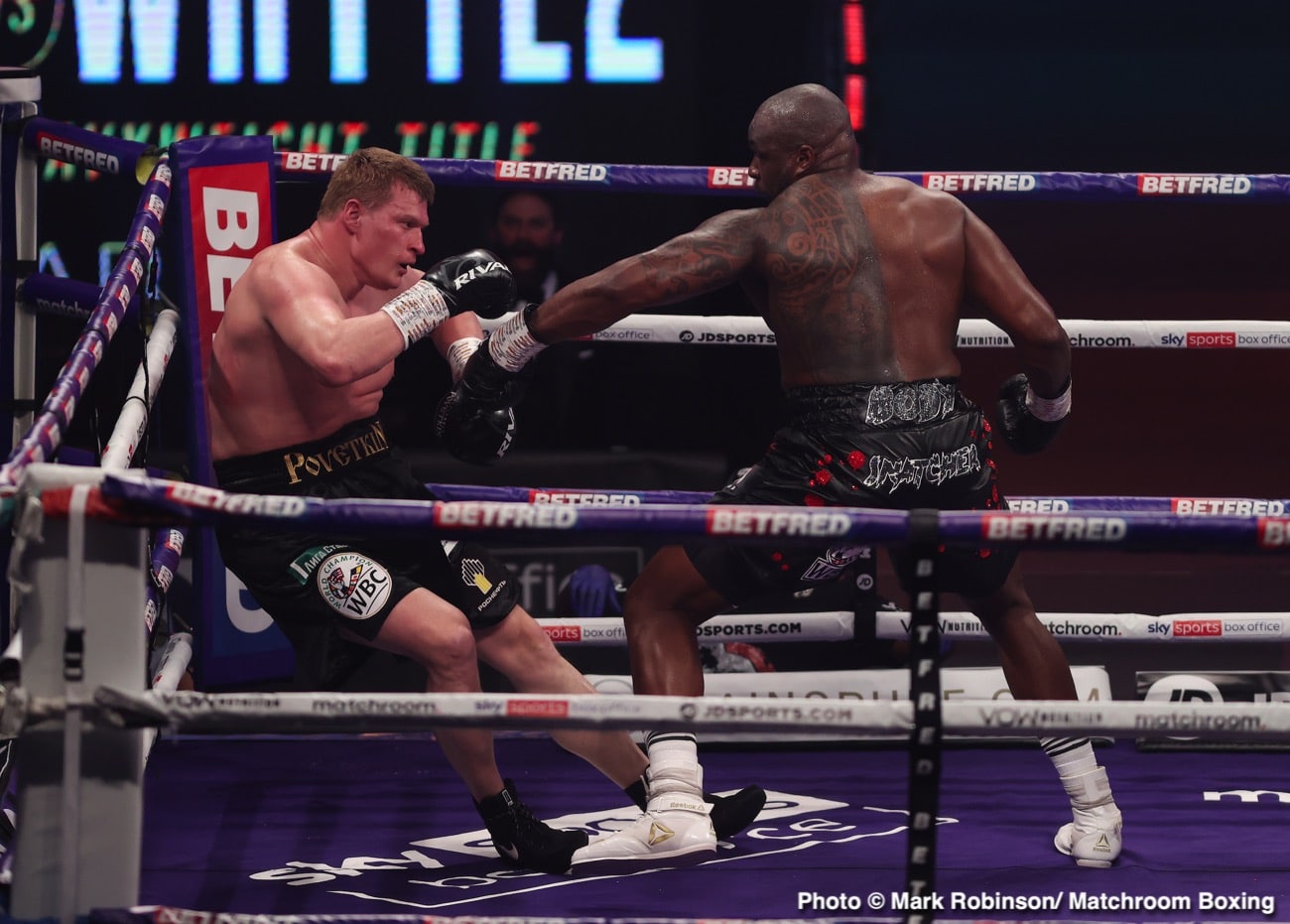 There's speculation that Povetkin's recent COVID 19 illness took more out of him than what many fans think.
"He wanted the energy and his world championship dreams were on the line tonight, said Hearn to Sky Sports about Whyte after his win over Povetkin.
"We called for Deontay Wilder for a long time. He DM'd Dillian and said he wouldn't give him that fight.
"That is a colossal fight. We are back where we wanted to be," said Hearn.
Technically, Hearn is correct about Deontay vs. Whyte being a stadium fight, be it in the U.S or the UK in the summer.
It would sell well if it were to happen, but Wilder isn't showing signs of working out or getting back in the ring.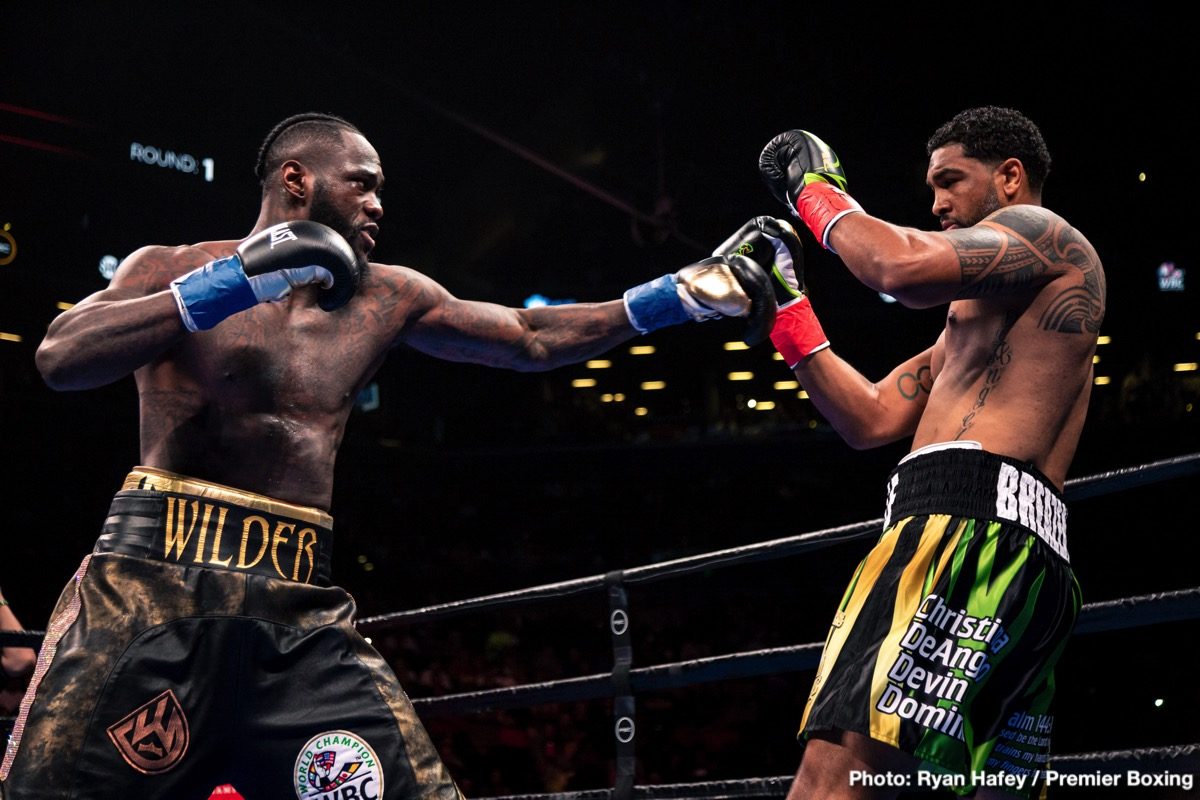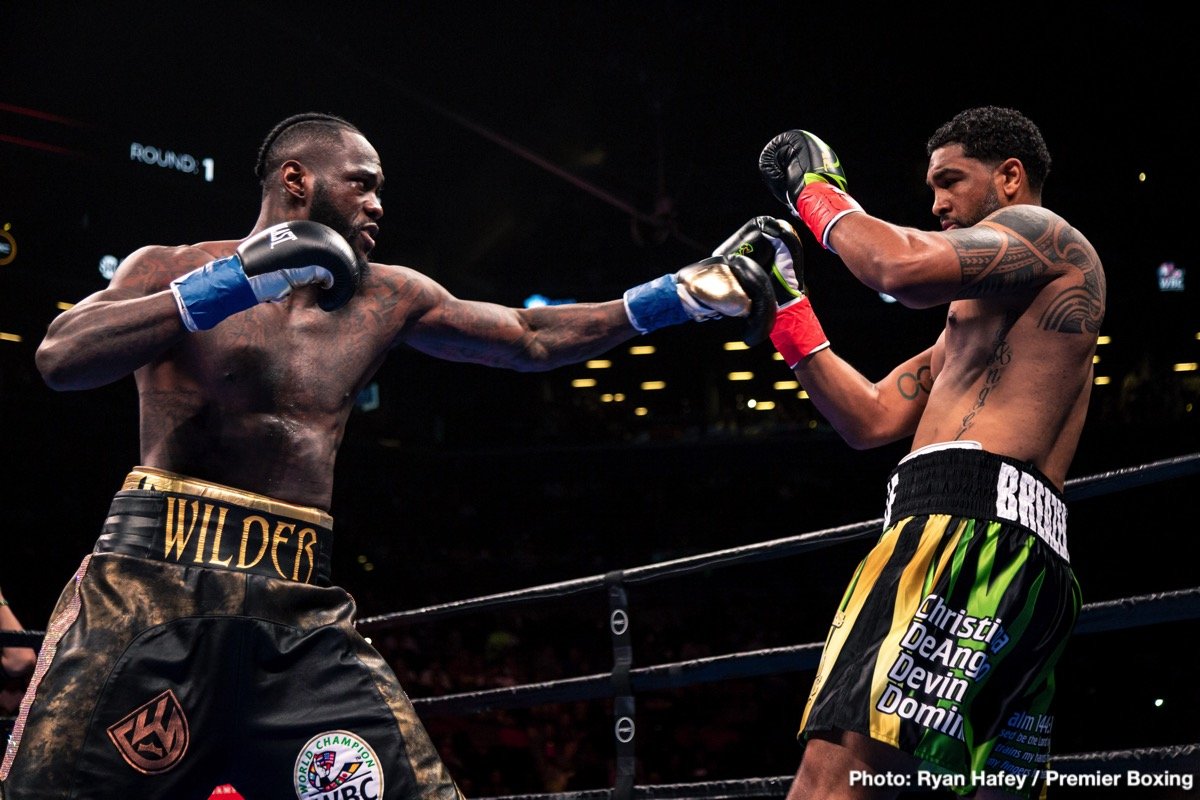 Wilder's recent posts on social media showing him with guns, alcohol, and him sitting lounging around on his sofa don't exactly inspire.
If anything, the image that Wilder is giving off suggests that he may not return to the ring at all, period, but you can't blame Hearn for name-dropping.
With Whyte being in the spotlight last Saturday night after his win over Povetkin, he needed a big-name opponent to be mentioned for his next fight, and Hearn threw out a name in mentioning Deontay Wilder.
There is no basis, in reality, that Wilder will entertain a fight with Whyte, but you can't blame Hearn for using the spotlight to name-drop.
Wilder is the most popular available heavyweight out there, but unfortunately, the odds of him agreeing to a fight against Whyte are nonexistent.
Considering that Wilder said he's not interested in fighting Whyte, it's unclear what Hearn is getting excited about?
If Wilder were interested in fighting Whyte, he would have done it years ago when he was his #1 ranked contender from 2018 to 2020.