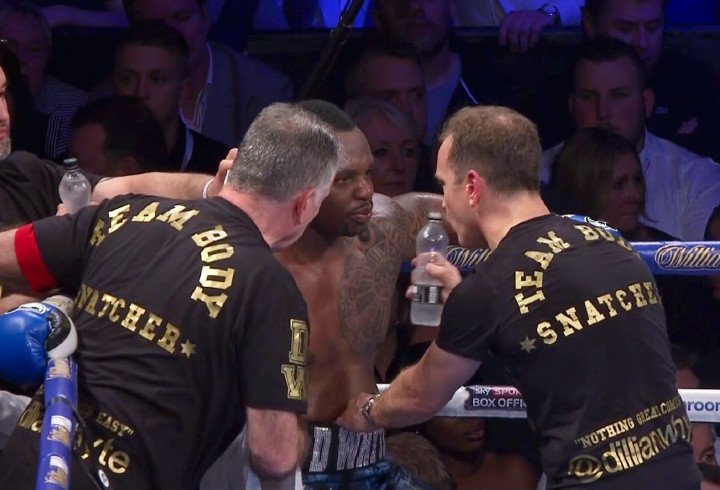 Dillian Whyte (21-1, 16 KOs) won't be facing former heavyweight title challenger Dominic "Trouble" Breazeale (18-1, 16 KOs) on October 28 like his promoter Eddie Hearn had been hoping for. According to Dan Rafael, Breazeale's team said the Whyte-Breazeale fight is NOT happening.
Hearn said on Friday that he had made a "substantial offer" to Breazeale to take the fight with Whyte on October 28 on the undercard of the Anthony Joshua vs. Kubrat Pulev card at the Principality Stadium in Cardiff, Wales. Breazeale,32, even mentioned wanting to take the fight on his social media site.
"Not happening, at least this year, per Breazeale's team," said Rafael during Friday's chat at espn.com.
This is what Breazeale said on Thursday about the Whyte fight on his Instagram:
"@eddiehearn @dillianwhyte Let's do this. The fans want it. I am in…October 28th. 👊 #CARDIFF #WALES #CALIFORNIALOVE #HERECOMESTROUBLE #TEAMBREAZEALE #SOMEBODYGOTTAPAY @premierboxing @skysports @matchroomboxing."
Breazeale's promoters obviously saw this as a bad deal for their highly rated fighter. For Breazeale to go into a fight against a difficult heavyweight like Whyte on only 3 weeks' notice, it would be a foolish move. If it was a safe fight for Breazeale, then it wouldn't be a big deal, but it was far from that type of fight.
Whyte can punch, and he would be fighting in front of his own boxing fans in Cardiff. Whyte would be highly motivated, and feeling off the boxing crowd looking to knockout Breazeale. If the fight had made it to the scorecards, Breazeale would need a lot of luck for him to get the nod. After all, Breazeale would be the visiting fighter in the match, and it's sometimes difficult for the away fighter to get decision victories.
"We have made his advisors a substantial offer and we hope to close the deal by the end of the weekend," said Hearn to skysports.com earlier on Friday.
You have to assume that whatever offer that Hearn made to Breazeale, it wouldn't be close to the kind of money Breazeale would make for him to get another title shot against Anthony Joshua, WBO champion Joseph Parker or a crack at WBC heavyweight champion. Breazeale is ranked #5 WBO, #7 WBC and #7 IBF. At this rate, Breazeale could be in position to fight for a world title in a little over 1 year if he keeps winning. A win over a significant contender would likely position Breazeale at the top of the heavyweight division. Fighting Whyte would have been asking for trouble for Breazeale. Who knows? Breazeale might have the talent to beat Whyte, but it's still a risky thing that wouldn't be worth it for him.