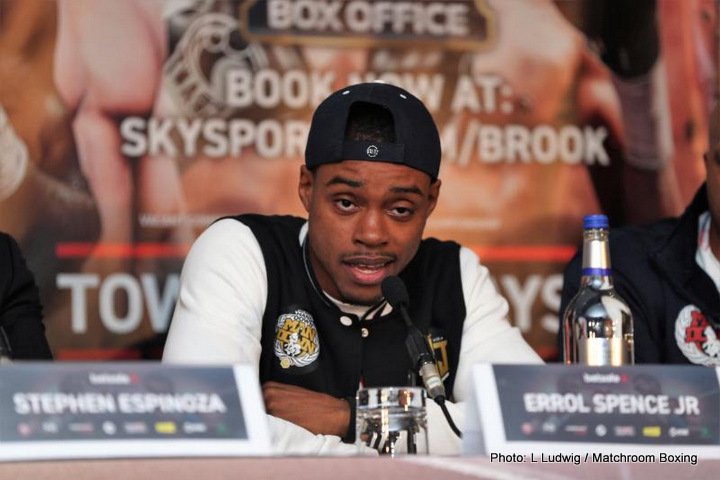 Errol Spence Jr. will be back in the ring to defend his IBF welterweight title in December or January, possibly against Lamont Peterson (35-3-1, 17 KOs). This is a very good fight if it comes off. Spence vs. Peterson would be a real war.
Spence can show the boxing world what he has, because he won't have to go looking for Peterson. he'll stay in the pocket and slug with him for as long as it lasts. Spence's recent opponent Kell Brook used movement against him at times, and he seemed uncomfortable with it until the 7th.
Spence started cutting off the ring and putting a lot of pressure on Brook. Little did anyone know at the time that Brook had suffered a fractured eye socket and he was dealing with vision problems that hampered his ability to fight.
Peterson vacated his WBA 147 lb. title on October 4. Peterson never defended the WBA belt after beating David Avanesyan by a 12 round unanimous decision on February 18.
Spence Jr. (22-0, 19 KOs) had high hopes for big fights before he captured the IBF title last May in beating Kell Brook. Things haven't worked out like Spence had planned, as his management has not kept him busy. It's been 5 months since Spence beat Brook by a 10th round knockout on May 27 at Bramall Lane in Sheffield, England.
There's still no opponent scheduled for the 27-year-old Spence. December is only 2 months away, and if Peterson is going to be the guy Spence faces in that month, then his management will need to get the fight signed already.
He's supposed to defend in Dec/Jan with the most likely opponent that I have heard being Lamont Peterson, which is a very good fight," said Dan Rafael at ESPN.com.
When Spence won the IBF title, he had talked of wanting to face WBA 147 lb. champion Keith "One Time" Thurman, who has been out of action with an elbow problem ever since his defense against Danny Garcia last March. A fight between Spence and Thurman would need to take place in 2018 if at all. Thurman has a lot of options for fights though, and he doesn't appear to be in a rush to face the hard hitting Spence now that he's the IBF champion.
Spence is supposed to be the next star in the welterweight division. He's viewed as the replacement for Floyd Mayweather Jr. Unfortunately; Spence has found out the hard way that it's not so easy to get the best fighters in the 147 lb. division to face him.
Spence wants to fight Thurman and Danny Garcia, but neither of them has shown interest in wanting any part of him. Garcia may face Brandon Rios next, which would be a disappointing fight. Garcia has an open invitation from Spence to challenge him for his IBF title, but instead he chooses Rios.