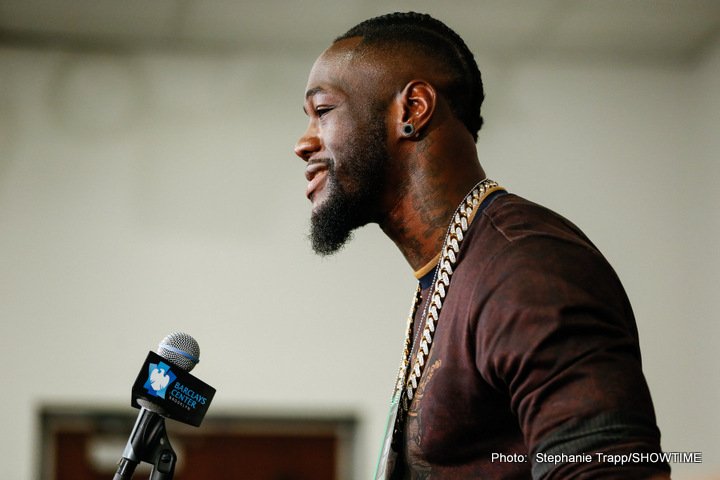 British promoter Eddie Hearn has a great idea: Deontay Wilder gives his fighter Dillian Whyte a shot at the WBC title and then the winner fights Anthony Joshua in a massive unification showdown next year.
But US promoter Lou DiBella doesn't like the idea, not one bit. DiBella, in speaking with Sky Sports, said that in his opinion Dillian Whyte is "irrelevant" in the career of Deontay Wilder and that "the concept that we would somehow feel obligated, or the necessity to fight Dillian Whyte for a chance to fight Anthony Joshua is a joke."
DiBella insists Wilder, unbeaten at 38-0(37), is not fearful of any single heavyweight in the world but how at the same time he will not be dictated to by anyone.
"In the past – this is a fact – we offered Hughie Fury on numerous occasions to fight Deontay. He turned us down," DiBella said. "We would love to fight Joseph Parker at any point, any place. They can put it in a soccer stadium in New Zealand and Deontay will still knock him out. We're not running from that fight. We're not running from any fight. It's nothing personal against Dillian Whyte, but I have no need to discuss Dillian Whyte. Dillian Whyte is irrelevant to the future of Deontay Wilder. If Dillian Whyte is such a force, why is AJ fighting Carlos Takam and not Dillian Whyte?"
It's an interesting question DiBella asks: as many fans actually felt that when Kubrat Pulev pulled out, Joshua would look Whyte's way, as Whyte is already fighting on the Oct. 28 card (against Robert Helenius) and set up a rematch of their great 2015 slugfest. But instead AJ gets Takam and Hearn wants Wilder to defend against Whyte. It isn't happening though, as DiBella makes clear.
But one day, a Wilder-Joshua clash WILL happen; it simply has to, as Joshua understands completely. DiBella rates Joshua, but he says Wilder is the most dangerous heavyweight in the world today – and plenty of people agree with him.
"I think AJ is a great young fighter, but I think the greatest danger to AJ in the world is Deontay Wilder," DiBella stated. "I think the fight will eventually happen."
Hopefully, if Joshua takes care of Takam and Wilder does the same in his November 4 return with Bermane Stiverne, these two young and unbeaten champions will fight each other next summer.