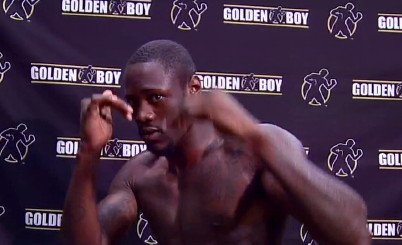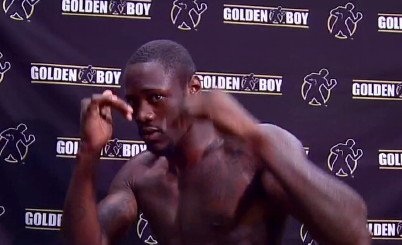 By Dan Emicus:
Despite the fact you secured a bronze medal, it was Team USA's worst showing at the Olympic games since 1948. Of course, it would have been worse still in London 2012 if not for the inclusion of women's boxing, which allowed Claressa Shields and Marlen Esparza to spare the men's blushed by picking up Gold and Bronze respectively.
We all expected to medal. I wanted us all to do well, so it was bittersweet for me to be the only one. It turns out that I'm currently the only medalist since 2004 as far as men's boxing goes. I don't know much about the 2012 team, I just know that we just need to get America back on top.
Given that you competed in the 200lbs category at the Olympics, so what made you want to step up to heavyweight as a professional? Was turning pro as a cruiserweight just not a viable option for your frame, or did the division just not interest you?
I knew I would be be a heavyweight. I'm 6'7″ and since fighting in the Olympics at 201lbs, I'm now around 230 four years later. Being heavyweight champion of the world is what I've been working for.
27 fights in just over 4 years is a remarkable level of activity that puts some other prospects to shame. In light of your limited experience prior to turning pro, do you feel that having a lot of fights in a short space of time as a professional has made up for that?
We've got a commission now here in Alabama, so I've been able to fight here. That's what has allowed me to be busier than almost everybody else. We can do the Golden Boy fights and still fight here as well.
Which fight(s) would you say you've learned the most from? Also, which fight would you say was your most complete performance to date?
I think every fight is a learning experience, I try to take something away each time. Sparring with people like Wladimir Klitschko, Tomas Adamek, David Haye, Tony Thompson, Mike Perez and guys like that has been great for me, too. It has showed me I can be in there with the best and they all say that I'm the one to watch. I don't know what my most complete performance is. I just try to do my best every time out.
Whenever you've landed cleanly, your punching power has dictated that none of your fights have gone more than 4 rounds. As a result of this, despite the fact you have been fighting in scheduled 8 and 10 rounders over the last couple of years, you only have a total of 46 rounds from 27 contests. At this point, does the lack of rounds bother you in terms of your readiness for when an opponent drags you into untested waters, or have you been comfortable enough with long distances in the gym to the point that you are confident about your readiness to go deeper into fights?
I know I can fight 10, 12 rounds or whatever I need to. I have a strength coach and we work on these things, as well as the sparring and long workouts.
As a testimony to your potential, your status in the division and the sheer curiosity that boxing fans have about you, there are those who are eager to see you step-up in level of competition. In response to that, are you happy with your progress and development as a prospect? Do you relish the chance to be able to test yourself against accomplished 'names' when it happens in due course? At what kind of level do you hope to be fighting at 1 year from now?
We have a plan and we're sticking to it. We don't just want to fight for the title, but win it and defend it. People get impatient and sometimes I do as well, but the plan is working and I'm ready for the top guys. Within a year, nobody will have to be impatient anymore because I'll be up there.
You looked comfortable last time out against Matthew Greer. How would you rate your performance against him? Did his durability surprise you considering the fact he took some very hard shots, yet somehow managed to keep getting up?
I felt good against Greer. I was in control, I knew what I was doing and setting up combinations and. I knew from his previous fights that he was tough and that he had been six rounds with Boytsov, so it didn't surprise me that he kept getting up. It would have surprised me if he wasn't durable.
As has been well documented, you trained at the Klitschko camp for 1 month prior to Wladimir's fight with Mariusz Wach. What was it like to be present at such a camp? How invaluable an experience was it to be able to spar with the #1 heavyweight right now?
Camp with Wladimir was great. It was the best camp I've ever been to. He spars at near 100 percent, so you've got to be on your game. He's a great guy and his team are excellent. We got to see what a champ's camp looks like and how it runs. We learned a lot. Wlad said I was one of the fastest and best sparring partners he has ever had. If he needs me in camp again, I'll definitely be there. A lot of other up and comers, some from England I heard, had turned down the opportunity to be in camp with him. I don't understand that. You can say, well I may fight him one day, but you can say that about anybody. Me and Richard Towers both jumped at the chance! We just saw it as a great opportunity to get better. When Wlad himself was on his way up, he was in camp with guys like Holyfield and it made him a better fighter.
A lot more people are watching your fights nowadays, while you're also widely regarded as a 'name' in the division that fighters want to be referred to as a prospective opponent of. You're no longer ascending from under the radar and everyone has at the very least heard of you. Do you enjoy and embrace all of the limelight? Do you like the fact that many boxing fans discuss and debate about your credentials?< I love the spotlight. Being in the Olympics prepares you for attention, believe me. I don't feel any pressure at all. I'm enjoying my time and will keep enjoying it all the way to the world title. You weren't ranked previously, but now the WBA have recently recognized you as #9 in the world. Do you feel that being world ranked is overdue? Are you of the view that #9 is an accurate reflection of where you are at the moment?
I don't really keep up with rankings and all that. I know I'm number 9 and if that gets me closer to where I'm going, then that's a good thing. It's all about where you finish, not where you start. I just want to get where I'm going.
From where do you draw your motivation to the best you can be in boxing?
My motivation comes from my daughter Jaieya, who was born with spina bifida. Doctors said she's never walk but she runs now. They said she may have trouble learning but shes one of the smartest ones in her class. She's a fighter just like her dad. She motivates me and so do all the people who truly wish me well and want me to bring the belts back to America.
What in all does Deontay Wilder bring to the heavyweight division?
I bring excitement, power and entertainment to the heavyweight division. That's why Emmanuel Steward would always get excited when he'd see me. Me and my coach Jay Deas went to his clinic in Atlanta and he told us the division needed the kind of excitement that I could bring. Cool guy Emmanuel and he will always be missed.
Bryant "By-By" Jennings is widely regarded as a promising prospect in his own right. He expressed an interest in fighting you previously, while most recently it was you who called him out. Do you feel that a meeting between the two of you is inevitable at some point?
Bryant Jennings would be a great fight. I want that fight. I'm ready to fight him. They made headlines by offering me a fight in his hometown, but what they offered was even less than I can make at home in Alabama without television. Then they made a big deal of saying I turned it down. Truth is, we offered him the same exact money to fight in Alabama that they offered me to fight in Philly. They turned it down. So you see, there's a lot of games going on. I want that fight. Hear me again. I want that fight. I think Bryant and I would agree that for the right money and on the right network, the fight can happen for sure.
Pulev, Fury, Price, Wach, Helenius, Charr, Glazkov, Boytsov, etc. There are lots of prospects in Europe. Do you rate any of them? Do you expect any of them to be contesting world titles alongside yourself in the future?
Europe has a great scene and let's face it, they've controlled the heavyweight title for a while now. I wish all those guys luck and hope they all get the opportunity to fight for the title. With two Klitschkos on top, there's twice the opportunities right now. I'd like to be able to fight those guys and knock them out in huge money fights, whether it be in America or Europe. When I was in the amateurs I fought in Russia, China, Argentina, Trinidad and other places. Travel is no big deal to me. A ring is a ring.
What's the goal for 2013? Are you just taking each fight as it comes, or do you have specific aims? Might more championships be on the agenda to go with the WBC Continental Americas title? Also, might you be in action again soon?
In the next year I want big fights and title fights.
Message to your critics?
My whole life has involved doing things nobody thought I could do. I was the least experienced guy on the Olympic team, the one nobody thought would win a medal but as it turned out, I was the only one to win. I love to prove people wrong.
Message to your fans?
To the fans, I love you from the bottom of my heart. Thanks for being part of the bomb squad! The best is yet to come. BBBBBBBOOOOOOMMMMMBBBBBB SSSSSQQQQQUUUUAAAADDDDD!!!!!!! That's my yell, my shout out to my fans!